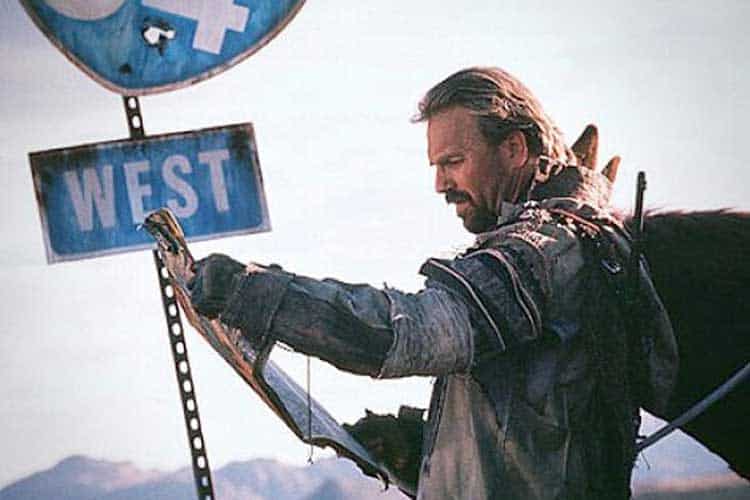 It took us a while to put this one together! For there were so many events to choose from that it was becoming more and more difficult to choose from that long list and zero in on only 10 for yet another edition of Top 10 Events This Day in Movie and Television History. But here we are with the final list and this lineup for January 18 is indeed one of the best ones out there! There's the birth of stalwarts like Oliver Hardy, Cary Grant, and Kevin Costner, the releases of movies such as Pollyanna way back in 1920 and White Fang in the 90s, a host of awards shows, and even the announcement of George Clooney as UN Messenger of Peace. So before the day runs out, allow us to bring you the juicy details!
10. January 18, 1892: Oliver Hardy of Laurel & Hardy Fame is Born
On January 18, 1892, the world welcomed one half of the Laurel & Hardy duo when Oliver Hardy was born in Harlem, Georgia. Although the era of probably the most iconic duo in comic acting was the most popular one associated with Oliver, there were also other works that this brilliant actor had to his name. In fact, he was known as Babe Hardy in quite a few of his earlier works, a probable reason why these works are often overlooked in favor of the ones where he was credited by his more popular name. It was only when Oliver, born Norvell Hardy, began working with the producer Hal Roach that he took on the screen name of Oliver. Working in films since 1914, Oliver had to his name several movies, and one look at the long list gives us a glimpse of how the Laurel & Hardy collection simply wasn't the only works he should be famous for. In 1914 alone, Oliver worked in more than 40 films, and this run continued for the next few years. It was only in 1921 that the immense potential of his works with Stan Laurel was beginning to find a firm footing. Among the honors that have come Oliver's way for his great contributions to cinema include a star on the Hollywood Walk of Fame, a museum dedicated to his works with Laurel, an Honorary Academy Award, and several additions of his works in the United States National Film Registry. Of course, none of these the immense love that we all have for this brilliant actor that stays alive even several decades after his passing in 1957.
9. January 18, 1904: Cary Grant is Born
The handsome Cary Grant was born Archibald Alec Leach on January 18, 1904, in Horfield, Bristol, England, and would soon grow into one of the most renowned leading men of his time. With a unique character that was a perfect mix of effortless charm and wit, Cary would go on to be a shining star in Hollywood from the 1930s to the mif\d-1960s and during this time, made quite an impact on the screen. With a love for the stage from a young age, Cary first entered the United States when he was 16, as a performer with the Pender Troupe, and that's all it took for this young boy to stay back and explore all that the US had to offer for a passionate performer. From vaudeville and more, Cary finally made the move into Hollywood in the 1930s and with some early movies like She Done Him Wrong and Blonde Venus, began getting a feel of all that he could do here. And he did accomplish quite a lot! When the American Film Institute honored Cary Grant in 1999, he was named the Second Greatest Male Star of Golden Age Hollywood cinema. First in line was Humphrey Bogart. Even today, some of Cary's works, especially those with Alfred Hitchcock, are considered lessons in cinema.
8. January 18, 1920: Mary Pickford Starrer Pollyanna is Released
Starring Mary Pickford in the lead role, Pollyanna was a movie released on January 18, 1920, and the movie was the lead actor's first one with United Artists. Based on Eleanor H. Porter's novel by the same name, a work that was released only seven years ago in 1913, the movie turned out to be a landmark work, establishing Mary Pickford as one of the most renowned actresses of her time. Revolving around the life of a young girl Pollyanna Whittier and all that went on around her, the movie was notable for several reasons and came to be a defining one. Although aged 27 at the time, Mary portrayed the role of a 12-year-old little girl to perfection and this ability of hers had her playing several such roles during her time in the industry. Made on a budget of $300,000, the movie turned out to be quite a success at the box office and made its makers a cool $1.1 million and more.
7. January 18, 1955: Kevin Costner is Born
An actor with plenty of great titles to his name, a filmmaker of some of those titles, and even a musician, Kevin Costner is one of the most well-known faces of the entertainment industry in the US. As brilliantly talented as he is blessed with good looks, Kevin has to his name a host of awards that prove the excellence of his work, including two Academy Awards wins, two Golden Globe Award wins, two Screen Actors Guild Award wins, a Primetime Emmy Award win, and several others. Some of the most popular titles that make Kevin the celebrity he is includes The Untouchables, No Way Out, Field of Dreams, Robin Hood: Prince of Thieves, Wyatt Earp, Dances with Wolves, A Perfect World, The Bodyguard, The Guardian, Mr. Brooks, Message in a Bottle, 3000 Miles to Graceland, Let Him Go, Molly's Game, Draft Day, Waterworld, Criminal, The Upside of Anger, McFarland, USA, Thirteen Days, Yellowstone, and Hatfields & McCoys. First etching his name in the corridors of entertainment in 1974, Kevin was born on January 18, 1955, and has spent more than 47 years in the film and television industry with the half-century mark coming up soon.
6. January 18, 1973: John Cleese Bids Goodbye to Monty Python's Flying Circus
Monty Python's Flying Circus was one of the most popular British sketch comedy series — and there were quite a few of them over the decades — and playing out across 4 seasons and 45 episodes, wasn't one of the most successful but is still talked about for its unique elements. And one of the elements that added color to the show was John Cleese, who along with others in the cast including Graham Chapman, Eric Idle, Terry Jones, Michael Palin, and Terry Gilliam, provided the fuel of humor that made the show a hit with audiences. The show was particularly interesting because it followed no specific format and always had a surprising element or two for the audience. Add to it the innuendo-filled humor, animations, and live-action bits, and all this and more made the show quite a hit with the British public. It was January 18, 1973, that John Cleese bid goodbye to the show. He was the only main cast member who wasn't part of the fourth and final season of the show.
5. January 18, 1991: White Fang is Released
Directed by Randal Kleiser and led by a cast that included Klaus Maria Brandauer, Ethan Hawke, Seymour Cassel, James Remar, Susan Hogan, and others, White Fang was released on January 18, 1991. The story revolves around a young Jack Conroy, played by Ethan, who comes down to the dangerous Yulon Valley to try his luck in fulfilling his father's wish of finding the elusive metal that is gold. The wolfdog Jed played the role of the main protagonist of the movie, White Fang, the Arctic wolf Siberian husky hybrid dog that finds itself adjusting to a new life as a domesticated dog after a life in the wild. The story beautifully portrays the unique relationship that blossoms between a human being and an animal in natural environs and how they come together to find a meaningful connection under challenging circumstances. The movie won hearts across the globe, garnering $34.8 million at the box office. Compared to the original budget of $14 million at which it was made, the movie did turn out to be a success. One of many movies that explores the love between man and animal, this one was also followed by a sequel in 1994, White Fang 2: Myth of the White Wolf.
4. January 18, 1992: 49th Golden Globe Awards
The 49th Golden Globe Awards went down on January 18, 1992, and as it goes down almost every year, this event was held at The Beverly Hills Hotel in Beverly Hills, Los Angeles, California. The evening was hosted by Pierce Brosnan and Jacqueline Bisset and had a less than normal wait for the winners after the nominations were announced on December 27 the previous month and year. Some of the titles that made it into the list of winners after beating the rest of the equally worthy competition included Bugsy, Beauty and the Beast, The Prince of Tides, The Silence of the Lambs, The Fisher King, For the Boys, City Slickers, Thelma & Louise, JFK, Europa, Europa, Northern Exposure, Brooklyn Bridge, Evening Shade, Quantum Leap, Murphy Brown, Murder, She Wrote, The Josephine Baker Story, L.A. Law, Without Warning: The James Brady Story, and One Against the Wind. Amongst the celebrities, the winners for the evening included Beau Bridges, Judy Davis, Louis Gossett Jr., Amanda Donohoe, Candice Bergen, Angela Lansbury, Scott Bakula, Burt Reynolds, Alan Menken, Callie Khouri, Oliver Stone, Mercedes Ruehl, Jack Palance, Robin Williams, Bette Midler, Jodie Foster, and Nick Nolte.
3. January 18, 1998: 55th Golden Globe Awards
The Beverly Hills Hotel in Beverly Hills, California, stood witness to yet another Golden Globe Awards ceremony on January 18, 1998, and this time around it was the 55th annual event of the prestigious awards platform that is second only to the Academy Awards in terms of popularity and reverence. As is the case every year, the event brought out the best names in the celebrity world who gathered to applaud the fine work their colleagues had done in the year gone by. The nominations were announced exactly a month ago on December 18 and had titles such as Titanic, As Good As It Gets, L.A. Confidential, Amistad, and Good Will Hunting leading the pack in the films section. Representing the telly, titles such as ER, George Wallace, 12 Angry Men, Frasier, Seinfeld, and The X-Files led the list of nominations. On the evening of the awards, the titles and projects that took away top honors included Titanic, As Good As It Gets, Ulee's Gold, Mrs. Brown, Boogie Nights, L.A. Confidential, My Life In Pink, The X-Files, Ally McBeal, Spin City, Chicago Hope, ER, 12 Angry Men, Miss Evers' Boys, and Don King: Only in America. Celebrities who made headlines with their wins in the next day's papers included Alfre Woodard, Ving Rhames, Angelina Jolie, George C. Scott, Christine Lahti, Calista Flockhart, Michael J. Fox, Anthony Edwards, Celine Dion, James Horner, Ben Affleck, Matt Damon, James Cameron, Kim Basinger, Burt Reynolds, Jack Nicholson, Helen Hunt, Judi Dench, and Peter Fonda.
2. January 18, 2008: George Clooney Named UN Messenger of Peace
George Clooney is a name synonymous with not just entertainment, pranks on costars, and additions to list that tag the sexiest people on the planet, but also for other socially relevant causes that impact the lives of people and make the world a better place. One such move in George Clooney's struggle for humankind took place on January 18, 2008, when the United Nations announced George's inclusion into the world body as a Messenger of Peace. In an official announcement on the UN News website on this day, it was stated that "United States actor, filmmaker, and human rights advocate George Clooney has been designated by Secretary-General Ban Ki-moon as a United Nations Messenger of Peace, to raise awareness of the world body's peacekeeping efforts." The move was made in recognition of George's efforts in bringing the world's attention to the Darfur crisis that saw millions fleeing their homes after being caught between fighting between Government and rebel factions. More than 200,000 people had already died in the crisis until this time. George reciprocated to the honor with kindness and humility saying, "I am deeply honored to receive this appointment. I look forward to working with the United Nations in order to build public support for its critically important work in some of the most difficult, dangerous, and dire places in the world." In accepting this appointment at the time, George had joined the ranks of other Messengers of Peace from different walks of life including Princess Haya Bint Al Hussein of Jordan, Daniel Barenboim, Paulo Coelho, Michael Douglas, Jane Goodall, Midori Goto, Yo-Yo Ma, and Elie Wiesel.
1. January 18, 2014: 20th Screen Actors Guild Awards
The Shrine Exposition Center in Los Angeles, California stood witness to the 20th Annual Screen Actors Guild Awards ceremony that went down on January 18, 2014. The event was held to honor the winners from a nominee list that was announced a little more than a month earlier on December 11, 2013. Some of the most notable title and project wins for the evening included Dallas Buyers Club, Blue Jasmine, 12 Years a Slave, American Hustle, Lone Survivor, Behind the Candelabra, Phil Spector, Downton Abbey, Breaking Bad, Veep, Modern Family, and Games of Thrones. Celebrities who took to the stage to grab their share of the limelight as winners included the ensemble cast of the two winning series Modern Family and Breaking Bad, Ty Burrel, Julia Louis-Dreyfus, Maggie Smith, Bryan Cranston, Helen Mirren, Michael Douglas, the ensemble cast of American Hustle, Lupita N'Yongo, Jared Leto, Matthew McConaughey, and Cate Blanchett. The 2013 Screen Actors Guild Life Achievement Award honoree was Rita Moreno, and well-deservedly too. The actress, dancer, and singer, after all, has notched a long list of notable works in film, television, and theater in the many decades of work she has to her name after she first entered the entertainment industry in 1943 as a 12-year-old.
That Was a Pretty Cool List Right There!
Whoever knew a date as normal and everyday-ish as January 18 would turn out to be so interesting! And now that we're done with this lineup in our series Top 10 Events This Day in Movie and Television History, allow us to get going on a few more dives into our archives so we can get to you some more trivia on yet another day in entertainment history. So, here's to seeing you again soon!
Tell us what's wrong with this post? How could we improve it? :)
Let us improve this post!