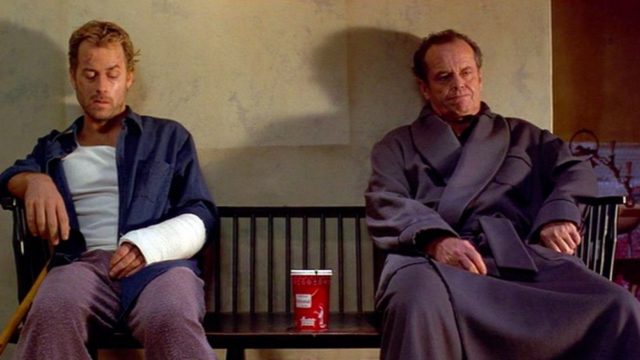 It's amazing what a difference some human interaction can do for a person that is otherwise sickened and even intimidated by the human race. Melvin is a guy with problems, that much is obvious. He has OCD and is so wrapped up in his own life that he really doesn't bother to connect with anyone save the one waitress in all of New York that can stand him. Throughout the movie however he's put into situations where he's forced to interact with others and through it he eventually becomes just a little more human.
Connecting with people is hard, but getting them to accept you is even harder.
10. When he was announce Best Actor, Jack Nicholson imitated his character on the way to the podium.
He decided to stay in character right up until he got to the podium, kind of as an homage to the character so that people would get a good laugh out of it.
9. Jack Nicholson wasn't initially supposed to kiss Helen Hunt.
The director was urging him to kiss her so he did. Obviously Hunt just went with it as well.
8. Nicholson was worried that no one would like the movie.
His character was so horrible to everyone that he had concerns that people wouldn't like the movie just because of this.
7. Woody Harrelson read for the part of Simon but kind of botched it.
Apparently he went a little too femme on the part. He admitted that he was nervous anyway since he did the reading at Nicholson's home.
6. Nicholson would add minor ticks to his character when he was out of view.
He was continuously tweaking his character to keep in the right frame of mind for the part.
5. Six different dogs played Verdell.
There were six Brussels Griffons by the names of Timer, Sprout, Billy, Debbie, Parfait, and Jill. Jill was the dog that got the most screen time.
4. Nicholson was considered the best person for the part of Melvin.
Jim Carrey was considered for a brief amount of time but everyone agreed that it would have been a very different movie if they'd gone with him and not Nicholson.
3. Nicholson describes the movie as a love story where his character just got to irritate everybody.
He played the part so well that you would have thought that this was how he was in real life. Only one person in the story could put up with Melvin and even she said enough after a while, until they made up of course.
2. Helen Hunt took a two-year break after this movie.
That was kind of a monumental thing in her life since she'd been working since she was nine years old. She's been in enough movies that it seemed time to take a break for a while.
1. Greg Kinnear was actually scared to work with Jack Nicholson.
He described Nicholson as being unpredictable and had a hard time just relaxing around him apparently. Thankfully the film got done without any real problems.
It was one of Nicholson's favorite films to be honest.