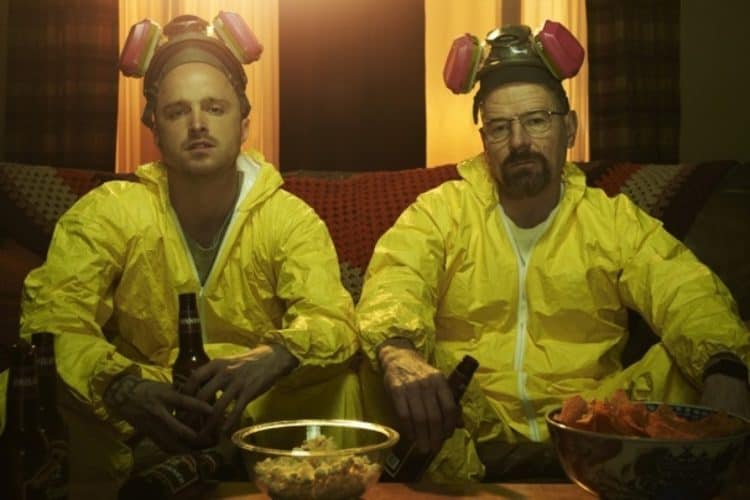 What constitutes a brilliant crime drama? Is it a compelling storyline filled with twists and turns, or prolific actors are able to being life to unforgettable characters? AMC's Breaking Bad contains all this and so much more. It's no wonder the series' successful five-season run is still widely referenced to and talked about up to this day. The show has set the bar so high, the world of crime drama has never been the same again. The series followed the life of Walter White, portrayed by Bryan Cranston (Trumbo), an underpaid and overqualified high school chemistry teacher diagnosed with stage-three lung cancer. In order to secure his family's financial future before he dies, Walter teams up with his former student, Jesse Pinkman, portrayed by Aaron Paul (Big Love), to venture on a life of crime by producing and distributing crystal meth. Here are five clips from the series that show us the most satisfying death scenes (in no particular order):
5. Tuco Salamanca
The hot-headed Mexican drug dealer, portrayed by Raymond Cruz (The Closer), was the nephew of Don Hector Salamanca, one of the most powerful members of the cartel. He was in charge of running the cartel's Albuquerque meth operations, and served as one of Walter and Jesse's first meth distributors. Little does Tuco know that Walter and Jesse are not two people you would want to mess with. The scene where he kidnaps the two so that he can bring them to Mexico to cook and produce superior quality meth for the cartel proves to be detrimental to his life. Walter and Jesse get to escape the kidnapping by injuring Tuco, who was then coincidentally found and shot by DEA agent, Hank Schrader, portrayed by Dean Norris (Under the Dome), who also happens to be Walter's brother-in-law. It's was an unexpected death to a notorious character early on in the series.
4. Don Eladio Vuente
The leader of the cartel, portrayed by Steven Bauer (Scarface), was one of the first people whom Gustavo "Gus" Fring, portrayed by Giancarlo Esposito (Dear White People) approached to offer he and his business partner's services to. Don Eliado was unimpressed by their pitch to produce methamphetamine for the cartel, and had Gus' business partner executed in front on him. This experience stuck with Gus for life, as he sought revenge when he was already an established business magnate and drug kingpin. Gus arranged for a meeting with Don Eladio with an intent to build a renewed business relationship by supplying him high-quality meth produced by Jesse. He brings a bottle of fine tequila for Don Eladio as a peace offering, only for viewers to find out that its content has been laced with poison. Don Eladio toasts with Gus and chugs down a shot of tequila until he gets poisoned to death. The scene just shows how dangerous of an enemy Gus can be, as his calm and collected demeanor can mean ruthless and unapologetic decisions towards the people that cross him.
3. Gustavo "Gus" Fring
Gus has been on top of his game for most parts of the series. His lowkey status has amassed him great success, and has made him a top restauranteur and drug lord. He is also able to put Walter and Jesse's talents to good use, and works with them to produce top quality meth. It did not take long before conflicts arose, and Walter decides to take down Gus in order to survive. There was no better person to connive with than Gus' archenemy and former senior cartel member, Hector Salamanca portrayed by Mark Margolis (Better Call Saul). Gus visits Hector in his nurse home to confront him about his cowardice that turned him into a DEA rat. Right before he is about to kill Hector, he realizes that he has fallen into a trap. Hector, who is unable to speak, rings the bell on his wheelchair non-stop signifying the end of Gus' reign. A bomb attached to Hector's wheelchair detonates, killing him in the process. Gus surprisingly walks out of the room seemingly unscathed, only for viewers to see that half of his face has been blow off, as he falls to the ground, dead. It was an epic farewell to one of the best antagonists in the series.
2. Jack Welker
The leader of the criminal gang, portrayed by Michael Bowen (Lost), wronged Walter in more ways than one can think of. Apart from stealing majority of Walter's drug money, he also holds Jesse hostage and uses him as a slave meth cook. His gravest mistake would also have to be killing DEA agents, Steve Gomez, portrayed by Steven Michael Quezada (Fender Bender), as well as Walter's brother-in-law, Hank. Walter might have hidden his true identity from Hank, but he was still family at the end of the day. Jack is able to turn his operations into one of the most powerful drug distributors in the Southwest, right until Walter sets out to seek his revenge. He went after Jack's entire gang using a machine gun contraption, before he cold-bloodedly shot Jack. It was a proper end to a villain to wreaked havoc to the lives of the people closest to Walter.
1. Lydia Rodarte-Quayle
Another character who landed on Walter's hit list because of a fierce betrayal was Lydia Rodarte-Quayle, portrayed by Laura Fraser (A Knight's Tale), a corporate executive who used to supply methylamine to Gus before working with Walter, and eventually Jack's gang. She may have been a smart woman, but one who made a grave mistake by teaming up with Jack to go against Walter. Having worked with her in the past, Walter knows Lydia's weaknesses, and uses this to his advantage. He slowly sought revenge by poisoning Lydia with ricin, which would make her sick first before eventually killing her. The scene where he reveals to Lydia what he has done is the perfect goodbye for a spineless person who overstepped her bounds and became overly ambitious.Aaron Paul