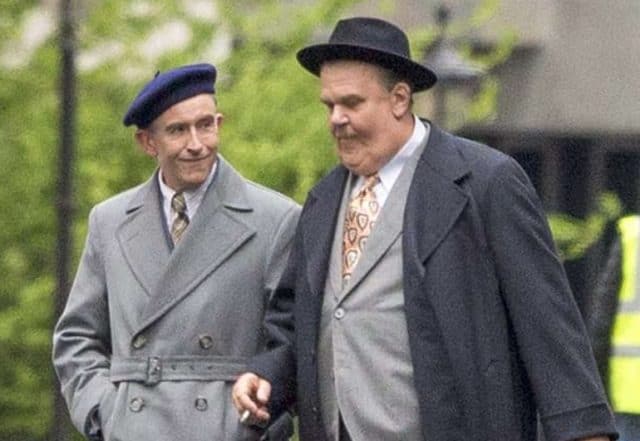 Stan and Ollie is an upcoming biographical film based on the lives of two of the greatest comics to ever grace the stage with their presence, Stan Laurel and Oliver Hardy. They were popular from the 1920's all the way to the 40's before their brand of comedy started to wither just a bit, but they managed to do a final tour in 1954, only a few years before Hardy passed away from a stroke. Laurel would pass on in 1965, and was able to see their work rediscovered through classic film revivals. They started their careers separately but together made history as one of the funniest duos in comedy back in the Golden Age of comedy.
They're worth remembering for a variety of reasons.
5. The film will showcase more about Laurel and Hardy than most people know.
A lot of people know their names and that they were comedians, but this film is set to go into a greater amount of depth than others have ever cared to see. It would be worth it for pretty much anyone that loves a good comedy show to see just how these two men lived and how they brought such a great sense of humor and comedy to the people time and time again. Plus it would give folks a better idea of how slapstick was revolutionized in their time.
4. We'll get to see the development of their career after it declined.
Since they were popular up until the 1940's, a career of around two decades if not a little more, it goes without saying that they were very successful for a good long time. During the decline of their career however a lot of people don't know what became of them and what they did to earn a living. During that time they were still acting and performing comedy shows, but the audiences had all but cleared out after a while.
3. John C. Reilly and Steve Coogan are great actors and comedians.
Both men bring their own brand of comedy to most films but in this one they're going to have to work together in order to display the genius that was Laurel and Hardy. This time it's not about who's got the bigger role since this is a team effort and needs to be handled as only these guys can. They were in fact the only two men that were selected for the role, as it's believed that they're a perfect fit.
2. It's a throwback to a different era of comedy.
A lot of what they did was in the silent movie era, which was completely different and gave a unique experience to the viewer that 'talkies' made obsolete when they began to invade and take over Hollywood. Those that could adapt were soon enough taking parts in talkies while those that couldn't simply faded off. Laurel and Hardy's time was up in the 40's, but thankfully their sense of comedy never really faded.
1. It's Laurel and Hardy, that should be reason enough.
As it says above, it's Laurel and Hardy, two of the kings of comedy from the old days, that alone should be reason enough to watch this film. How often do we get biographical gold like this?
My advice is to watch old clips of the pair, and then watch the film.