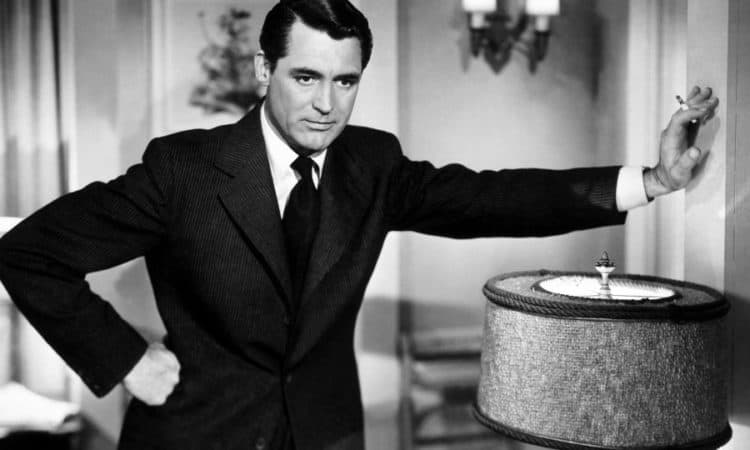 You could say that Archibald Alec Leach, better known as Cary Grant, didn't have the best upbringing in the world since his father was an alcoholic and his mother suffered from clinical depression. She did the best she could for her son though, teaching him how to sing and dance when he was four, enrolling him in piano lessons, and taking him to the cinema as much as she could. This inspired him to become an actor as he watched such greats as Charlie Chaplin, Fatty Arbuckle, Ford Sterling, and many others. Unfortunately his father placed his mother in an institution and Grant didn't come to realize this until he was in his 30s. His father remarried and alienated Grant without hesitation, and it wasn't too surprising that without a good, stable base at home he wasn't able to learn how to socialize with others for some time. He did manage to become a legendary actor however, so it can be said that through adversity he managed to shine somehow.
Here are some of his best movies throughout his career.
5. An Affair to Remember
Despite being involved with other people in their lives Nickie and Terry can't deny their feelings for one another and decide to meet on the observation deck of the Empire State building. Unfortunately Terry is struck and crippled by a car on her way to the meeting, and as a result Nickie thinks she rejected him and hooks up with his ex-fiance once again. Some time later it's discovered that Nickie has become a painter and when he goes to visit Terry he has no understanding that she's confined to a wheelchair. When he sees that she has one of his paintings he suddenly realizes the truth.
4. Notorious
The spy game is no place to be falling in love, but Devlin and Alicia can't seem to avoid this. However she does grow kind of cold to the fact that per the job she's required to do whatever her handlers need her to do, which includes marrying a former Nazi that was quite fond of her. This doesn't exactly help them rekindle the flame but when the plot to smuggle uranium ore is discovered they realize that the threat posed by the group is real and that they have to take action of some sort. Unfortunately Alicia is poisoned before she can be of much help, though Devlin does manage to extract her from the situation near the end.
3. Charade
It's hard to keep up with all of Grant's identities in this one as he becomes one person than another as the story progresses and begins to grow even more serious as the three men that initially come after Reggie, the main character, begin to drop off, murdered one by one by someone that seems to want something that she has but doesn't know about. As the movie progresses she becomes increasingly worried about Grant's character, especially as he changes his name repeatedly and his profession, and yet she trusts him almost the entire time since he's the only one not trying to harm her.
2. To Catch A Thief
It's one thing to be a retired thief but it's another to have a copycat try to convince people that you're back in business and at large again. It tends to rub people the wrong way, particularly the law, when they think that you've grown bored of being a citizen and want to see if you still have what it takes. Robie doesn't sit still however when it comes to clearing his name as he goes on the offensive in his own way, seeking out the new thief in a few different ways that finally allow him to catch up to the individual as he discovers that it is the daughter of a man that he accidentally killed during a rooftop chase.
1. North by Northwest
A case of mistaken identity is usually made to be funny or unbearably horrifying. In this case Thornhill is subjected to some rather terrible treatment not only by those that believe him to be George Kaplan, but also by those that don't believe that he was abducted and interrogated. When the government agency that created Kaplan learns of the mix-up they don't even bother to step in for fear of ruining the operation. So essentially he's on his own without much help to come and has to clear his name and avoid being killed himself. This is perhaps one of the best of Hitchcock's movies since it offers up a very twisted and entertaining story.
Cary Grant was and continues to be a legend to this day since his time on the screen was something that many people won't forget so long as his movies are kept in the public eye. He was and still is an icon in the entertainment industry.