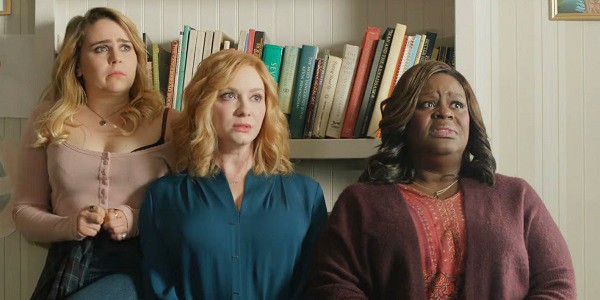 There's a lot of Thelma & Louise feeling to Good Girls, which will be coming out on NBC this February, and the cast really has no problem with it. Christina Hendricks, Mae Whitman, and Ruby Hill are coming together as three women and mothers that are fed up with how their lives are going and are backed into a corner when it comes to feeling powerless and unable to change their circumstances. That's a big part of where the Thelma & Louise attitude comes from, they're simply trying to take back the control in their lives so that they might finally understand what it is to feel some type of freedom once again. One of them is in a custody battle for her child, another has a sick child, and another looks to be tired of being taken advantage of.
It's going to be about payback, and not in a nice PC way either.
5. It's about women taking control of their lives.
In an era where women are starting to feel more empowered concerning their own lives this show could provide a desired spark that would enable women to take the control they want and hold onto it. During the Thelma & Louise days it was still a desire but it wasn't as wildly embraced as it is now. Women want that power back, and it's shows like this that are leading the way.
4. There's a genuine vibe between the female leads in the movie.
Christina Hendricks is the one that has stated that she feels really close to her costars and has formed a bond with them that is very much like TaL was back in their day. It's a kind of understanding that they're doing something special to show women what it's like to come together rather than allowing society to find ways to tear them apart.
3. Each one of them has an issue in their lives that they're struggling with.
Like I said above each woman on the show has something in their life that they need to pay close attention to and will seek to change if they possibly can. Whether it's a sick kid or a custody case that needs to go their way there's a need to take charge and sometimes the only way to do that is to fight back against those that are actively trying to control your life.
2. There's a lot of risky behavior.
The use of guns is perhaps the one biggest risk I can see so far and it's the same as it was in TaL in some respects. They might not want to use them but simply having a gun doesn't just make them tougher than anyone else, it also makes them a target. This kind of behavior is something that in the current era is not taken lightly and will get a person sent to the morgue or to jail, no matter if they're women.
1. It's bound to end badly.
Thelma & Louise didn't have a happy ending unless you turned off the movie before the cliff jump. Anytime violence of any type gets involved the happy ending that people want is in serious jeopardy and might blow away like a leaf on the wind.
This might be an interesting show.
Tell us what's wrong with this post? How could we improve it? :)
Let us improve this post!