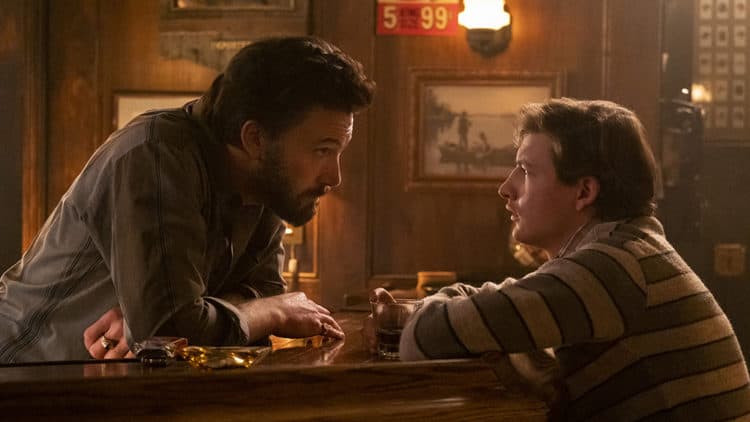 When people think of George Clooney, his name is usually associated with blockbuster films, political and social activism, philanthropic works, and a wicked sense of humor, which ends up with notorious pranks on famous co-stars. Clooney goes beyond the norms, and proves that one can be a jack of all trades, and master of all. He has also reached a point in his career where he seems to have done it all. This in no way means that he is slowing down anytime soon though. Clooney has still got tricks up his sleeve, and viewers still have a lot to look forward to.
What is the Film Based on?
Clooney is no stranger to being behind the camera. He has gone on to direct films, such as Suburbicon and The Midnight Sky, as well as the Hulu television miniseries, Catch-22. The genres are diverse, and the storylines mostly adapted from bestselling novels. Clooney marks another directorial project and book to movie adaptation in the film, The Tender Bar. The coming-of-age drama is adapted from the 2005 memoir by J.R. Moehringer of the same name. The premise may be simple and straightforward, but the story is heartfelt. The film follows the younger years of J.R., who grows up in Long Island, without his biological father by his side. Tye Sheridan (Mud) portrays J.R., while Ben Affleck (Batman v Superman: Dawn of Justice) plays the impactful role of his kind-hearted Uncle Charlie, a bartender, who also becomes a father figure to him. J.R. is seen making most of his childhood memories in the bar, side-by-side with his Uncle Charlie. The other cast members include Daniel Ranieri, Ron Livingston (The Conjuring), Christopher Lloyd (Cyberchase), Max Martini (The Unit), Sondra James (Shiva Baby), Michael Braun (The Sinner), Max Casella (Boardwalk Empire), Rhenzy Feliz (Marvel's Runaways), Ivan Leung (All American), and Briana Middleton (Sharper).
A Sentimental Take on Growing Up
A child's formative years are a crucial period in his life. It's a time when children need the most support and nurturing. Seeing J.R. navigate childhood with his single mother, Dorothy, portrayed by Lily Rabe (The Whispers), and Uncle Charlie by his side is a comforting consolation. A touching moment in the movie is when Uncle Charlie tells J.R., "OK, two rules. I'm never gonna let you win, and I'm gonna always tell you the truth." This just shows how pure his intentions are, and how committed he is to raise the boy well. Viewers get to witness the transition of J.R. from a young boy to a teenager attending Yale University in the 1980's, as he goes on to pursue his dreams of becoming a writer. Clooney is able strike a chord, as he brings out the right balance of emotions from his actors. The poignant scenes are also realistic and relatable. Sometimes, it pays off to go back to basics. There is indeed beauty in simplicity. The film also reminds us about the ties that bind. J.R. takes with him everything he has learned from his mom and uncle as he enters adulthood. The lifelong lessons are reflected throughout the movie, and are reflective in the decisions that the character makes. Clooney might have had a good point of reference from Moehringer's novel, but it also takes a certain sense of understanding and creativity to direct a melodrama that makes viewers feel and empathize with the various characters. His past films were mostly in the dark comedy and science fiction genres. It's nice to see him take on a lighter genre that still packs a punch.
The Tender Bar is nostalgic trip down memory lane. It is a reminder that life is what you make it. Nothing in this world is perfect, and there may be some aspects of life that will be lacking, but perspective makes a world of difference. J.R. grows up to be a hopeless romantic and pursuer of dreams. Life may have been quite unkind to him, but he did not let this stop him from making the most out of it. He does all this while still keeping intact the bond he has formed with his Uncle Charlie. It's true when they say that life is the best teacher. The best lessons are not those learned inside the four walls of the classroom. We must cherish the relationships we have, and always make time to cultivate and nurture them. The film is an eye-opener, and serves as a tribute to Moehringer, who has gone on to become a lauded novelist and journalist. We are lucky to be given the chance to witness a part of his world through Clooney' lenses.