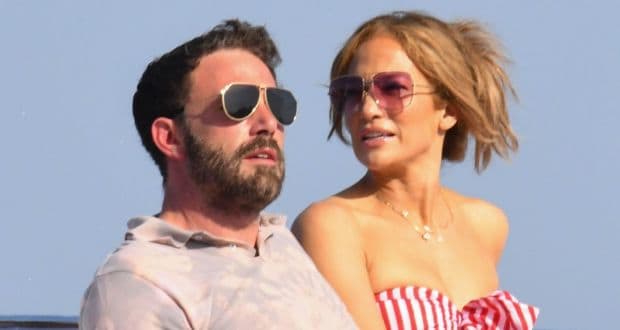 Jennifer Lopez and Ben Affleck are among the most popular and best Hollywood stars. They met in 2001 on the set of Gigli, which was a rom-com released in 2003. Unfortunately, the movie didn't go well but the relationship between Jennifer and Ben began growing. At that time, Jennifer Lopez was married to dancer Cris Judd. She went public with Ben Affleck after her divorce from Cris Judd in 2003. In an interview with People, Jennifer Lopez revealed the truth about her relationship with Ben Affleck. She said "we didn't try to have a public relationship. We just happened to be together at the birth of the tabloids, and it was like 'Oh my God.' It was just a lot of pressure." She also said that her first impression of the actor was something out of context. "I felt like … 'Okay, this is it,'" Jennifer Lopez said. "[But] sometimes I feel like what you think people are and how you see them when you love them is different than when they reveal later."
The media and public continued seeing Jennifer Lopez and Ben Affleck together. In 2010, they were being called J.Lo. Everyone had put a lot of pressure on them due to their relationship. They then made a guest appearance on The Graham Norton Show and the actress said "I love Ben, he's a great guy, but it was a lot for both of us to be under that type of siege for two years straight," she said. "We were on the cover of every magazine, every week, it was just a weird thing. … Our relationship, I think, did suffer because of that. That's not the only reason … but I think it definitely played a part in the dynamic of our relationship."
From engagement to breakup
Jennifer and Ben got engaged in 2002. One year later, in 2003, they appeared together in a movie. Jennifer Lopez played the role of the dead wife of Ben Affleck. This film also didn't do good business at the box office and could gross only $36 million. Days before getting married, they announced that the wedding had been postponed. In January 2004, they ended their engagement. Jennifer Lopez and Ben Affleck officially announced that things weren't going well between them. In a statement, Jennifer Aniston said "I am confirming the report that Jennifer Lopez has ended her engagement to Ben Affleck. At this difficult time, we ask that you respect her privacy."
Jennifer Lopez and Ben Affleck as one of the coolest Hollywood parents
Despite all the controversies, problems, and conflicts, Jennifer Lopez and Ben Affleck have never compromised on anything when it comes to their kids. Most recently, they were spotted for a dinner with their daughter, Emma. Emma is 13 years old, and Jennifer Lopez and Ben Affleck do everything needed to keep her happy. It is worth mentioning that the two stars have never let their internal problems interfere with the life, growth, and happiness of Emma. The Get Right singer, 52, and the Argo director, 48, were clicked together at the West Hollywood restaurant along with Emma. In case you don't know, let me tell you that Emma is not Ben's daughter, but he still loves her like his own daughter and likes to spend maximum time with her despite being too busy with his projects.
Jennifer Lopez and Ben Affleck have moved on
The two stars have moved on with different people, but whenever it is possible, they spare time for each other which is a very good thing. Jennifer Lopez shares Emma and her twin brother named Max with her ex-husband Marc Anthony. She and Mark had parted ways in 2014. On the other hand, Ben Affleck shared three children with his ex-wife Jennifer Garner. The names of his kids are Violet, Seraphina, and Samuel. Violet is 15 years old, Seraphina is 12 years old, and Samuel is 9 years old. Affleck and Garner had a split in 2015 after ten years of marriage. Some sources reveal that Jennifer Lopez and Ben Affleck spend every weekend together. They have been house-hunting in Los Angeles. When they don't work, they bring their children out. Does it mean they are planning to move in together soon? Fans and journalists are curious to know the answer, but it looks like Jennifer Lopez and Ben Affleck will not reveal anything at this point. Maybe, they are trying to sort things out between them before an official announcement is made regarding their relationship status.