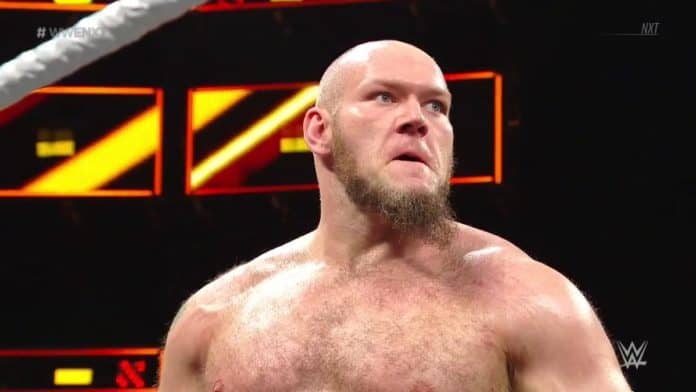 We have seen the man on WWE and heard of the offensive comments he allegedly made but what else do you know about Lars Sullivan. Here are ten quick facts to keep you in the know about this superstar destined for greater things.
1. Bobby Lashley got him to WWE
Most of us have talents, and as much as we want to make the best out of them, unless we get help, our gifts might die with us. Lars may have wanted to be a professional wrestler and even went to train in a wrestling school in Denver. However, we would probably not know of him according to (https://www.si.com/wrestling/2018/06/16/lars-sullivan-wrestler-wwe-nxt-bio-finisher-career) were it not for Bobby Lashley who noticed Sullivan's raw talent and made sure that WWE hired Lars and brought out the superstar in him.
2. At 20 he preferred WWE over his girlfriend
Relationships take a lot of commitment for them to work regardless of the age of those involved. Lars probably was still too young to know this fact when the love bug stung him. As SI reported, Lars revealed through a letter to WWE Magazine that on June 12, 2005, on his girlfriend's birthday, he preferred to be in New York for ECW's One Night Show instead of spending time at home with her. After the show, he felt sorry and took her a T-shirt as an apology, but the girlfriend declined, and they have never spoken ever since.
3. He has been accused of racist and sexist comments
We are always advised to think twice before we talk because words cut deep. Lars Sullivan was yet to learn about this little piece of advice when he made racist and sexist comments from 2008 to 2013, and Wrestletalk summarizes some of the alleged comments. Although WWE set a precedence of such behavior by firing Hulk Hogan who despite apologizing was still let go, Lars has been maintained among the key wrestlers, and it seems like he is not going anywhere. Some may call it double standards but WWE must have its reasons.
4. He allegedly faked an anxiety attack to avoid undergoing a test
When it comes to sitting for an exam in class, most of us will probably be anxious and barely sleep the night before and maybe make up an excuse to avoid taking the examination altogether. That may have been the case with Lars, this time with the WWE's Wellness test which according to WWFOldSchool believed he would fail and thought it better to avoid it by saying he was suffering from mental issues. The tests are performed on randomly selected wrestlers, and when Lars found his name among those to be tested, he left the building.
5. Lars made an impression on Brock Lesnar
Some people are hard to please, and no matter how hard you try, you always seem to come short of their expectations. One such person is Brock Lesnar, and he has been impressed by only a few superstars who he wanted to work with, but Lars must be quite something to make Brock travel to work with him. According to InformationCradle, Brock Lesnar went to the WWE Performance Center, Orlando, to train with Lars after watching him during the Wrestlemania Axxess in 2015.
6. He adopted "Lars Sullivan" in 2017
What's in a name? You may ask yourself that question, but most people hate one of their names for personal reasons, so they change it to what they prefer or use only the one they like. For professional wrestlers, we become so used to hearing their ring names, such as Triple H, Hulk Hogan and The Undertaker that we do not even know their real names. For instance, Lars Sullivan is a ring name that Dylan Miley adopted for his profession in May 2017.
7. He earns an estimated annual salary of $500,000
As with every professional wrestling is all about the money one can take home and according to Total Sportek, wrestlers get into contracts for at least 1 to 10 years in return for an annual Salary of between $500,000 and $1 million. These figures can fluctuate depending on the bonuses, and other factors but those on the main roster are guaranteed to make $500,000. Lars Sullivan entered the main roster, and that translates to at least half a million per year.
8. He debuted on the main roster in April 2019
As Wrestle Talk discloses, being on the main roster on WWE has to be every wrestler's goal because the chance to fight is always there and remaining relevant in the industry is key to making money. Out of sight out of mind and without showing up on stage now and then, the crowds will soon stop cheering your name. This fact is what must have been on Lars Sullivan's mind when he decided to attack Kurt Angle during his retirement speech by hitting him with a head butt, thus making his way to the main roster.
9. He has gigantic hands
The minute you hear a person's nickname to be "The Freak" you can only imagine what they look like because they must be different from the ordinary person. Well that is Lars Sullivan's nickname and apart from weighing 303 pounds with a height of 6 feet and 3 inches, his hands are huge and he is proud to flaunt them. Besides using a photo of his hand as an Avatar on his twitter account he usually poses with his hands extended to give us a better view.
10. He is behind two famous backstage fights
People will do anything to keep their blood rushing and when you are on a show like WWE, most probably they will result to fighting. Lars Sullivan seems always to attract trouble, and when two wrestlers were injured on NXT, we did not know what happened. Lars confirmed he is behind the wrestlers' injuries when he posted two pictures of Hideo Itami and Aleister Black and circled a large figure in the background in both photos as if to tell us who to blame for the attacks.