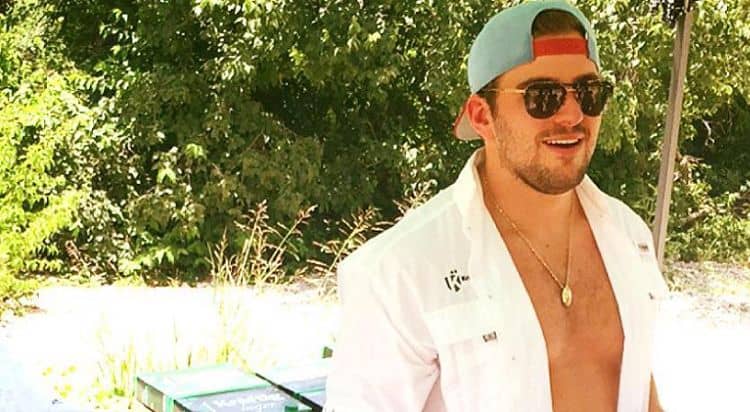 Beer may be the first thing that comes to mind when you think of the Busch family, but that's about to change. The Buschs are officially one of the latest wealthy families to join reality TV with their new series, The Busch Family Brewed. Billy Busch Jr., the oldest of the Busch kids, is already getting some attention on social media. 28-year-old Billy is good looking, rich, and charismatic and he could be on is way to becoming MTV's next reality TV star. Keep reading to learn 10 things you didn't know about Billy Busch Jr.
1. He Loves The Outdoors
Billy Busch Jr. hasn't let his posh upbringing stop him from getting his hands dirty. When is isn't working, he loves enjoying time in the great outdoors and some of his favorite activities include hunting and fishing with his family and friends.
2. He Has A Girlfriend
Billy Busch Jr. is definitely the settling down type. While this can be a good thing, Billy's ability to fall in love at the drop of a hat often makes his family skeptical about the women he brings around. Apparently, a big part of Billy's story line on The Busch Family Brewed will be trying to get his family to like his girlfriend, Marissa. Billy's family may not be fans of his latest interest but he sure does seem to be smitten.
3. He Is Considered 'The Responsible One'
On top of being the oldest sibling, Billy Busch Jr. is also the most responsible. He has a strong work ethic and has worked his way up from the bottom of the family business. In a promo video for the show, Billy's mom comments that although he is spoiled, he is very responsible and likes to do things the "right" way.
4. He Had His First Beer The Day He Was Born
The Busch family loves their traditions, and one of them is to give their baby boys a taste of beer as soon as they're born. According to Billy Busch Jr. his father let him have a small taste of beer almost immediately after exiting the womb. Talk about a way to be welcomed into the world.
5. He Is Very Close With His Family
Not only does Billy Busch Jr. come from a big family, he also comes from close one. Billy enjoys spending time with his siblings and his parents. He is all about keeping the family close knit and making sure their traditions continue. He is also dedicated to working for the family business and keeping the Busch name strong for years to come.
6. He Loves Marketing
Billy Busch Jr. is following in his father's foot steps by working for Anheuser-Busch. Billy has tried several different positions throughout the company but has found that he is most interested in the marketing and creative side of the business.
7. He's Friends With Chingy
Billy Busch Jr. and rapper, Chingy, may seem like an unlikely pair, but the two are actually really good friends. Billy even posted a nice happy birthday shoutout to Chingy where he referred to the rapper as his brother. Chingy also appeared in an ad for the Busch Brewing Company in 2017.
8. He's A Hopeless Romantic
Billy make look like a play boy, but that couldn't be any further from the truth. He is actually considered the hopeless romantic of the family and he enjoys meeting women and taking them out on pricey dates. More than anything though, Billy really likes being in relationships. Viewers will get a chance to take a closer look at Billy's love life during this season of the show and I have a feeling they won't be disappointed.
9. He's Most Likely To Pee In The Pool
Being voted 'most likely' to do something is usually considered a good thing. However, when the thing you're most likely to do is pee in the pool, things can get a little murky – no pun intended. Billy was given this superlative by his siblings, although he didn't seem to disagree.
10. He Loves To Travel
When you're a member of one of the wealthiest families in the country, traveling is a lot easier than it is for most people. Billy Busch Jr. takes advantage of his ability to easily see the world by traveling as many places as possible. He has gotten to see some very cool places including St. Lucia and Turks and Caicos.
Tell us what's wrong with this post? How could we improve it? :)
Let us improve this post!