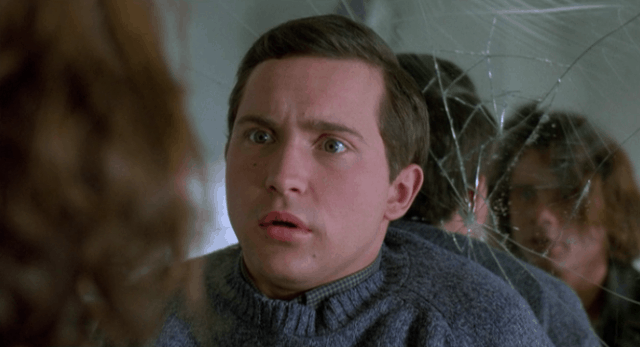 If you don't recognize him then try to picture a scruffy brown beard, a long duster, and a naive glimmer in his eyes that spoke of a willingness to prove himself but an inability to ever really believe that he was capable of anything. Still no? Try a pair of 3D glasses and a slicked back hairdo. If neither of these ring a bell then you might have missed out on some of Casey's best cinema appearances in Back to the Future and Young Guns. Such a shame. Of course if you've followed him for a while and those references sparked a memory there's likely even more you don't know about the man behind the dual-colored shades and the neckerchief.
Here are a few things about Casey Siemaszko you might not know.
5. He's trained in three different martial arts.
Yep, he's proficient in Hapkido, Judo, and Tai Chi. Seems like the former Charlie Bowdre wouldn't need a gun to go traipsing about considering that he's quite the skilled combatant. But then again he is a rather adept student of Zen so it stands to reason that he wouldn't go flying off the hook like some of his on screen personas.
4. He competes in Olympic distance triathlons and League Soccer.
Just to look at him you might not think Casey is really in the kind of shape to go running for long distances or go sprinting up and down a soccer field. But in reality the man is in great shape and knows his way around a soccer ball. It's still a bit difficult equating this guy with being so obviously involved in personal fitness after having seen him on the big screen more than once. But one has to remember that every actor is just playing a role, who they are off screen is often extremely different.
3. He played a role in Of Mice and Men in 1992.
You remember that smart-mouthed little punk named Curley? Do you recall how Lenny, played by John Malkovich, was getting beat within an inch of his life by a man half his size? Well if you do then you know that Lenny eventually got told to "get him" and proceeded to end the fight by crushing Curley's hand as though it'd been shoved in a vise. Yep, that was Casey getting schooled, and it was probably one of his most sadistic roles to date.
2. He's of Polish and English descent.
His surname alone might clue you into at least half of his heritage, but Casey is also half English on his mother's side. Looking at him it might appear that he's 100% Polish, but he has a much more diverse heritage and yet for all that he comes off as a fluently-speaking American in a lot of his roles due to his upbringing and long years in the film industry. The guy's got talent.
1. Acting kind of runs in the family, in his generation.
Well, maybe it's just a sibling thing, but his sister is Nina Siemaszko, a moderately successful actress that's starred in a few films such as The Artist, Airheads, The American President, and Suicide Kings. If you don't recall any of those then you might need to look them up on Netflix or Hulu and expand your cinematic knowledge.
Casey has an impressive resume for a guy that hasn't been on many people's radar for the last several years. It stands to reason that his roles as Charlie Bowdre and 3D, and possibly Curley, might be his most recognizable moments.
Save