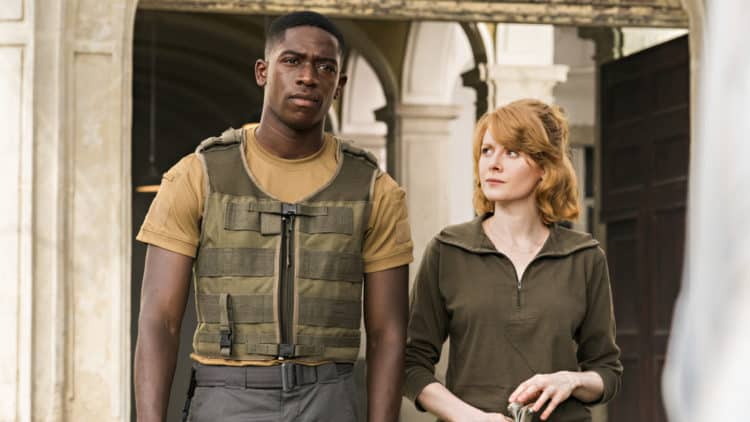 Emily Beecham is the type of actress who doesn't come along very often. She is talented, hard working, and bold. All of these qualities have helped her build a career that has been consistent and successful. Over the years, she has earned nearly 50 on screen roles, and there's no doubt the last is going to keep growing. While she has several projects in the works at the moment, the upcoming film Cruella is one that many people are the most excited about. The movie, which is set to be released in May 2021, follows the story of a young Cruella de Vil. People are already excited to see how Emily will bring the famous Disney villain to life, and we know that she isn't going to disappoint. Keep reading to learn 10 things you didn't know about Emily Beecham.
1. The Blue Room Inspired Her To Get Into Acting
Almost every actor can remember the one defining moment that really made them feel like acting was what they wanted to do. For Emily, that moment came when she was around 13-years-old. At that time, her mother had taken her to a local theater to see a production of a play called The Blue Room which starred Nicole Kidman.
2. She Loves Fashion
Emily may not be a professional model, but as someone who spends a lot of time in front of the camera it makes sense that she would be interested in fashion. Emily has a great sense of style ands he enjoys experimenting with different clothing items and accessories.
3. She's A LAMDA Alum
After Emily decided that acting was her calling, she also decided that she wanted to do everything she could to sharpen her skills. She studied at the London Academy of Music and Dramatic Arts (LAMDA). The school has a long history of producing successful actors. Some of LAMBA's notable alumni are Tom Brooke, Benedict Cumberbatch, and John Lithgow.
4. She Loves Interacting With Fans
Building and maintaining a good relationship with fans is an important aspect of working in the entertainment industry. After all, if there isn't anyone who is excited about seeing your work, opportunities will eventually become harder and harder to come by. This is something Emily understands and she has worked hard to connect with her fans as much as possible. She often uses her social media platforms to repost images of fan art that people have created for her.
5. She Isn't Afraid To Speak Her Mind
Emily is the kind of person who isn't shy about standing up for the things she believes in. She has consistently supported causes like LGBTQ+ rights and domestic violence awareness. In 2019, she also shared a post on Instagram encouraging her followers to get out and vote.
6. She Loves Spending Time Outdoors
Even though Emily's money and fame probably allow her to have endless options when it comes to ways to spend her time, sometimes she prefers simply enjoying the beauty of nature. She loves being outdoors and getting the chance to explore and appreciate her surroundings.
7. She Doesn't Mind Playing Characters Who Are Unlikable
Sometimes actors are hesitant to play characters who no one likes, but Emily doesn't have that fear. In fact, she doesn't mind it at all if she's playing someone who viewers may find difficult to like. During an interview with Standard she said, "I never went to school wanting to play cute characters, or girly characters. I wanted to play junkies, I wanted to play really complicated, heavy things and I haven't really had those opportunities until now."
8. She Feels Lucky To Be Where She Is Professionally
When most people talk about success, hard work is the first thing that comes to mind. While there's no denying the fact that hard work tends to be a factor when it comes to success, luck is also another key component. Emily admits that she feels "incredibly lucky" to be doing something she loves.
9. She Enjoys Traveling
Emily was born and raised in England, but she has dual citizenship due to the fact that her mother is American. With that being said, traveling has always been an important part of her life. She always looks forward to visiting different places and she's gotten to go to several countries including Spain and France.
10. She's Into Photography
Acting may be Emily's thing, but it certainly isn't the only art form that she enjoys. Based on her Instagram profile, she seems to also have a deep appreciation for photography. She enjoys looking at the works of others and also has a knack for snapping beautiful pictures of her own.