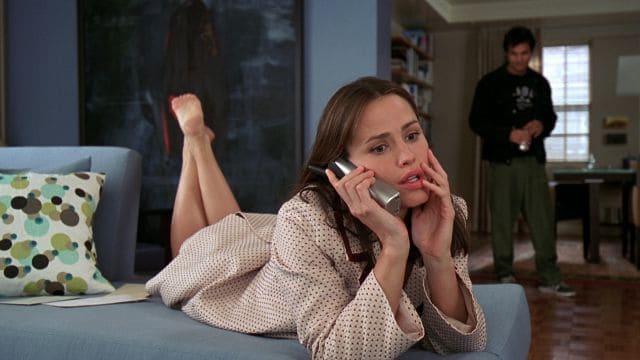 After spending the 1990's playing bit part characters on TV and film, Jennifer Garner exploded into the collective consciousness with her portrayal of Sydney Bristow in the smash hit TV spy drama, Alias. The show would run for 5 seasons, with Garner's salary rising from $40,000 per episode at the show's onset to $150,000 per episode by its end… a measure not just of the show's success, but of Garner's. Her stellar performance as the kick-ass Bristow elevated the young star to the status of leading lady- a title she showed to full advantage in films such as 13 Going On 30, Butter, and Dallas Buyers Club. Outside of acting, Garner has been a regular feature in the entertainment columns, not least for her high-profile marriage to fellow actor, Ben Affleck, and their very public divorce in 2018. Most recently, she's hit the headlines with her new relationship with restaurateur, John Miller. If your interest is piqued, read on to find out 20 little known facts about the talented actress.
1. She had a conservative upbringing
Like many of her Hollywood contemporaries, Garner is known for her liberal politics. However, things may have turned out very differently had she followed her parents' example. Garner grew up in a very traditional, conservative environment that she's joking referred to as being "almost Amish". Garner was the youngest of three sisters born to William John Garner, a chemical engineer at Union Carbide, and Patricia Ann, an English teacher. Her strict parents banned Garner and her sisters from wearing makeup, dying their hair, or indulging in any of the usual pastimes of your typical American teen. "We were the Garner Girls, and we were very "appropriate" at all times", the actress would later reveal to the Daily Beast.
2. She performed in local community theater
Garner decided on a career in acting at a young age, and preferred spending her days performing than studying. Garner was a regular face at her local community theater, the Charleston Light Opera Guild, while outside of school, she took lessons in ballet, singing and piano. After enrolling in chemistry at Denison University, Garner had a change of heart midway through her studies and switched to a major in theater. In 1993, she took a semester at the National Theater Institute at the Eugene O'Neill Theater Center, before graduating in 1994 with a Bachelor of Fine Arts degree in theater performance.
3. She's great at cleaning
During her student days at Denison University, Garner made ends meet by working summer stock theater, where she spent almost as much of her days selling tickets and cleaning as she did performing… leading to her revealing "I can really clean a good bathroom" during a podcast with David Tennant. After graduation, Garner moved to New York, getting her first real taste of acting with a $150 per week job as an understudy in A Month in the Country, a Roundabout Playhouse production starring Helen Mirren.
4. The part of Sydney Bristow was written for her
After taking a few minor roles in the 1990's, Garner's career hit its stride with her casting in the ABC spy drama, Alias, in 2001. The show has a special place in Garner's heart not only for helping her get a foot in the door, but because show creator, J.J Abrams, wrote the part of Sydney Bristow specifically with her in mind. "… she had something in her that was funnier and sexier and smarter and more mischievous than anything I'd seen her do … I wanted to show that", he told USA Today.
5. Her first lead movie role was in 13 Going on 30
Garner worked intermittently in films while shooting Alias, but it was in 2004's 13 Going on 30 that she took on her first leading role. The role, which saw Garner cast as a 13-year-old trapped in the body of a 30 year old, won her a legion of fans amongst both cinema goers and critics alike. Owen Gleiberman of Entertainment Weekly noted her performance as "utterly beguiling… you can pinpoint the moment in it that Garner becomes a star". Ann Hornaday of The Washington Post, meanwhile, felt sure her performance would make her "America's next Sweetheart."
6. She's a spokesperson for MaxMara
In 2013, Garner won the accolade of being the first celebrity to represent Italian fashion brand, MaxMara, on a global stage. The partnership wasn't just the first of its kind for MaxMara…it was also Garner's first ever fashion endorsement. "Jennifer Garner is a real woman, not a cover girl, not a starlet, and she has different interests, a family and values," Max Mara's chairman, Luigi Maramotti, told WWD . "She is a real woman and embodies the Max Mara woman, she perfectly reflects our image."
7. She has a star on the Hollywood Walk of Fame
In August 2018, Garner was honored with a coveted star on the Hollywood Walk of Fame. Garner attended the unveiling ceremony with the whole Garner clan (children Violet, Seraphina, and Samuel, parents William and Patricia Garner, and sisters, Melissa and Susannah) in tow. The milestone moment was marked by some touching speeches from Garner's fellow actors, Steve Carell, Bryan Cranston, and Judy Greer, who all took to the stage in Garner's honor.
8. She's officially "beautiful"
Cinema fans may have suspected it for some time, but earlier this year, it was confirmed that Jennifer Garner is officially good-looking. The news came via PEOPLE, who choose the actress to grace the cover of April's "Beautiful Edition", an annual round up of the world's prettiest. Other famous names who got a mention included Priyanka Chopra Jonas, Camila Cabello and Brie Larson.
9. She co-founded a baby food company
We may know her best as an actress, but in recent years, Garner has been building a lucrative little sideline as an entrepreneur. In 2017, she co-founded organic food company, Once Upon a Farm. After starting out as a purveyor of baby food and applesauce, the company recently diversified its range in keeping with its mission to deliver sustainable, high quality food to as many children as it can. Of her decision to launch the company, Garner has said "I am passionate about childhood nutrition and making sure we are leaving a healthier and happier planet for the next generation."
11. She a multi- award winner
Over the last couple of decades, Garner has won more awards and nominations than you can shake a stick at it. For those who are counting, the current figures amount to: 1 Golden Globe Award (and 4 nominations), 4 Primetime Emmy Award nominations (but no wins) and 1 Screen Actors Guild award (and 3 nominations). She's also won several nominations and awards at the People Choice Awards (including the coveted prize for Favorite Hair in 2005), the MTV Awards (where she claimed the award for Best Breakthrough Female Performance for Daredevil) a Saturn Award, and multiple Teen Choice nominations.
12. She had a serial stalker
In 2009, Steven Burky was arrested for staking the actress and her family between 2003-2004, and again between 2008-2009. Burky had been issued with a restraining order the previous year but was clearly undeterred- at the point of his arrest, he was found lurking outside Garner's daughter's pre-school in a mob of paparazzi. Burky pleaded not guilty by reason of insanity to two counts of stalking- the jury agreed with his plea, and Burkey was confined to a state mental hospital.
13. Her first husband was Felicity co-star, Scott Foley
In 1998, Garner met and fell in love with her Felicity co-star, Scott Foley. After a couple of years of dating, the pair married at a private ceremony in October 2000. Despite things starting out well ("It always sounds so cheesy – 'It was love at first sight' – so I'm not going to say that," Foley told a Rolling Stone reporter in 2002. "But that's what it was."), the relationship soon soured, with Garner filing for divorce in 2003, citing irreconcilable differences.
14. She invited only 2 guests to her wedding to Ben Affleck
After meeting on the set of Pearl Harbor, Garner and Ben Affleck began dating in 2004. They married the following year in a quiet ceremony in Turks and Calcos. The only guests at the wedding were Canadian actor and singer, Victor Garber, who officiated, and his husband Rainer Anderson. The couple went on to have three children together, Violet, Seraphina, and Samuel, before separating in 2015. Divorce proceedings began in April 2017- by October 2018, the marriage was officially over.
15. She's a noted philanthropist
Garner has worked extensively for worthy causes over the years. In 2009, she became an ambassador for Save the Children, and has served on its board of trustees since 2014. In 2007, she demonstrated her environmental credentials by appearing in a global warming awareness film for the Centre for American Progress Action fund. In 2013, meanwhile, she was instrumental in passing a bill to protect the children of celebrities from paparazzi's. Garner became involved in the campaign after witnessing the effect of media harassment on her own kids. "(They) take karate, and we have our classes at the same time every week…. so 20 (paparazzi) wait there for us every single class…. that's a lot of energy coming at little, little kids", she explained.
16. She's politically active
She may have been raised in a conservative household, but Garner is a liberal through and through. In 2002, she featured in a television commercial for old childhood friend, Corey Palumbo, who was running as the Democrat candidate for the West Virginal House of Delegates. In 2008, meanwhile, she threw two fundraising events in support of Barack Obama's presidential candidacy. She's since donated $25,000 to Democrat Wendy Davis, and in 2016, hosted a fundraiser in support of Democrat presidential nominee and former first lady, Hilary Clinton.
17. She does her own stunts
During the shooting of Alias, Garner became extremely proficient in martial arts and Taekwondo… to the extent that she performed many of the show's action sequences herself. While all proved well on Alias, her decision to relegate her stunt double to the sidelines nearly had disastrous consequences on the set of 2003's Daredevil. In the middle of a stunt, she became tangled in wires and started hurtling towards a wall head first. Fortunately, her then boyfriend, future husband Ben Affleck saw what was happening, and managed to jump to her rescue just in time.
18. Her family prefers the natural look
Garner may have to cake on the make- up during filming, but off work, she's prefers the all-natural look… not least because her three children are so insistent on it. "They'll look at me and say, 'Can you wash your face? Can you put your hair in a ponytail and put your glasses and sweats on?'" she told PEOPLE. "And I see the compliment in that. They just want me to look like Mom."
19. Her net worth is $60 million
Thanks to her prolific output over the past 2 decades, Garner is sitting on a very pretty fortune indeed. According to CNW, the 47 year old actress has a net worth of $60 million.. not bad for someone who once earned a living cleaning bathrooms.
20. She was in a recruitment video for the CIA
Following the 9/11 terror attacks, Garner took on one of her most unusual gigs to date… a recruitment advertisement for the CIA. The recruitment video, which Garner filmed in 2004, went on to be shown in college and schools across the country. Garner's part was apparently unpaid, but it did have its rewards: because of the parallels between the ad and her role in Alias, the commercial attracted a lot of media attention for both the CIA and Garner herself… and as they say, no publicity is bad publicity.
Tell us what's wrong with this post? How could we improve it? :)
Let us improve this post!