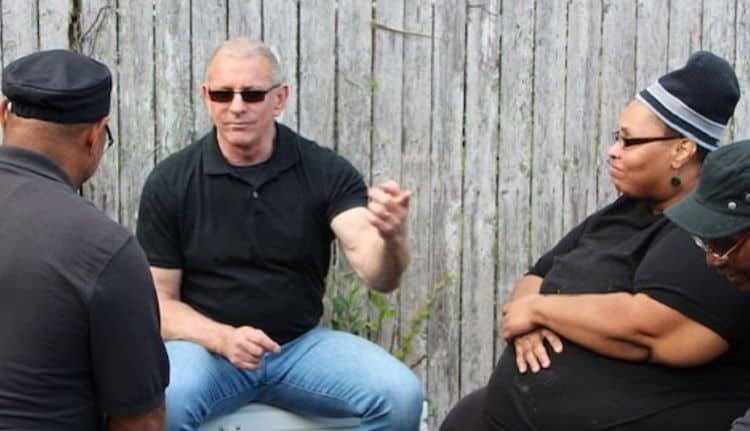 Robert Irvine is best known for his work as a celebrity chef as well as a host of several shows appearing on the Food Network. Foodies know him by name and he's become an iconic figure on national television. Fans have enjoyed his contributions to food shows which include "Restaurant Impossible," "Dinner Impossible," "Worst Cooks in America," Chopped," "Restaurant Express," "Guy's Grocery Games," and much more. He doesn't talk about his personal life or his career unless it relates directly to food preparation so although we know him upon sight, there isn't a lot about the man that we know. We looked into his history and his career to learn more about the magnificent chef and here are 10 things that you probably didn't know about him.
1. He's a native of Wiltshire, England, UK
Robert Irvine was born in England and his home town is considered to be Trowbridge, Wiltshire, where he was raised as a youth. He's had a passion for cooking since he was quite young. He was cooking for others at the age of just fifteen and he had already completed culinary training. This is a passion that has continued throughout his entire life.
2. Robert is also an authority on fitness
We learned that in addition to being a world-class chef, Robert Irvine is also an expert on physical fitness. He's well aware of the drawbacks and benefits of cooking and the nutritional value of the meals he prepares depends greatly upon the ingredients which are used and the manner in which they are prepared. If you want to learn how to cook for the best in nutritional value and fitness, he's the man who can give you the best advice, and he also knows how to make healthy foods taste amazing.
3. He's also an actor and producer
In addition to appearing in food network shows, Irvine is an actor who starred in a show titled "Melissa & Joey" in 2010. This is in addition to his "Restaurant Impossible" in 2011. He was also the star of the show "Body of Proof" in 2011. Robert Irvine is also a producer in the television programming industry, so it's clear to see that he has many different talents and he's putting them to good use, carving a lovely career for himself and keeping the rest of us entertained.
4. Irvine is in high demand
Robert Irvine is a celebrity who is always in demand with talk show hosts. He is regularly invited to make appearances on a variety of morning and daytime talk shows to discuss food, business, and issues related to physical fitness. He's considered by many to be a guru on a variety of topics, but he's earned this reputation through dedication and hard work.
5. He enlisted in the British Royal Navy as a teen
When Robert Irvine was just 15 years old, he enlisted in the British Royal Navy. This is where he received his culinary training. He was a very special member of the service who was among the few who were chosen to work aboard the Britannia, which is the Royal Yacht. He was privileged to serve royals who were onboard. This gave him a tremendous start in his culinary career and the opportunity to learn the ins and outs of etiquette when it comes to meal preparation and serving. If you've wondered where his touch of class comes from, it was quite honestly earned.
6. He's a family man
Robert has been married twice. His first wife was Karen. The couple has two children together. Their daughters are Annalise and Talia, but the marriage didn't work out so they separated and divorced. Robert found love again and he married Gail Kim, his second and current wife, and the two have been together since May of 2012.
7. He's an inspiration to others
Irving has done a lot of things in his life, and he's enjoyed a great deal of success, but nothing was given to him. He worked hard since he was just a teenager, enlisting in the armed forces and pulling his share of the workload. He learned a lot along with way, and remained in service for a full decade, before leaving the British forces. He is an avid supporter of veterans who have given so much to defend their countries because he knows what it means to serve one's country in this capacity. He tirelessly gives back to programs which benefit those who have served and he doesn't miss an opportunity to pay his respects and honor these men and women.
8. Robert Irvine served as a consultant
Robert has extensive experience in naval operations and having served 10 years in his tour of duty, he became somewhat of an expert in the marine craft. After leaving the service, he embarked upon a career as a consultant in places such as Ho Chi Minh City, Bali, and Jakarta. After gaining this experience, he served as the executive chef aboard President Trump's Taj Mahal as well as other cruise ships and establishments. He also worked in this capacity aboard the MS Crystal Harmony which received five stars.
9. He's a hopeless romantic
Robert met his current wife Gail Kim on the set of Dinner: Impossible. The two hit it off and began dating, but Irving has a side that few people are aware of. When he goes into stealth mode, it's hard to tell what he's up to. We learned that he planned an entire wedding without the knowledge of his wife, and he pulled it off. While some women might be put off by such a grand gesture, we think that it's one of the most romantic things that we've ever heard of.
10. Robert Irvine is one impressive fellow
Now that we know a little more about Robert Irvine than we did before, it opens up a whole new perspective for many of us, who have been fans of his television programs for years. His career started early in his life, which shows that he's been an industrious fellow for at least most if not all of his life. He's a master chef, a fitness expert and has served royalty throughout his journey. We hope that you enjoyed learning these interesting facts about Robert as much as we have.