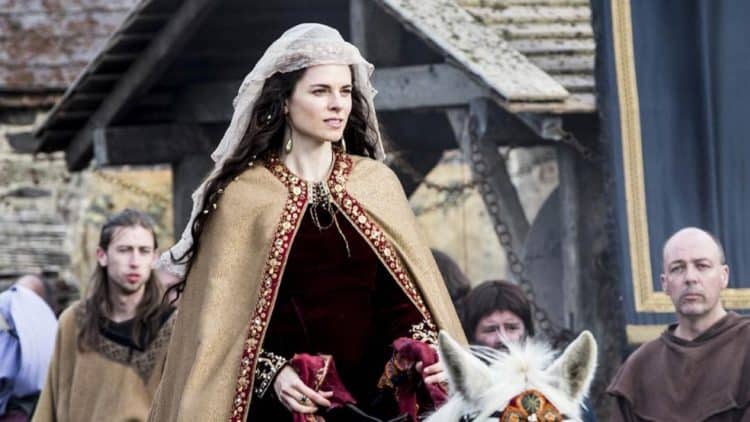 The last 10 years have been an interesting ride for Amy Bailey. The talented actress made her first on screen appearance in 2009 and has landed several roles since. Although she doesn't have a long list of on screen credits, she lights up the screen every time she steps in front of the camera. For that reason, she was lucky enough to land a main role in Vikings which lasted from 2014 to 2016. Amy is now in the process of making her way to the big screen with a role in the upcoming film, Knuckledust, where she plays the role of Chrissy. An official release date hasn't been announced for the film, but Amy's fans are waiting anxiously. Keep reading for 10 things you didn't know about Amy Bailey.
1. She Has Dual Citizenship
Amy was raised in Corpus Christi, Texas where she spent a lot of time hanging out at the beach. Over the years, her talents have brought her all over the world. She has dual citizenship in the United States and the United Kingdom and spends her time divided between Los Angeles and London.
2. She Was A Ballerina
Before Amy got into acting, she was a talented ballerina who trained and performed for many years. She told Talking Makeup, "I was a professional ballerina by 17yrs old, so I guess being onstage always felt pretty natural. My parents couldn't believe that as a teenager I would skip out parties because I had ballet class the next morning. It kept me out of trouble, for the most part."
3. She's A Brand Ambassador
Amy has made a name for herself all over the world and she's also built up a solid social media. This has made her an attractive option for brands who are looking for creative marketing options. She is currently a brand ambassador for Yummzy Desserts, a company that offers healthy dessert options.
4. She Makes Cameo Videos For A Good Cause
Cameo has become a popular platform that allows celebrities and influencers to easily create personalized videos for their fans. Not only does Amy make videos on Cameo for $50, but she donates all of the proceeds from her videos to Scene and Heard. According to the organizations website, Scene and Heard "is committed to the children of Somers Town, to improving their prospects and providing an environment where they can have fun, learn and grow."
5. She Has Lots Of Theater Experience
Amy began her acting career in theater where she quickly showed her impressive skill set. She initially got into acting after a ballet injury forced her to take a break from dancing. She decided to audition for a role in a production of The Producers, and she was cast.
6. She's A Comedian
Acting and dancing are what Amy has been most widely known for, but those aren't her only talents. Amy also loves improv and has been involved in several comedy troupes. During her interview with Talking Makeup, Amy shared that she things long form comedy improv is something every actor should try.
7. She's A Mom
Amy has been focused on her career for more than 20 years, but she's also made time to focus on her personal life and start a family. She is happily married to Anthony Gordon whom she met while doing ballet. The couple has two children together, a set of twins and a young son. Despite having a busy schedule, Amy is sure to spend as much time with her kids as she can.
8. She Likes To Travel
Amy's career has given her the chance to have some awesome experiences – and many of those experiences have taken place outside of the United States. On top of the places she's been for work, Amy also enjoys traveling in her free time. Some of the countries she's visited include France and Ireland.
9. She Likes To Do Her Own Stunts
Getting the chance to perform stunts is something that lots of actors look forward to. Although professionals are brought in for many of the more complex stunts, Amy has always enjoyed doing as many of hers as she possibly can. However, she was pregnant with her twins during her last season on Vikings and had to have a stunt double for many scenes.
10. She's A Cate Blanchett Fan
No matter how talented an actor is, there's probably at least one other actor whose work they really admire. Amy is a fan of several actors, but Cate Blanchett is one of her favorites. Amy admires Blanchett's work because she truly embodies every character she plants.