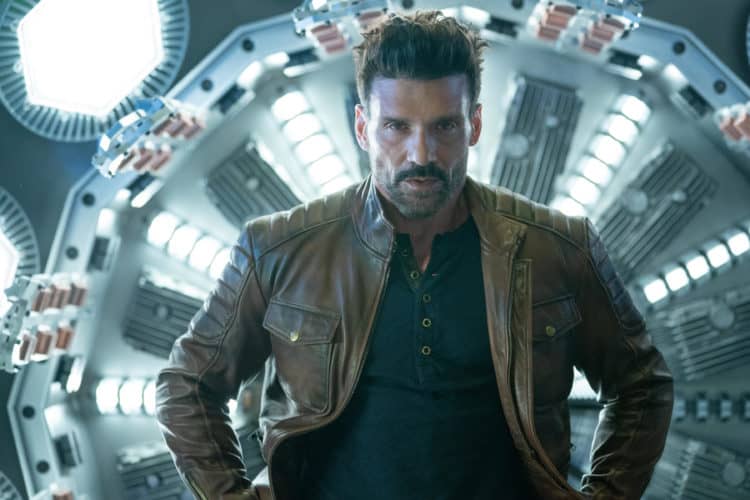 One could accurately say that Frank Grillo's star has been on the rise for some time now since he's been taking on more noticeable roles over the years as he's continued to improve and become a more seasoned actor. But in the last decade, he's become far more noticeable than he's ever been in show business and the type of development his career has seen is kind of impressive, to be honest. The fact that he started in simple roles when it came to acting is rather average since his beginnings in the business came by way of commercials as has happened with many actors over the years. But before he was entertaining the fame he has now, Grillo was the type of actor that was in the background or acting as a supporting character and didn't warrant a great deal of attention since he had yet to be fully recognized by a lot of people. But as time has continued to roll forward he's taken on more and more noticeable roles and has come close to being seen as just another buff tough guy that is there to help make other actors look good.
But instead of remaining a supporting character he's been cast as a lead in a few movies and he's done relatively well since he might not appear to be of the same caliber as some of the actors he's worked alongside, but he's become someone worth paying attention to. In the movie Warrior with Tom Hardy and Joel Edgerton, Frank ended up playing MMA trainer Frank Campana, who trains Brendan Conlon, Edgerton's character. As an MMA coach he came off as believable, but it's fair to say that Warrior is one of the many movies that people enjoyed before moving on to the next thing. Grillo has done several movies that have gone direct to video, but he's managed to work with more than a few big stars in his time thus far. Another break came when he took on the part of Brock Rumlow in Captain America: The Winter Soldier. He's gained a reputation for being a tough guy on screen since he's played a few individuals that know how to hurt people and aren't squeamish about doing it. But he's also managed to evolve when it comes to his acting as his tough-guy routine is still there, but he's been able to put a great deal of feeling into his act at the same time.
The fact is that a guy like Frank Grillo looks insanely tough and is capable of acting like a leg-breaker, but he's also shown that he's capable of being an intelligent and decent character on screen as well since his action chops are being balanced out by the idea that his characters do have a lot of heart. One of those that have come up recently was featured in the movie Boss Fight, which was kind of a silly action movie, but at the same time evolved into something that was also heartfelt since the character was trying to become a better person. In a way, Boss Level took the action to a place where it was a little goofy at times but still fun to watch, while at the same time it used the kind of humor that one might find in an extremely violent version of Groundhog Day. On top of that, the movie featured a few very big-name actors that a lot of people recognized easily and happen to like.
But while the action is what he's good at and can step into quite easily, Frank has managed to show that drama, comedy, and science fiction are well within his wheelhouse as well since the guy is talented but appears to get looked over at times. It could be that action stars are a dime a dozen at times, and that he's made a good living thus far by starring in a few action movies that make good use of his abilities. But in recent times, Frank has managed to stand out in a big way, and it's easy to think that moving forward that he could continue to be someone that will end up being counted among the various individuals that are worth calling on for a wide variety of movies.
Between TV and movies, he's been a little more noticeable when it comes to the movies, perhaps because there's a little more prestige when it comes to starring in a big feature. But he's managed to excel in the past several years in a way that makes it clear that he's not someone that's bound to rise and then be forgotten. What he's bound to do after his current project is unknown, but as of now, it's fair to say that Frank Grillo is going to be a name we'll be hearing for some time to come.