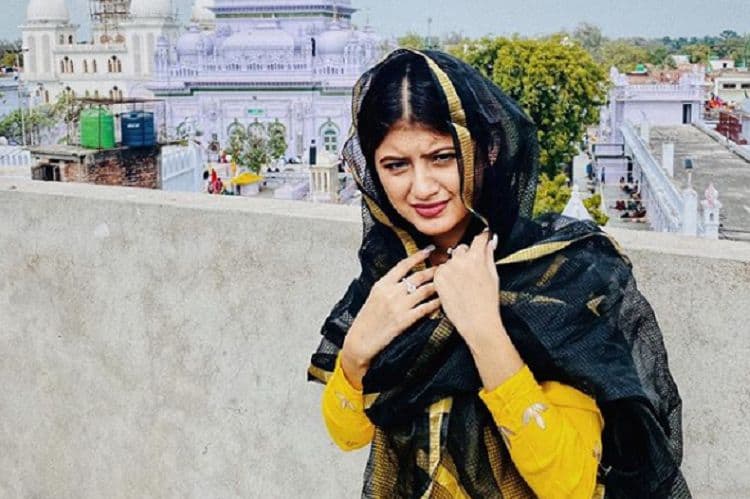 Social media is one significant achievement in the field of communication and lets us have some fun while socializing with our loved ones. Once in a while a social media platform comes up and gains immense popularity, with many users signing up to get a taste of its goodies. Presently, one such platform is Tik Tok. It is a video sharing social hub that has brought out many stars that come up with unique videos that translate to an impressive following. One such star is Arishfa Khan. She is very popular on the platform, and it is understandable if you would want to know more about her. The following are ten things about Arishfa Khan that you most probably did not know and will quench your curiosity.
1. Her Early Life
According to Dreshare, Arishfa Khan was born on the 3rd of April, 2003. It means that currently, she is 16 years old, some months shy of her 17th birthday. She is originally from Shahjahanpur, Uttar Pradesh in Northern India. She grew up in the area then, later on, made a move to Mumbai, one of India's major cities, to try her luck in acting.
2. Her Family
Not much is available about her family, more so her parents. She will once while upload her photos with her mother or sister, whom she seems to adore. She was born into a Muslim family, and that translates to her being an adherent of the Islamic faith. Arishfa and her sister Arisha Khan resemble, and when she uploads their photos together, many fans hop onto her feed to show how adorable they look together.
3. Education
Arishfa is still young, and at 16, it is an expectation that she is still in school, bringing her best in class. With her move to Mumbai, she enrolled in the prestigious Ryan International. It is a group of schools that boasts of rich alumni who passed its gates and are successful in various fields. Among the alumni of Ryan International include Sanya Malhotra, Ashnoor Kaur, and Navika Kotia, who are all actresses and play an essential role in the Bollywood scene. Such are figures Khan can look up to for motivation in the pursuance of her goals.
4. Her Career
Aside from being a renowned Tik Tok star, Arishfa Khan is also popular in the acting circles where she began early as a child actress. As evident from Wiki, she kicked her acting career in 2012 where she was a cast on Colors TV's Chhal-Sheh Aur Maat. In the same year, she made an appearance for Star Plus' show, Ek Veer Ki Ardaas. Other shows she came through include Fear Files, Gangaa, Meri Durga, and Uttaran, among many more, which put her place as one of the top child actors of the new millennium.
5. Her Stint In Modeling
When you look at her social media pages, you get the idea that aside from acting, she is also passionate about modeling. At the moment, it is not clear whether she has been on the runway yet or signed up to any modeling agency. Her standout looks do justice for her, and she has the right body build to make it, should she decide to go professional on the runway. Long hair, fantastic complexion, and beautiful eyes fit the bill of a model to watch out for, and her popularity will bring her the numbers to boost her stint as a model.
6. Social Media
Aside from the cameras in the studio, she is also used to her phone camera. Her amazing photos and unique lip-synch videos have helped Arishfa Khan earn a decent following in several social media platforms where she is active. Her initial popularity from her days as a child actor also contributed to the impressive audience that she has. Tik Tok is one of the sites where she boasts of a fantastic following of 20.7 million followers with 743 million associated likes on her handle. She is also active on Instagram, where she is a handful of followers less to reach the 6 million mark. She shares a lot on her Instagram, and you can follow her to get a hint of the fantastic things she is up to.
7. Her Love For Pets
As evident from Stars Wiki, Arishfa is an animal lover, and you can take note of this from her Instagram handle where she takes tons of pictures with either dogs or cats. She has photos with amazing captions that show how much she loves animals. It is still not clear if she has pets of her own at the moment.
8. Relationships
At the moment, Khan is single or rather keeping a low profile on her relationship status. In the past, many associated her with the late vlogger and rapper Danish Zehen. He passed on in late 2018, and it really affected Arishfa, with many questioning their relationship.
9. Her Hobbies
When you take a glance at her social media pages, you get the idea that Ms.Khan is a fun-loving person. When she is not acting, she is most probably dancing to wind up. Aside from dancing, she is also an avid badminton player and may spend her time indoors watching her favorite cartoons. For food, Chinese and biriani are her favorite dishes.
10. Net Worth
Arishfa started young, and over the period that she has been on the limelight, her asset has appreciated to impressive levels. At the moment, various sites put an estimate on her net worth to be somewhere at $2 million to $5 million. It is definitely from her acting and social media influencing stints.
Conclusion
The adjective, young and with immense potential, is the right tag for Arishfa Khan. At a young age, she has a lot to show from acting to influencing with a decent number of followers to boast. Above are some of the details of this social media personality and actor that you probably did not know. Catch her on Instagram, Tik Tok, or her several shows to see more of her.
Tell us what's wrong with this post? How could we improve it? :)
Let us improve this post!