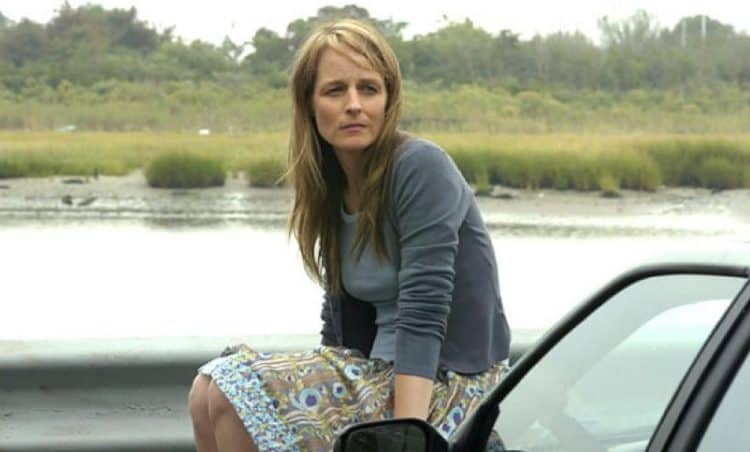 Helen Hunt has been around for so long that it almost seems as though people forget about her just so they can remember her at times. But in all honesty she's been one of the more wonderful parts of Hollywood when she's on the screen since she can put an entire world of emotion into her act and make you believe in what she's doing. There have been movies in which she's been less than stellar or perhaps hasn't been given the right cast or plot, but she makes it work all the same since she's the type that dives into what she's doing and figures it out in a way that makes people understand what her character is supposed to be like. By the end of the movie people are either with her or against her depending on the character, but more often than not her role is to be the woman that people want to see happy in the end, or at least content in the knowledge that she's done all she can.
Here are five of her best movies.
5. The Water Dance
It's hard for anyone to understand just what a person loses when they become a paraplegic, as it's hard for the person it happens to just to understand what they've lost and how life is going to change in so many ways. The world is a very difficult place even on the best of terms, but when you lose the use of something that many people take for granted each day you tend to realize just how important life is and what it means to cherish every advantage you're given at birth. This movie is gripping for the simple fact that a lot of us simply can't relate to what it must be like to lose something in this manner and should likely be grateful for what we have.
4. Pay It Forward
So yes, it would be disconcerting to see a homeless man in your house and not have a clue where he came from, only to realize that your kid let him in to give him a meal and a place to stay. The idea however was sound and coming from the right place, but many would argue that coming from the perspective of an adult that this is not only dangerous but kind of naive. The idea of paying it forward is something that a lot of people could get on board with, but at the same time it requires a great deal of sacrifice that many people would speak highly of but probably not give a lot of consideration to when it came time to pay up.
3. As Good As It Gets
There are instances in life when even the most miserable of people seem to find something, or someone, that makes them better and becomes their muse in a way as they attempt to change their ways. Melvin is perhaps one of the most miserable people in New York City but at the same time is capable of change as the movie shows. Carol is about the only person that can really put up with him, but their relationship is complicated since she doesn't want to start up anything serious and he soon finds that being around her is something he can't do without. In the end things are starting to work out and Melvin realizes he's even circumvented some of his hangups.
2. Castaway
Fate has a very strange plan for all of us sometimes, and it seems as though it never bothers to take into account what we want, flinging us one way only to send us colliding into whatever it has in store for us later on. When Chuck is stranded on a lonely island in the middle of the ocean he finds that survival is the only thing that seems to matter after a while, and after enough time has passed he discovers that this is just barely enough. In the meantime, the love of his life, Kelly, has had to move on and accept what fate has in store for her, which includes getting married, having a child, and never forgetting about Chuck.
1. What Women Want
It's very true that some men are just that ignorant and arrogant about the minds of women when it comes to how they measure up in the workplace, but Nick is one of those that takes the cake. When Darcy comes along however he might never have had a chance to compete with her without the strange ability he gained after being electrocuted. It's fair to say that in real life some men probably couldn't handle the thoughts that run through the minds of some women, though it would certainly give them another advantage that no one thinks they need.
She's great in just about anything she does to be honest.
Tell us what's wrong with this post? How could we improve it? :)
Let us improve this post!