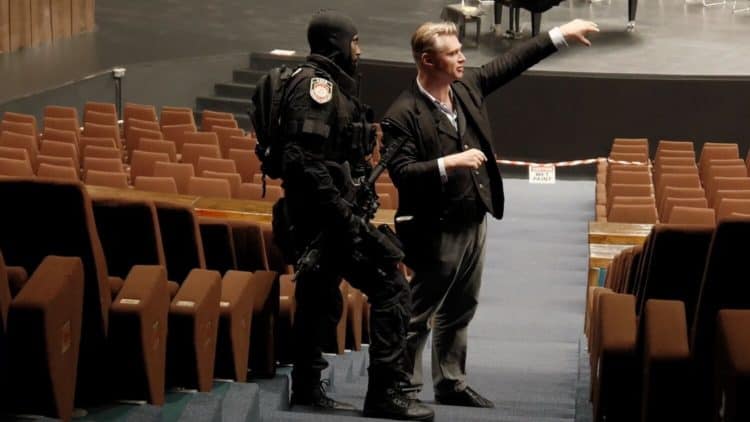 I'll be one of those to admit that Christopher Nolan felt a bit pompous when he stated that people HAD to experience Tenet in the theater, but perhaps that was a bit rash. In a big way, and thanks to this behind the scenes look at the movie, it feels now that he's simply more involved in the movie, and as a result more excited and proud of what he and his cast and crew have done, and thus his desire to have people experience this on the big screen is born from the joy and excitement he feels than anything else. The scope that he managed to achieve with this movie makes it clear that there were no green screens, no sound studios, and as much reality as could be had. This also shows the level of faith that Nolan has gained from man people since not everyone gets to play with the same elements that he has access to so often. But with Tenet he's gone to another limit that a lot of filmmakers are going to be very likely to reach for later on as the bar continues to be raised. One of these days it's going to be hard to match or top anything it feels like since CGI is about the only medium that can even come close to the real thing unless AI develops in such a way that the real thing can be simulated using techniques and methods that not even Nolan has access to yet.
Just looking at the movie from this clip and from trailers it's easy to think that it will be a stunning thrill ride that will keep people on the edge of their seat from start to finish, but it might also be subjected to a great deal of interpretation when all is said and done since the subject alone is something that has people talking. When the first mention of the movie came out a lot of folks had no idea what to think about it, but as time has gone on and we've seen more and more of the movie thanks to the features and trailers, the idea is starting to become a little clearer. But thankfully it does feel as though we haven't seen everything just yet, which is great, since too many trailers tend to show way too much when it comes to their overall content, thereby spoiling the movie entirely. With Tenet though, the feeling is that we've seen a few great moments and been able to witness some of the action that will leave us wanting more. But the grand design behind it all might still be waiting for that big reveal, that final twist that Nolan is saving. The hope is that unlike The Dark Knight Rises that it will be something that's a little more shocking and less like 'WTF?', but we'll have to wait and see. Those that have already seen the movie could likely tell you just what is bound to happen, but hopefully, they won't spoil the surprise for anyone since the movie is already out and has likely been enjoyed by quite a few people. One bit of advice to anyone that hasn't seen it yet is to ignore just about anything that's been written about it if only to make sure that you're walking into the movie without any previous bias that could ruin the experience.
Apart from that, Tenet is definitely bound to be seen as one of the best movies of the year, and no doubt will be Oscar-worthy since, despite the lack of so many summer blockbusters that could have lit up the screen in such a big way, it's very easy to say that what might come next in 2021. If the pandemic slows down and people are allowed to go out again, we could be seeing a huge boom in the theater business as the blockbusters return and people attempt to get out as much as possible, while following safety protocols in order to avoid a resurgence of the coronavirus, which no one wants at this point since it's been too much of a pain in the backside at the moment. But Tenet is obviously worth the look as it's already been established by the actors, the director, and the crew that the number of thrills and effects that have been put into the movie is nothing short of amazing and are almost guaranteed to make people's eyes widen when they hear that the effects were absolutely real and that CG wasn't used as prominently as they might think. In this day and age that's actually quite impressive since if anyone's keeping count, CGI has been a major contribution to many movies and has become a little too easy to spot.
Tell us what's wrong with this post? How could we improve it? :)
Let us improve this post!