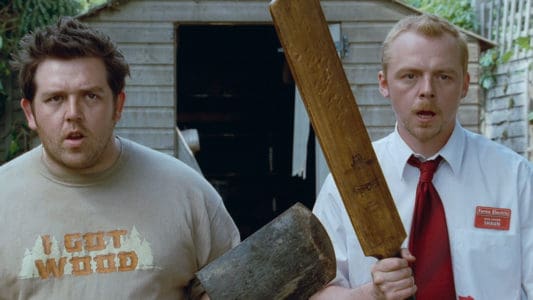 We've been obsessed with zombie movies for as long as we can remember. And even when most of us agree that the world being taken over by zombies is a rather over-the-top plot that has no connection to reality whatsoever, we do enjoy our share of zombie movies! From gory beheadings to running over hordes of zombies without an inkling of regret is something that we've all enjoyed no matter what we'd like to think, so taking into consideration that we have all given in to zombie movies at some point, here we are with a list of Zombie Movies That Are Almost Too Real!
Shaun of the Dead
Zombie movies are great but since most filmmakers already know that they're selling a plot that will be difficult for audiences to buy, they do the next best thing — they transform them into comedies! And one such zombie comedy that has been an audience favorite is Shaun of the Dead. Co-written by Edgar Wright and Simon Pegg, and directed by the former with the latter playing his part in the cast, this movie is one of those that did not take time in developing a cult following. It happened as soon as the film was released! Supporting Simon in the cast are Kate Ashfield, Lucy Davis, Nick Frost, Dylan Moran, Bill Nighy, Penelope Wilton, and others, the film made five times the amount it took to produce, making it one of the most successful zombie movies of our time. That the movie evolved from an episode from Spaced, a sitcom headed by Edgar and Simon, makes the story behind the movie even more interesting. Of course, Shaun of the Dead was brilliantly executed in every department and was surely one of those rare zombie movies that received critical acclaim as well as commercial success.
28 Days Later
Danny Boyle is well-known for his taste in filmmaking so when you hear of a zombie movie from him, you are bound to pay attention, and 28 Days Later is indeed a movie that is worth your attention. Starring the dashingly handsome Cillian Murphy, Naomie Harris, Christopher Eccleston, Megan Burns, and Brendan Gleeson, among others, the film is a post-apocalyptic horror film from the British stables (as against the usual obsession that Americans have with zombie films). Going beyond the usual fare of zombies eating humans, the film also shows how society breaks down when all's not well and how difficult it is for the protagonists to stay sane when everything around them is crumbling to dust. From sexual enslavement to societal disorder, there's a lot that this movie explores, and Danny Boyle does complete justice to it by including fare never seen before in a zombie movie. For all its diverse experiments in the genre, 28 Days Later is indeed a must-watch.
28 Weeks Later
The sequel to the movie 28 Days Later we have mentioned above, 28 Weeks Later went down a different road, this one directed by Juan Carlos Fresnadillo, but the eventual outcome, despite the absence of Danny Boyle, proved to be just as impressive. This one is set against a backdrop of a safe zone that has been created and is defended by NATO forces in the middle of London. Of course, the safe zone does not remain safe for long when two young boys break the standard rules of the zone in the bid to find their mother who has been infected by the virus. This one stars Robert Carlyle, Rose Byrne, Jeremy Renner, Harold Perrineau, Catherine McCormack, Mackintosh Muggleton, Imogen Poots, Idris Elba, and others, and although the film was not as well-received as the first installment, and was certainly not deemed a classic like 28 Days Later, it was indeed a success with the crowds and made six times the amount it took to produce it. The first one had made 10 times the production costs. Nevertheless, despite taking a hit in terms of critical acclaim and popularity, 28 weeks Later proved to be a great zombie movie that has every right to be on this list!
Night of the Living Dead
Night of the Living Dead (the version from 1968) took the world by storm as soon as it was released and soon enough, everyone who knew anything about movies wanted to watch it, and anyone who had the moolah to make another zombie movie wanted to make one! One of the most influential films in the horror film genre and a highly successful film that had audiences lining up for tickets, this one was a runaway success. As an independent horror film, this one was probably one of the most successful ones on the commercial front too, raking in a cool $30 million against a production cost that was roughly pegged between $114,000 and $125,000. It also triggered several remakes and sequels, most of them unofficial because the film was in the public domain, but none of these works even came close to the cult following that the 1968 version of Night of the Living Dead enjoyed. Directed by George A. Romero and led by a cast consisting of Duane Jones, Judith O'Dea, Marilyn Eastman, Karl Hardman, Judith Riley, and Keith Wayne, the film has plenty of anecdotes attached to it, especially the making, which was strictly on a budget and did not have the luxury of spending enormous amounts over special effects and props. For example, the meat and entrails in the film came from a chain of butcher shops that were owned by one of the people acting in the movie!
Dead Alive
Braindead, popular in the US by its North American title Dead Alive, this zombie comedy from New Zealand tanked at the box office, but as is sometimes the case with cult movies, gained an audience later, and has since then risen in the ranks to be labeled one of the goriest movies of all time. And despite being a comedy! Made on a budget of $3 million, the film begins with the premise of a hybrid monkey smuggled and shipped to the Wellington Zoo in New Zealand. And we all know what should then transpire in a zombie movie. Of course, what sets this one apart from most others is the record amount of blood and gore that is depicted throughout the movie. Different versions of the movie were released in different territories and true fans of the film have been known to hunt down versions from each territory and make comparisons. In several countries, the gore in the film wasn't well-received and even led some of them to ban the film in its entirety. In other countries, it was released after major cuts. Critics, of course, had just as mixed a view as audiences, and it was clear to everyone that Dead Alive wasn't made for everyone, another reason why it tanked at the box office.
Planet Terror
Yet another comedy, but loaded with action and horror to add to the experience of the audience, Planet Terror, is written and directed by Robert Rodriguez and stars Rose McGowan, Freddy Rodriguez, Michael Biehn, Jeff Fahey, Marley Shelton, and Josh Brolin. Playing out in Texas, the film revolves around the storyline of a biochemical outbreak putting humanity into peril and the efforts of a few to fight the evolved zombie-like creatures as well as a military outfit that has since gone rogue. Another highlight of the movie was the involvement of Quentin Tarantino, and although Quentin was only the co-producer of the film and did not officially direct it, every cast and crew member was of the opinion that all that time that he spent on the sets and all the directions he gave without donning the director's hat did indeed have an influence on the film. Of course, knowing all about Tarantinoism, we can safely say that this development was indeed a good thing! However, despite obtaining a cool fan following since its release in 2007 and acquiring fame for being unpredictable all the way, Planet Terror tanked at the box office, raking in only $10.9 million against the approximate production costs of $23 million.
Dawn of the Dead
When a film costs only $640,000 to make but ends up raking in a cool $66 million at the box office, you know it has got to be extraordinary in every way, and that's what Dawn of the Dead is! The movie begins with the storyline of a mysterious condition enveloping the entire United States, with people dying and taking on the form of zombies, spreading havoc and endangering the lives of normal people who haven't been affected yet. While under control in rural areas, the conditions turn out to be a lot worse in urban areas. The film itself concentrates on the escapades of the main protagonists via helicopter and the perils they face on the way. The scenes in the mall are especially hedonistic in nature and give audiences a glimpse into how humans tend to behave in extraordinary circumstances. Several such details make the movie a thrill to watch. Of course, in addition to the movie's popularity, the many pop culture references to it, parodies, sequels, and even a Zack Snyder remake, add even more mileage to what was a great journey indeed. Even today, if you wish to develop a taste for zombie films (pun unintended), fans of the genre highly recommend that you begin with Dawn of the Dead, and there will be no reason for you to turn back from trying another zombie movie again!
Zombieland
Zombieland is one of those movies that makes killing zombies fun, and even when the situation seems like a serious one, always has an answer that is enjoyable to the audience! A comedy that does not hold back in any way on the seriousness of a zombie apocalypse either, this one is one of those smart works that has a perfect mix of everything. And with Woody Harrelson, Jesse Eisenberg, Emma Stone, and Abigail Breslin leading the way, the film makes fighting against vicious zombies a treat in every way! Woody plays the role of a dedicated zombie fighter who loves inventing new ways to torture and kill the zombies, Jesse plays the role of an awkward young man who has put the entire experience under strict scrutiny and has come up with a strict set of rules to tackle the dangers around them, Emma plays the role of an elder sister trying to protect her younger sibling, while Abigail plays the role of the younger sister who is as strong as the rest of them despite her age. All in all, journeying and adventuring with Tallahassee, Columbus, Wichita, and Little Rock is nothing short of a cool ride in Zombieland! Oh, and there's Bill Murray contributing to the storyline with his peculiar antics too!
Warm Bodies
While most zombie movies are all about a bunch of humans who haven't yet been infected doing all they can to fight and kill half-alive and extremely dangerous hordes of zombies, Warm Bodies is one zombie movie that is quite different from the others and is even a refreshing one in many ways. Why? Well, this one has a zombie falling in love with an uninfected human! Based on the premise that zombies who eat the brains of their prey are able to relive their memories and find nourishment to live a little longer, the film has one such zombie — who is anyway different from the others in many ways — eating the brain of a young man who is in love with a young woman and then developing the same feelings towards her. Quite a departure from the usual storylines attached to zombie films, this one also shows zombies living in a community and abiding by certain rules and not just as bloodthirsty and brainless entities roaming around in a trance. So will the zombie find enough inspiration and warmth to return to human form, or does he perish and take his newfound love with him? Well, you got to see Warm Bodies for that but one thing we can tell you for sure is that this is one zombie film that will have you looking at zombies from a completely different perspective!
Thirty Days of Night
There are many movies out there that have been based on books, and Thirty Days of Night is one of them. Inspired by the comic book miniseries of the same name, this one has undeads that are not the usual slow-moving and brainless easy-to-kill sorts. Instead, the zombies in this one are fast-thinking, fast-moving, cunning, and cruel, and you can only imagine how dangerous and impossible the scenario of fighting such zombies can be! Starring Josh Hartnett, Melissa George, Danny Huston, Ben Foster, Mark Boone Junior, and others, the film plays out in Alaska, and is based on the premise of the entire town readying itself for the month-long polar night, and how a band of undead vampires take over the town and aim to slaughter everyone in it. The resistance put up by a few and the extraordinary bravery of the main protagonist in sacrificing his own life to protect his wife and townspeople makes up for the human part. A horror film that is indeed quite different, Thirty Days of Night makes for a thrilling experience indeed!
Let's Put an End End to This Gory Ride Shall We!
Although every zombie movie proclaims the notion that a zombie apocalypse is indeed a possibility, and even has believers storing up guns and ammunition and even groceries and supplies as a part of the plan to ready themselves for such an event, there has really been no medical event in human history that has ever come close to the likeness of a zombie outbreak. And while we are thankful for that, we are equally thankful for the many zombie movies that have caught the imagination of audiences and inspired filmmakers into making some more! Well, as long as these zombies stay on the screen, as they do on this list of Zombie Movies That Are Almost Too Real, we are fine with the way this whole thing works!