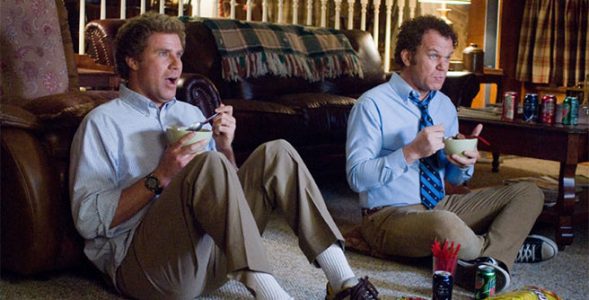 Sequels don't always make a movie better, just ask a bunch of people that still think that The Last Jedi is a continual dumpster fire that never seems to get put out. Step Brothers however is a movie that has split fans on how good it really is or isn't. Some people loved it, others thought that it was passable but not great, and some just thought it was horrible. But wherever you stand on the issue the truth of it is that Step Brothers is a loved movie that many people would swear by. A sequel though seems like it would be a huge step down considering how the movie ended. The way Eric Cohn of Indie Wire puts it makes it sound as though John C. Reilly, one of the stars of the movie, is kind of the mind that sequel was being discussed by never came to be. It does sound as though Will Farrell attempted to make something happen, but it was still shelved despite the interest.
As Hugh Armitage from Digital Spy would indicate sequels are not always the great time for the audience that one might think. It's a dangerous proposition to lump all sequels into this assumption since a few throughout history have been quite great, but general feeling of a sequel is that it's already slightly inferior to the original since it has to draw off the original movie for its inspiration and story. When that happens the veracity of the second movie lessens just a bit and it becomes necessary for the movie to absolutely wow the audience with something new or tell story that's different enough to take the overall narrative in a direction that no one was expecting. Step Brothers unfortunately doesn't really have that type of story as the main point of the story was that the two lead actors were forty-year old men that were still living with their parents and acting like children. You can only imagine the next arc, if one was developed, would be that it would happen to them with their own kids, or they would try to follow their parents into retirement as Reilly seemed to indicate. That would be a bit creepy and not to mention just the same thing as the first movie.
It's amusing to hear fans say that they would be up for seeing a sequel only to see their faces when a sequel actually comes out and they tear it to pieces. This kind of proves that the words written by Michael May of CBR and anyone else that shares this sentiment is right on the money. The fans have no idea what they want. All day and night fans enter chat rooms and speak to one another of what they want, what kind of sequels, what kind of shows, and what kind of movies they'd love to see. But when they do get something along the lines of what they were talking about they seem to deflate when it comes to light that this wasn't what they were talking about, even if it was. This would likely be the case with Step Brothers since the story was ended on a good note, the characters were given just enough closure to make it satisfying, and the movie was wrapped up about as nicely as it could be. Things didn't get one hundred percent better unfortunately but it didn't seem as though they ever would and fans were just fine with that.
Revisiting the movie would be a bad idea not because of the actors or their ability to work together, but because it became a movie that people were happy to talk about, and that didn't need another add-on that would further explore the lives of the two men that had finally been shown what it took to survive on their own. It seems likely that there would be those that would argue until they were blue in the face as to why Step Brothers needs a sequel, but it also seems likely that they would be the same people that would fall into Michael May's description of an audience that has no idea what they want save to be entertained. Too many people just want the next big thing that comes straight to their comfort zone so that they don't have to think too hard or even leave the security of what they already know and like. Unfortunately this isn't the essence of film as producers, directors, and actors are always trying to do something new, something fresh, and something that will be able to entertain the masses.
The audience is always going to be there, as not catching the next thing to come along would be unthinkable to many people. But there are some movies, like Step Brothers, that need to be left to rest since they accomplished their goal the first time around.