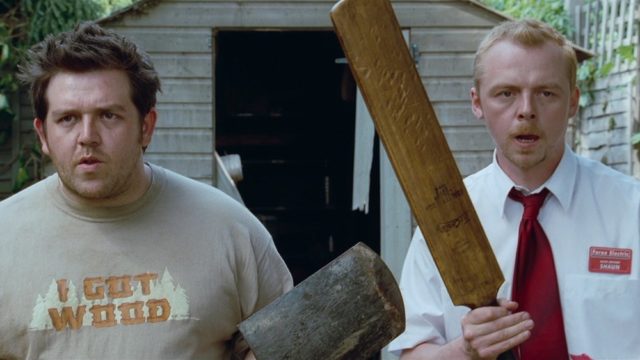 As far as movie genres go, comedy and horror are at opposite ends of the spectrum. Despite this, blending horror and comedy together can often work. Moviegoers enjoy the mixture of laughs with scenes of a horrific nature. A perfect example of when this combination works is Shaun of the Dead, directed by Edgar Wright.
For Nick Pegg and Simon Frost, this 2004 film really launched their careers. It is not the only movie the pair have both appeared in as they also both had roles in 'Hot Fuzz', 'Paul', and 'The World's End'. Each of these movies was produced by Big Talk Productions and Working Title.
Now, this duo is pairing up again to work on a new movie that once again perfectly balances horror and comedy. It will be the debut film for their new production company, Stolen Picture. Here is what we know about Simon Pegg and Nick Frost's new horror comedy.
The film is titled 'Slaughterhouse Rulez' and the story is about a prep school that is thrown into a hellish situation when a sinkhole mysteriously appears at a local fracking site. Although specific details of the monsters in the film are a secret that is not yet revealed, what we do know is that the body count in this film soon mounts up. The lead character in the movie is a young boy called Don Wallace who is faced by a whole new world in which he must tackle the horrors he faces.
Crispian Mills is the director of the upcoming film and this is only the second movie for which he is credited. Mills co-wrote the script for 'Slaughterhouse Rulez' with Henry Fitzherbert. Mills' last movie, 'A Fantastic Fear of Everything', also involved Pegg, so this is another recoupling in the film. It will be interesting to see how Mills, Pegg, and Frost work together. Sony Pictures is backing this movie and it Charlotte Walls is producing. Josephine Rose from Sony is an executive producer.
The difference between this film and Shaun of the Dead is that is not yet confirmed is whether Pegg and Frost are planning on being in the cast themselves or whether they are sticking to backstage roles in the production of this movie. Casting is currently underway so there is still the option for them to choose to get in on the action, possibly with cameo roles.
Both Pegg and Frost have continued their run of successful ventures since they starred together in Shaun of the Dead. Simon Pegg has been successful in both the Star Wars and Mission Impossible franchises. He also appears alongside Margot Robbie in 'Terminal', a thriller. Meanwhile, Nick Frost has worked on smaller projects, such as AMC's 'Into the Badlands', in which he plays the role of Bajie.
As both Simon Pegg and Nick Frost have both individual and joint success, it is little wonder that the pair has embarked on this new project and launched their own production company. No doubt the pair are now hoping their new venture will become just as successful as their previous endeavors.