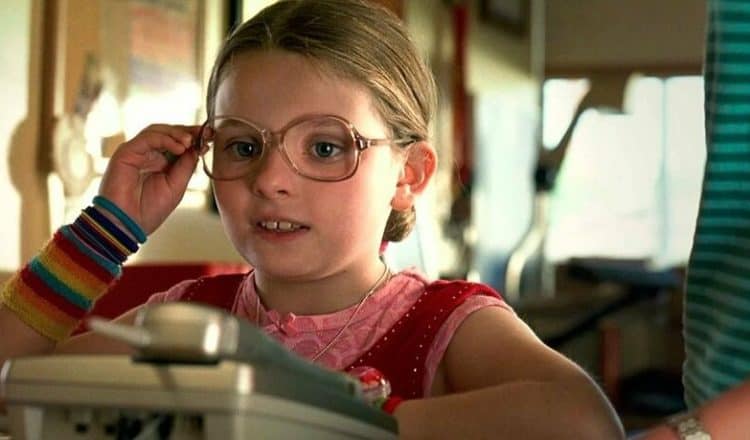 You might not think much about Abigail Breslin until you've seen her on screen but she is truly a talented young woman who got her start quite early and just kept delivering one role after another as she grew up. As of now she's in her early 20s but she's already completed enough in her life to be called a veteran of the screen since between stage, TV, and film. In fact she's been wowing the audience since she was very young with some of her most notable roles being on NCIS and in movies that made her into the star she is now. It's going to be interesting to see if she continues her career as it's been or if she's going to diversify as she gets older since it's been seen that some child actors either burn out, which she doesn't appear to be doing, or move on to other interests as they get older. All in all she's got it made in movies even if she's not quite the headliner yet.
Here are a few of her best movies thus far.
5. Definitely, Maybe
The best part of any failed relationship is a child and to further explain that it's because the child was born out of a desire to love and be loved that doesn't go away with time. Relationships come and go when we're adults but children are the one relation that you hold onto and see as a positive thing no matter what since they love unconditionally and they seek to make the lives of their parents better when given a good example to go by. Maya wants to see her father happy, but she also wanted to know just who her mother was, and who it was that made her father the happiest in his life.
4. Nim's Island
As kids' stories go this one is pretty charming and even touching in a way since it's used to bring three people closer together in a very dramatic and yet enchanting way. Nim and her father Jack live on a remote island and Alex is an author who's afraid to step outside of her door due to her agoraphobia. Eventually however Alex is so intrigued by Jack's life that she seeks out the island where he and Nim live, though it does take a while for Jack to return from an expedition as he was shipwrecked and had to make repairs. Again, it's a kid's movie so a lot of stuff has to be taken with a big grain of salt, but it's still a lot of fun.
3. Signs
This was actually the first movie that she was ever in and she did absolutely great to be honest. Of course a lot of people thought the movie was a bit too slow and not as entertaining as they would have hoped, but the premise and the pace of it weren't as horrible as one might have believed. Yes, it was a bit frustrating to see only hints of the aliens up until the big reveal but it did build the suspense and it did allow the story to unfold in a way that finally all made sense when the end was near. Plus, her character's obsession with getting a glass of water and just leaving it anywhere was kind of an odd quirk, but it ended up being useful.
2. Little Miss Sunshine
Want to learn everything there is about your family and why you tend to avoid talking about such things? Pile everyone in the old beaten-down family wagon and drive for hundreds of miles just so you can figure out what it is that everyone is truly wanting to get off their chest. It's not a pretty picture to be honest but it's something that can clear the air in a big way. Olive is perhaps one of the only ones in the bunch that is entirely comfortable with herself and only wants to get up on stage and do her thing for her pageant, and even when she does that it looks like disaster is about to strike. But nothing really pulls a family together more than someone trying to bring one of them down.
1. Zombieland
Who else is excited for the sequel of this movie to come out? The first one was absolutely grisly but a lot of fun since it does tend to show the mental superiority of the women and does kind of picture the men as a bit more emotional and easy to fool. But thankfully that's what makes it so much fun since the dynamic between the cast members is something that we're not likely to forget, and the fact that she made Tallahassee squirm in his seat when he was threatened with his own gun was pretty funny.
One of these days she'll take the lead or become one of the most recognized supporting characters. Just wait.
Tell us what's wrong with this post? How could we improve it? :)
Let us improve this post!