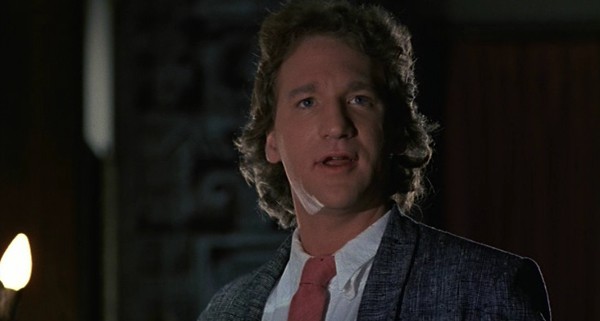 Bill Maher is most known for his sarcastic rants and political commentary on HBO's political talk show "Real Time with Bill Maher." What many people forget is that Maher had a movie career…which was pretty awful. He first garnered attention in the late 1970's as a stand-up comic, but quickly caught the acting bug appearing in a string of movies in the 1980's. His acting was bad, and the movies were worse, but that didn't stop him from filming more. Here are the top 5 worst Bill Maher movies.
5. Ratboy (1986)
Luckily Bill Maher only had a bit role as a party guest in this horrible film. At times this movie is serious, at other times it's a comedy. Which was peculiar enough. However, the strangest thing is that there's never any real explanation why or how Ratboy became a human-rat hybrid. Critically and commercially it was a failure. Watch this train wreck at your own risk.
4. Pizza Man (1991)
This was Maher's second starring role, and we all should have known from that moment that Bill Maher's acting career was going to be tragic. Bill Maher plays pizza delivery man Elmo Bunn in this movie. With a reputation for never delivering a cold pizza or being stiffed on a bill things go awry when Elmo's pizza shop receives a call to deliver a pizza to a dangerous part of East Hollywood. The address also so happens to be where his best friend and fellow pizza delivery driver was last seen nearly a decade ago. With his legendary reputation on the line Elmo can't turn down the order. From there all hell breaks loose. The movie has its moments, but overall it's just as bad as the rest of Maher's movies.
3. Out of Time (1988)
In this science fiction film, Bruce Abbot plays Channing Taylor, a cop from the year 2088 that travels back to 1988 to capture a criminal who has fled via a time machine. While in 1988 Taylor enlist the help of his great-grandfather Maxwell Taylor who is played by Bill Maher. (Grandpa was a rookie cop who would one day be a legendary criminologist.) The film is basically a bad patchwork of notions stolen from The Terminator and Back to the Future. Originally shot to be a TV pilot the film failed to garner much attention from TV execs and wasn't picked up for the 1988-89 season.
2. House II: The Second Story (1987)
They say sequels are never as good as the original. Not that the first "House" film was great, but this one takes the cake for being a complete disaster of a movie. In this horror-comedy, the evil home from the first House film becomes the new residence of a young couple. It all goes downhill from there…literally…
1. Pauly Shore Is Dead (2003)
This was a comedy mocumentary directed, produced, and co-written by Pauly Shore. So…of course it was terrible! In the movie, Bill Maher plays himself. The fake documentary begins as an autobiographical telling of Shore's rise to fame and his eventual decline in popularity in the late 90's. The plot then takes a turn as Shore attempts to fake his own death to drum up controversy and revive his career. The movie has dozens of cameos including Bill Maher, Snoop Dogg, and Paris Hilton. That still couldn't save it from being a box office flop.
Conclusion
Let's all be glad that HBO called Bill Maher in 2003 to give him his own talk show Real Time with Bill Maher. In the role of talk show host, many would argue that he's one of the best to ever do it. In acting, he never looked entirely comfortable on camera, and for some reason, he kept accepting garbage roles. Stick to talk shows and stand up Bill… Please do it for us all.