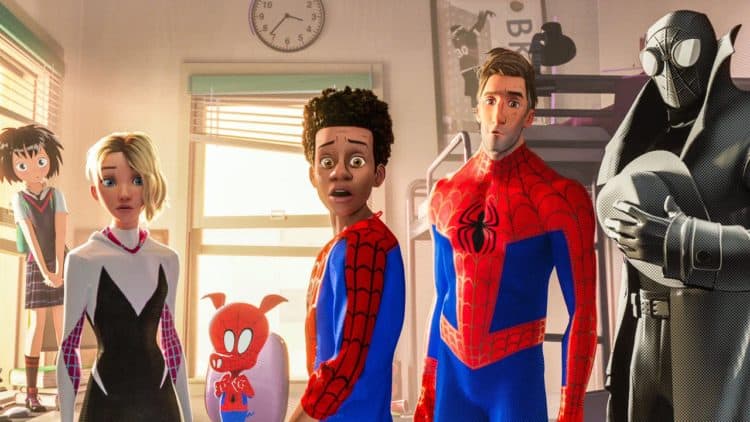 In less than two months, the Tom Holland Spider-Man trilogy will come to a close and the Marvel film is a hotly anticipated sequel thus far. When looking back at the mainstream Spider-Man films starting back at Sam Raimi's first feature in 2002, the top Spider-Man movie in the entire saga is Spider-Man 2 – which currently has a 93% on rotten tomatoes – and Spider-Man: Into The Spider-Verse – which currently has a 97%. Based off the rotten tomatoes score, it appears that the 2018 animated feature reigns supreme; however, is Spider-Man: Into The Spider-Verse truly better than Spider-Man 2? Let's examine the strengths and weaknesses of both movies.
Spider-Man 2
Spider-Man 2 is regarded as the best live-action version of the popular comic book hero for good reason. The 2004 feature isn't just another generic superhero flick that satisfies the simple needs of comic book movies, it taps into the emotional core of both the protagonist and villain. The film does an excellent job of showcasing how Peter's life has drastically changed since he turned into the masked hero. We connect with Peter Parker even more because his problems are very relatable. I'll make a bold statement and proclaim that Alfred Molina's Dr. Otto Octavius is the best Spider-Man villain to grace the big screen. Octavius isn't just another bad guy who wants to take over the world. His story is personal, and what's even better is the complexity of the man himself. Octavius isn't committing all those crimes for his personal amusement; he's being controlled by his mechanical arms. However, the man under those arms feels that he needs to get his fusion power project correct, or else the death of his wife would've been for nothing. The film does an excellent job of balancing its messages and themes without beating the audience over the head with it. Sure, Spider-Man 2 dives a bit into the melodrama sometimes; however, the film wisely doesn't go overboard with the sappy elements. Plus, there's plenty of great action sprinkled throughout the film. Spider-Man 2 and The Dark Knight are the standards of what comic book films should be; A movie that blends action, drama, and a cohesive narrative seamlessly.
Spider-Man: Into The Spider-Verse
The biggest strength that Spider-Man: Into The Spider-Verse has is that it opts to tell a different story. This time, we're following Miles Morales, and since his journey is a bit different than Peter Parker's, we're getting a fresh prospective on a familiar comic. The animation for this film is simply breathtaking. However, once you get past the stunning visuals, Spider-Man: Into The Spider-Verse is a great movie in its own right. Granted, the hero origin story is played out at this point, but the film doesn't settle into one of these tropes too much and it's great that this is more of a personal film than the set-up of another superhero movie. The story of Miles feeling pressure from his parents, namely his dad is a relatable one and it helps that the performances of Shameik Moore and Bryan Tyree Henry really draw you into their world. Wilson Fisk (Kingpin), doesn't necessarily have the complexity of Spider-Man 2's Dr. Otto Octavius; however, he's still a solid antagonist for Morales. More importantly, Kingpin feels different from Venom, Green Goblin, Lizard, and even Dr. Ock, making him stand out as a good villain even more.
Of course, I can't forget the inclusion of Spider-Ham, Peter Parker, Gwen Stacy, Spider Noir, and Peni Parker; This film could've easily gone into a chaotic, convoluted mess that would've damaged Miles Morales' debut to mainstream audiences. Thankfully, the introduction into the multi-verse is smooth and more importantly, Morales is never overshadowed despite the abundance of different characters. This plot creates an exciting portal for the Spider-Man universe and each character is given their moment to shine. Surprisingly, Spider-Man: Into The Spider-Verse never feels crowded and the dynamic between all the characters is highly entertaining. For an origin film, Spider-Man: Into The Spider-Verse transcends how these types of comic book movies should be done. It manages to introduce a compelling character, with a unique story that helps create a bigger and colorful world in the Spider-Man universe. This is an achievement that the non-Tom Holland films continuously struggled with.
So, which Spider-Man film reigns supreme as the best feature to date? I'll give this one to Spider-Man 2. Both films are nearly flawless in their execution; however, Spider-Man 2 is given the edge due to how deeply layered the live-action spectacle turns out to be. Of course, with Spider-Man: No Way Home and Spider-Man: Into The Spider-Verse 2 coming out soon, this title can easily change to another entry.
Tell us what's wrong with this post? How could we improve it? :)
Let us improve this post!