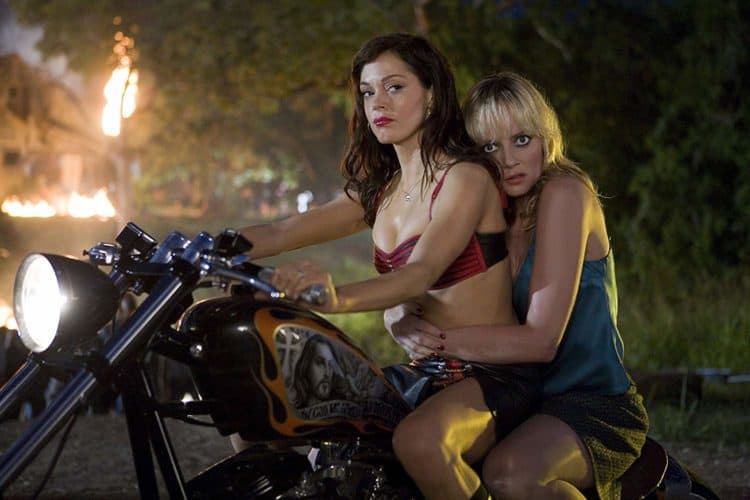 As zombie movies go Planet Terror is one that is well and truly 'out there' as it involves a long lineup of big stars and a plot that seems completely open and not too challenging as it involves mutated zombies that are the result of a bio-engineered weapon. Hearkening back to a simpler time in movies it does in fact keep to a rather simple plot that doesn't involve too many twists and turns but it also seems to slow down the rhetoric and need to think for many people as it's not exactly the intellectual movie that you would think a zombie movie could be. But then again, so many zombie movies have steered their main point in so many different ways that it's really hard to be too critical of a film like this since it delivered what it promised and definitely didn't deviate from its own goals.
Let's see what happened to the cast.
Tom Savini
Tom Savini is a master of horror without a doubt but more so because he knows how to shape and how to mold the props used for the movies, not just because he's been in so many horror movies during his career. You might recognize him as Sex Machine from Dusk Till Dawn, or you might recognize him as many other characters that he's played throughout the years. He's always fun to see pop up though because he always plays an interesting character.
Fergie
Fergie hasn't shown up in a movie for a while but a lot of folks probably remember her more for her time spent with The Black-Eyed Peas and for her solo career that didn't seem to last quite as long. She's been fairly prevalent on TV though as she's been working steadily for the past several years as a mentor and co-host. Her acting kind of leaves a little to be desired but not much.
Jeff Fahey
Jeff Fahey seemed to have one humongous role that could have been his breakout if it had gone anywhere, and that was in The Lawnmower Man. He did a great job to be honest, but after that he seemed to land in a lot of different smaller productions until he came to this movie. You can't really say he's a bad or unknown actor since he's been around for quite some time and he's appeared in a lot of different projects. In some ways though he's kind of like Eric Roberts, if he nails a role he's great, otherwise he might be tolerable.
Bruce Willis has never really stopped being great even when he's put out some very suspect movies. He is after all the guy that made Die Hard famous and has managed to put in some great roles in other movies as well. Even in TV he's been pretty awesome since he's taken on some of the greatest roles in history and made them into something that people love. Now yes, he's been in a few movies that weren't all that great but he's done his best at the very least to make his own part something that people want to see.
Josh Brolin has played some hard parts that are very difficult to like. Brandon in The Goonies was likable simply because he finally came around and was part of the adventure. But a lot of his other parts were hard to like since he played kind of a jerk or the kind of guy you wouldn't trust as far as you could throw him. But the great part about this is that he's an actor that knows how to play the role and understand just why people don't like him for it. He's fun to watch, plain and simple.
Rose McGowan
Rose McGowan has always seemed to have an attitude on and off screen and it really seemed to serve her well as it gave off an air that she was approachable but only if she wanted to be. In the wake of the Weinstein scandal however she seems to have hit a wall with her career and nothing has been going quite the way it did when she was still immensely popular. There's not a lot of ways to tell if she's going to get back to that level but it could be that she's just tired of it all and needs to distance herself.
Marley Shelton
Anyone realize that she was in Death Proof too? Her part was small but she was there. And if you can remember even further back you'll realize she was Wendy in The Sandlot. That's right, the same young woman that Squints tricked into kissing him was in Planet Terror, and she's had a remarkable run after this as well. Her career has been pretty solid throughout her time in show business so far and it seems to be steady enough to keep going in the same manner.
Freddy Rodriguez
Remember this guy from Can't Hardly Wait? He was one of the three jocks that ran with Mike Dexter. He's another person that's had a solid career thus far in his life and is at this time focusing more on TV than movies it would seem since his most current project has been in the Michael Weatherly show Bull.
You might like him, you might hate him, but Quentin Tarantino has been a huge success throughout his career and whether he says he's done with movies or not, ever, then you can at least assume that he'll think it over and change his mind as he comes back with another period piece or modern day film that's set to blow your mind and make you look at things in a very different way.
Planet Terror had a star-filled cast, and it's pretty obvious that some are missing.