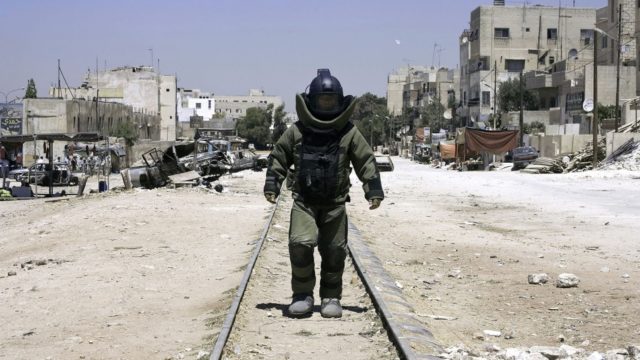 Jeremy Renner is the guy that kind of came out of nowhere really quickly. He's been in films for a while but it's almost always been in minor roles that didn't allow you to notice him or obscure movies that not a lot of people watched. But he's been there, and as of the past decade and more he's been coming onto the scene with an intensity that's sparked a career that's beginning to look very impressive. He's done action, comedy, and drama throughout his time in Hollywood thus far and he seems like he's still in his prime, maybe not getting started but reaching his peak at this point and still going strong. Renner has been the kind of actor that does a few great things and then went away for a bit, only to come back and remind everyone that he knows how to rock the house with a role.
He's the wild card you don't see coming half the time.
5. The Town-James Coughlin
Sometimes if you don't step away from the world you know it consumes you. That's the case that almost happens to Doug when he gets mixed up in a life of crime and suddenly decides that he wants to get out. His friends obviously don't want this and pressure him into doing one last score before he bails on them. Coughlin goes out in a blaze of glory while Doug manages to get away.
4. National Lampoon's Senior Trip-Mark "Dags" D'Agastino
Dags is the ultimate troublemaker. Along with his friends there's almost nothing that he won't do in order to have fun and catch that next thrill. When he and a group of students are sent to Washington D.C. however there's almost no limit to the amount of mischief they can get up to, and Dags is about to let the nation's capital know just how much trouble one high school senior and his buddies can cause.
3. Mission Impossible: Ghost Protocol-Brandt
Brandt is supposed to be the aide that doesn't do much and is there simply because he's been assigned, but in truth he's a highly skilled agent that's been demoted since he screwed up his last assignment. Unfortunately that last assignment was as protection detail for Ethan Hunt's wife. Hunt didn't know this but he suspected Brand was more than what he claimed to be.
2. The Hurt Locker-Staff Sergeant William James
It's been seen that some soldiers can actually become addicted to the action and therefore unable to cope with civilian life since there is little to no danger to be had back in the states, relatively-speaking. James is addicted to the adrenaline rush that comes when he's diffusing a bomb and cannot adjust to life back home, so he keeps coming back for more.
1. The Avengers-Clint Barton
Clint Barton is one of the most unassuming Avengers of all time but he's also one of the most impressive since he never misses a shot that he could have made with ease. Those shots that he does miss are usually intentional and are meant as distractions for the one that's supposed to make it count.
Jeremy Renner has proven that he has the chops to be an A-list actor.