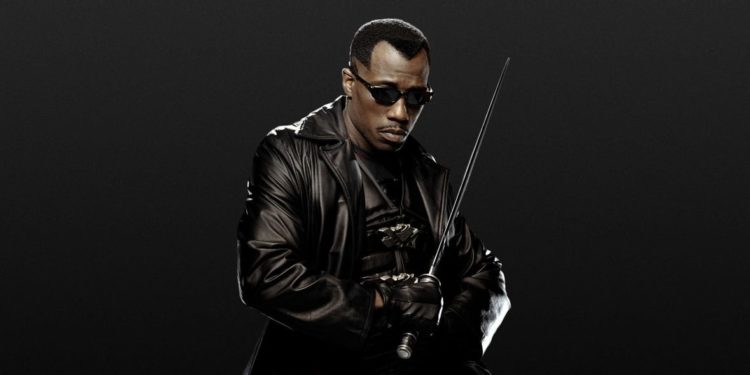 If there was any movie that Wesley Snipes' reps should have been warning away from it would have been Blade II and Blade Trinity, since everything after the initial movie went downhill in a big way. Even with the added star power that showed up, it wasn't an upward swing since the story continued to roll out in a manner that felt as though it was taking too much away from the character and not giving enough back. The first movie ended on a solid note, kind of, with Whistler supposedly dead, the blood god dead, and Blade still out doing his thing since vampires are bound to be a problem that won't be solved overnight. There was a lot of cheese in the first movie as well, but it's the same effect as other movies such as Mortal Kombat and Starship Troopers, it was the first of its kind and therefore was embraced in a much bigger way than the next two movies were. Let's be honest, the sequels had their points of interest, such as the terrifying appearance of the new breed of vampires in the second movie, the Reapers. Even the idea of introducing Drake, the original vampire who could somehow walk about in the daytime as Blade could, was an interesting idea until it was really put into motion. In fact, the fight between Triple H and Ryan Reynolds in the final battle was more appealing than most of the action scenes, and Trinity did have quite a few of those.
But there was something missing in the sequels, and it was a little too obvious that Blade's story was being given the same treatment that all comic book movies are given, meaning that it was being lumped into one big installment since the comics tend to leave many things unresolved as it sells more issues and therefore makes more money. But forcing everything together in the compact form of a movie isn't something that fixes the problem. In fact, it kind of makes things a bit worse since unless a reboot comes along there's no other way to go but forward as those making the movie try to undo the knots they've already created. With Mahershal Ali stepping into the role of Blade for the MCU it's going to be interesting since there are already a lot of people on the bandwagon praising POC's in the MCU since Black Panther came out, though it's enough to raise one's eyebrows when anyone bothers to say that the 'first Marvel movie with a black lead' came out fairly recently, especially when Blade has been owned by Marvel for so long. The first POC acting as a lead in an MCU movie would have been far more accurate, but in an era where virtue-signaling is nearly the norm, it's not all that surprising. Anyway, there are some that are thinking that Ali might be the answer that's needed, while others are still questioning the idea.
Snipes has already stated he's up for working with Ali if a role is found for him to take on, which would be fun to see since it feels right to give him something simply because he helped to bring Blade to the big screen in a very convincing way. He's not taking the lead role again obviously, but perhaps Snipes could be a villain, a mentor, a helper, something that would gain notice. There are also rumors about Blade having a daughter this time around, but those appear to be just rumors at the moment, which is bound to happen. Right now it's enough to know that Blade is coming to the MCU, even amidst rumors that it will be PG-13 instead of the hard R that Snipes' movie received. There are plenty of people shaking their head over this one, especially since monster movies tend to lean heavily into R territory a lot of times, and something like Blade definitely needs that R rating to be effective. Likening it to Deadpool for the need of the R rating isn't exactly necessary, but considering that what Blade does isn't exactly a tickle party, the guy severs limbs and kills vampires by the dozen, after all, it feels likely that the gore factor is going to be more than enough to keep the R rating.
But then one has to figure that this is Disney that's paying the bills, and while it might be possible for the Mouse House to simply create a division that they own and run that's less than family-friendly, it's also bound to happen that they'll worry about their image at one point. Feel free to laugh at that if you want, I know I did. Overall, Blade is the kind of character whose story kind of requires a hard-hitting, no-nonsense plot that allows the lead character to get as down and dirty as he needs to in order to get the point across.
Tell us what's wrong with this post? How could we improve it? :)
Let us improve this post!