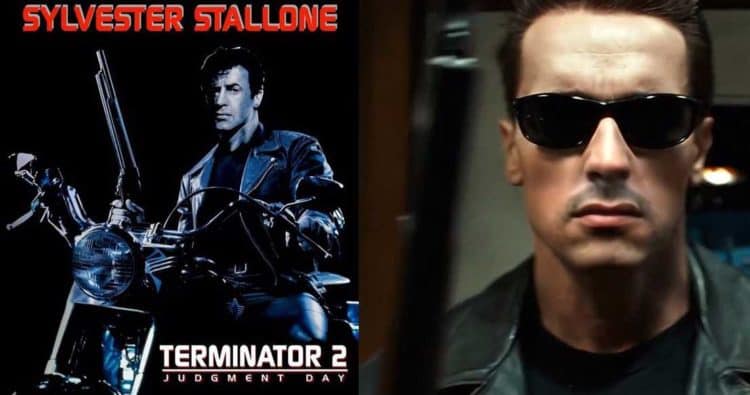 Kevin Burwick of MovieWeb has been on a roll lately with some of the articles he's been kicking out since this one by DeepFake that plants Sylvester Stallone's face on Arnold Schwarzenegger's body in Terminator 2: Judgment Day is pretty intense. In terms of how seamless it is one can happen to see just where the edges are on this effect but given that it's pretty smooth and doesn't start jumping a bit until near the end this is a pretty good job to be honest. The callback to Last Action Hero as a means of introducing it was also great since it was something that many of us should recognize considering that it was one of those movies that wasn't great but definitely poked fun at itself and other similar movies in a very comical fashion.
There have been other face swap videos that have surfaced as well since the idea is something that people seem to like and as this one has been endorsed by Sylvester Stallone it's apparent that the stars see it as a good bit of fun. That's funny since back in the day it would seem that Stallone and Arnold were constantly competing to see who could one-up the other when it came to movies. As Jessie Thompson of The Telegraph writes the two hated each other back in the 80s with a passion that made them try that much harder when they started coming out with newer and more innovative movies. Eventually Arnold went the sci-fi route which kind of left Sly behind since their shared notion of shoot 'em up movies kind of died out for a while, but after a while Stallone went on to keep the Rocky movies alive and found another level of success that kicked his career into a higher gear.
At this time both men are good friends and have starred in a few movies together such as Escape Plan and The Expendables, where ironically they play characters that will work together but can't stand each other. Even there however the characters do eventually reach common ground and find a grudging respect for one another that outweighs any animosity they might have had to start with. That's the joy of it though and the reason why something like this video is possible, the old grudges and hatreds tend to fade away when it's realized just how much people have in common, and with Sly and Arnold it was that their best efforts to dislike each other with such intensity actually made them work harder, push further, and become the actors they are today. If not for that intense hatred of each other spurring them on back in the day we might not have received some of the best movies that have ever come from both men, and that would have been a sad sight indeed.
Now Sly being the Terminator is kind of creepy since that look that he has even when calm seems to make one think that he's about as emotionless as a potato, but that look also hides a lot since throughout his career we've seen Stallone show a great deal of potential that was realized throughout many of his movies and was often hidden behind that same look. You can notice the difference between the face and Arnold's head just a bit but you really have to be paying attention. Otherwise it's so great that it makes a person wonder how much time was spent on this. By the end however, once the glasses go on, there must be some sort of distortion that the program can't fully handle since the image begins to jump and waver as the Terminator puts on the glasses and then rides away. Up until that moment however there's every indication that this is a genuine film, unless of course you've seen it dozens of times and know better.
The fact that Stallone enjoyed this and had a good laugh at it is kind of nice since some folks might not be so flattered if their image was pasted in this manner on someone else's body. But all in all this and the other videos like it are a good way to have a bit of fun and possibly just see what it might be like to swap out various faces now and again for the sheer amusement of it. Yeah, given that there are better things to do with one's time than dink around on the computer like this there might be those that would criticize, but to be honest the technology that allows this to be done is kind of fascinating and leaves one to think that there are a great many ways it could be used and improved on as the years roll on. It could even be a new trend for people to pick up on.