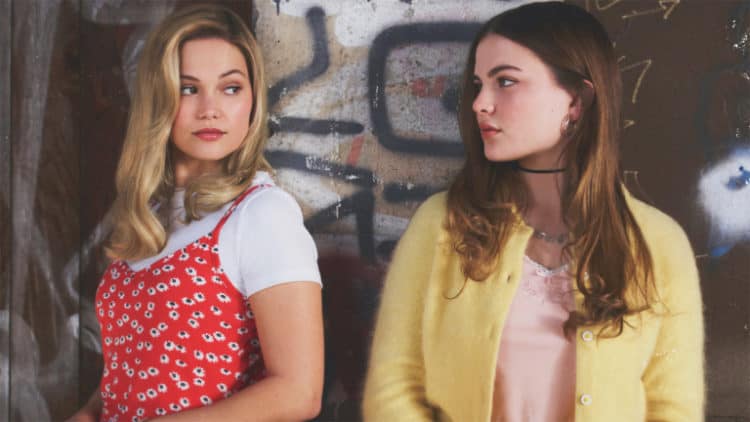 It's not easy navigating the teenage years. Even though word on the street is to just "be yourself", it's only natural for a teenager to choose to conform in order to fit in. It's okay to want to be part of the cool clique. The difference lies in how one attempts to fit in. It's important to know when to draw the line. Trying to be someone that you're really not is like walking on thin ice, you'll never know when you'll fall through. What happens when your pretentions start to get the best of you? At the end of the day, maybe the reason why some people aren't able to fit in is because they were meant to stand out all along. This food for thought is further explored in Freeform's hit series, Cruel Summer.
The teen drama thriller first premiered in April 2021, and has since amassed a solid following. The series was originally created by Bert V. Royal (Easy A), with actress, Jessica Biel (The Sinner), serving as one of its executive producers. The story is set in the 1990's, and follows the lives of a group of teenagers living in the fictional town of Skylin, Texas. The first season covers three summers that span the years 1993 to 1995, and mainly follows two teenage girls who are on the opposite side of the social spectrum. Kate Wallis, portrayed by Olivia Holt (Cloak & Dagger), is the town's popular girl who suddenly goes missing without a trace, while Jeanette Turner, portrayed by Chiara Aurelia (Tell Me Your Secrets), starts off as a nerdy misfit who undergoes some major life transformations as the season progresses. A juicy whodunnit plot is always much appreciated.
What Happened in Season 1
The first season contained 10 episodes that jumped back and forth the three summer timelines, and between the perspectives of Kate and Jeanette. In the first timeline set in 1993, Jeanette is seen as a socially awkward teen trying to survive high school with her equally nerdy friends, Vincent, played by Allis Barnes (Unbelievable), and Mallory, played by Harley Quinn Smith (Yoga Hosers). All was well until Jeanette took notice of their school's queen bee, Kate, who pretty much had everything she hoped for – popularity, beauty, and a handsome boyfriend named Jamie, played by Froy Gutierrez (Teen Wolf), to boot. Cut to 1994, and Kate has already gone missing. No one in town seemed to have any leads on her disappearance. At this point, all options were possible. The hopeful think she might have just run away from home, the fearful believe that she might have gotten kidnapped, and the pessimistic ones are opening the possibility that she might have already been killed (god forbid!). Everything just felt so surreal. During this dark period, viewers also got to see Jeanette's major transformation.
She now donned a spectacle-free and smoother-haired appearance, traded in her old pals for Kate's group of friends, and was not even in a relationship with Kate's old flame, Jamie. Jeanette's fifteen minutes of fame didn't last long though, as Kate was finally found alive after more than one year of searching. This is where the revelations start to unfold. Kate claims that Jeanette knew where she was held captive all along, but chose to stay silent. Jeanette strongly denied this accusation. Nothing like a classic he said, she said case. Fast forward to 1995, and Jeanette's world has now turned upside down. Kate's strong accusations has made her the town's outcast. Apart from the townspeople avoiding her like the plague, she was bombarded by a string of lawsuits, and also broken relationships. Jaime wants nothing to do with her anymore, and even her own father barely spoke to her. Another major twist happens in the explosive season finale when Kate admitted that she was wrong about Jeanette knowing about her whereabouts when she got abducted. However, this all became moot when another surprising twist reveals that Jeanette actually heard Kate calling for help while she was held captive, but chose not to do anything about it. Now that, ladies and gentlemen, is what you call a cliffhanger.
What to Expect from Season 2
Fans who were left on edge from the first season would be ecstatic to know that the series has been renewed for a season 2. There has been no official announcement on the release date yet, but the new season is predicted to drop by early 2022. Viewers can also expect their favorite cast members to reprise their juicy roles. The next season will further explore the complicated relationship of Kate and Jeanette. Will bygones be bygones? Or is revenge a dish best served cold? Let the fan theories commence. For the meantime, there's still ample time to binge the nail biting first season. Cruel Summer is currently available on Amazon Prime Video.