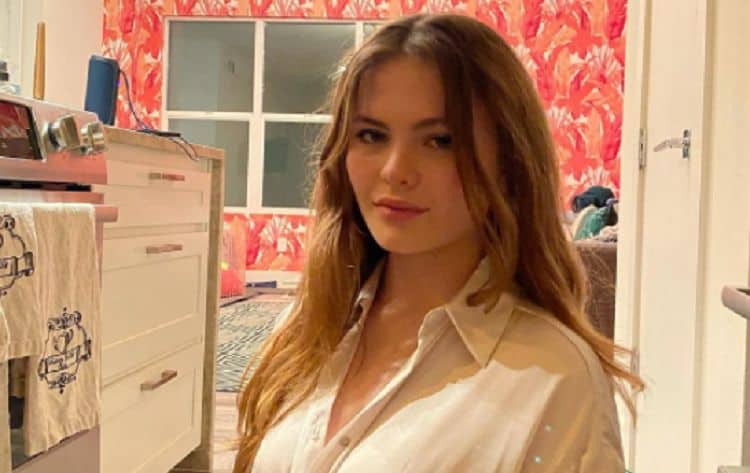 Chiara Aurelia has been acting professionally since she was about 12-years-old. Although transitioning from a child star to an adult can be very challenging, Chiara has managed to overcome the obstacles. Now she's on a mission to show the world that she's all grown up and she's off to a great start. 2021 has already been a huge year for her, and it's about to get even bigger. Still on the heels of her appearance in the Amazon Prime series Tell Me Your Secrets, Chiara will be starring in the upcoming Freeform series, Cruel Summer. If there's anyone who has doubts about Chiara's ability to make it as an adult, those ideas will soon be laid to read. Keep reading for 10 things you didn't know about Chiara Aurelia.
1. She's From New Mexico
Chiara was born and raised in New Mexico, and it was there where she developed an interest in acting. In fact, Chiara has been drawn to acting for as long as she can remember. She was only about 4-years-old when she moved to Los Angeles and began studying acting at the Lee Strasberg Theater.
2. She's A Fan Of Thrillers
Getting the chance to do projects like Tell Me Your Secrets and Cruel Summer was especially exciting for Chiara because she is a big fan of watching things that keep her on the edge of her seat. She enjoys a good thriller and spent some time watching some of the most popular thrillers from the 90s while preparing for her role in Cruel Summer.
3. She Loves To Travel
Traveling is one thing that most people would probably do more of if they had more time and money. Thanks to her career Chiara has gotten the opportunity to do lots of traveling both in and out of the United States. There's no doubt she'll be able to add lots of other places to the list as her career contiues.
4. She Enjoys Interacting With Fans
Over the course of her career Chiara has built a solid fan base and she's very thankful for all of the people who have shown her love and support throughout the years. She loves getting the chance to connect with her fans on social media and it's common to see her responding to comments and questions on Twitter.
5. She's A Private Person
Privacy can be a hard thing to come by in the entertainment industry. However, Chiara has managed to keep much of her personal life away from the spotlight. She seems to prefer to stay low-key and keep all of the attention on her work. The desire for privacy seems to be getting more and more common for entertainers.
6. She Loves Fashion
Like many other creative people, Chiara sees fashion as yet another way for her to express herself. She likes putting outfits together and she has a natural eye for creating cute looks for any occasion. She enjoyed getting the chance to explore 90s fashion while filming Cruel Summer.
7. She Was In An Episode Of Pretty Little Liars
Despite her young age, Chiara has already gotten some pretty cool opportunities in her career. Being in Cruel Summer isn't the first time that Chiara has worked with Freeform. She was actually in an episode of Pretty Little Liars in 2014. With all of the anticipation surrounding Cruel Summer, many people believe it has the potential to be just as popular as PLL was.
8. She's Built Tight Bonds With Her Cruel Summer Cast Mates
Filming a TV show means spending countless hours around the same group of people for months on end. That being said, it's always nice when cast members can get along and genuinely enjoys each other's company. During an interview with Brief Take, Chiara shared that she and her Cruel Summer co-stars formed very strong bonds and became like a family. They enjoyed hanging out even when they were away from the set.
9. She's A Singer
Acting might be Chiara's bread and butter at the moment, but when she isn't busy working she loves to sing. From what we can tell, Chiara hasn't pursued music on a professional level, but maybe one day she'll get a role that allows her to combine her love for acting with her love for singing.
10. She Likes To Cook
For some people, the idea of being in the kitchen sounds like a terrible chore. For Chiara, however, it sounds like a great way to spend a quiet afternoon or evening. Cooking is one of her favorite things to do and she enjoys making various dishes for her friends and family.