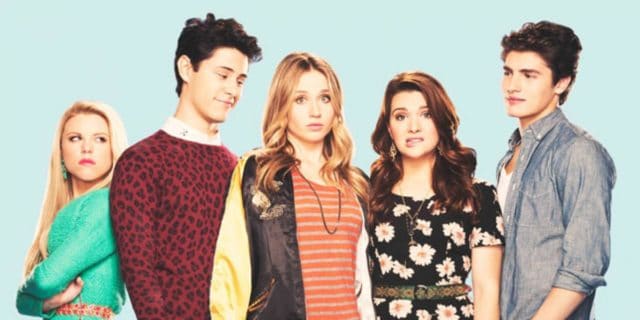 The MTV series "Faking It" is being cancelled after just three seasons. What made the show so well-liked is the fact that it was unique and it dealt with just about every aspect of teen drama that is known to man. If you wanted to learn about Birds and the Bees 101, this was the show to tune into. Just because it's been cancelled doesn't mean that it wasn't good or that there was no merit associated with the series. You can ask any fan and they'll tell you that the biggest problem is that it was under rated and not appreciated enough. In paying our respects, here are 10 facts about the show that you probably didn't know.
1. The script was changed impromptu
"Faking It" had its critics, but there were just as many fans who stepped to the plate to defend it when it was called "offensive." There were actually some brilliant events that took place behind the scenes. There was some authenticity and genuineness in the show such as the time when Amy's lines were not scripted. They actually came from her heart when she showed her true feelings for her bests friend. During the filming, Carter Covington knew that the scene they planned would come across as being offensive and would draw criticism, so they let Amy go with her true feelings and had her fall for Karma. The script switch was a success and Amy saved the day.
2. It wasn't a reality show
The show was scripted, well, most of the time anyway. It was not intended to be a reality series. The characters were fictitious, but it had many of the elements that would lead you to think it was a reality show. The content was raw at times but it gave an accurate portrayal of what real teens go through as they're beginning to mature into young adulthood. It can be a confusing time in a person's life and we see the ups and downs, the arguments, the misunderstandings and the teens who are coming to grips with who they are and what they believe. This is not an easy task when hormones are thrown into the mix.
3. It's about relationships
"Faking It" takes a hard core look at relationships in the teenage years and how important the experiences are for helping us find out who we really are. Not all friendships are platonic but not all are based on romantic notions either. We learn a lot about what it's like to come out of the closet and to deal with all the relationships that are affected by the disclosure. There are feelings that teens simply can't express because they are confusing and when they do figure it out, it takes a lot of courage to vocalize them.
4. "Faking It" broke ground for some people without a voice
Not enough attention has been given to people who are of an intersex persuasion. The character Lauren Cooper served as a good example of how being in this situation can change a person's perspective and outlook on life and relationships. From viewing her story line, we gain a new perspective about her and why she seemed to be so defensive.
5. The show received accolades
Although there is no denying that "Faking It" didn't receive the attention that it deserved, the actress who played the part of Lauren Cooper (Bailey De Young), received an award for her tremendous contributions that helped to educate the public about intersex people. The AIS DSD Support Group also acknowledged the showrunner Carter Covington along with the writers for the show and the MTV staff for rendering an authentic and respectful portrayal of intersex people.
6. Rita Volk was praised for her role
In addition to the recognition that Bailey received, Rita Volk who played Amy was also recognized. She was named Favorite TV actress in addition to Favorite Lesbian/Bi Character at thee 10th Annual AfterEllen Visibility Awards. The show was also named as winner of thee Teen Choice Award for Breakout Show.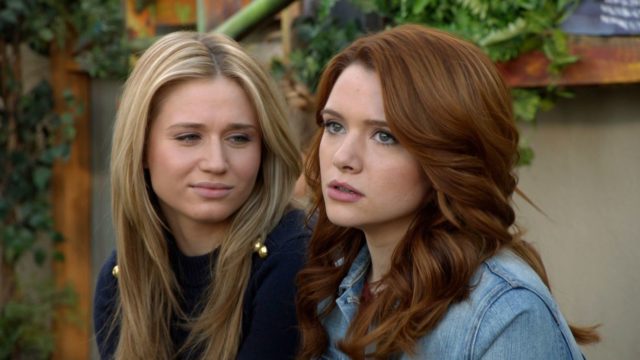 7. The show was not initially well received
There were many critics of the show when it first aired. It was assumed that thee bad ratings were because people assumed that the show was just about two girls who were faking being lesbians. There were quite a few scenes that were offensive to some viewers but you had to really understand what the show was all about in order to make a fair judgment about it. Some didn't feel it was worth their time to do so.
8. Katie Stevens is really a singer
While Katie did a little singing in the show, what many viewers don't realize is that the talented actress has had significant experience singing. Before "Faking It," she sang her way through to stand with the final 8 contestants in American Idol in 2012. She was just 16 years old at the time. She was also in a YouTube rendition of "Beauty and the Beat," a musical spin on "Beauty and the Beast."
9. On-screen chemistry is real
A good actress can improvise and with help from co-stars, can usually create a certain chemistry, or at least an illusion of it to make the show work. This wasn't necessary because Rita Volk and Katie Stevens are best friends in real life.
10. MTV stands behind the show regardless
Although MTV made the decision to cancel "Faking It" in the spring of 2016, it was because of poor ratings and the need to focus more on the music. They made sure that they let everyone know that they were "incredibly proud" of the series.
Tell us what's wrong with this post? How could we improve it? :)
Let us improve this post!