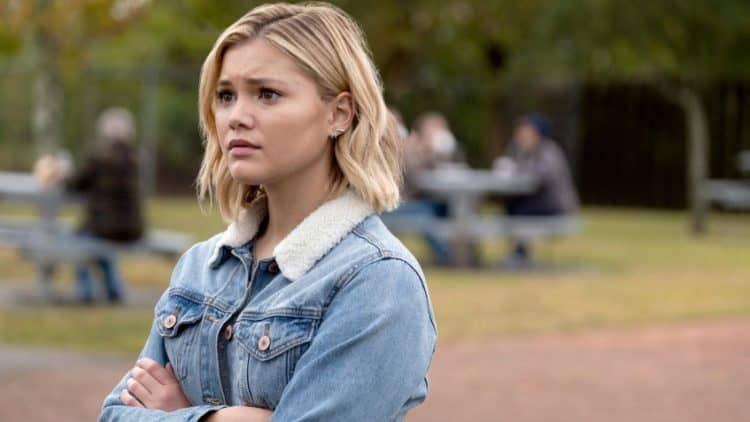 Olivia Holt may not be a newcomer to the acting scene, but she's still finding her footing as a standout star. While she has appeared in several movies, her most notable role to date is in the Marvel Cinematic Universe TV show Cloak and Dagger, where she plays Dagger, a young woman grappling with her newfound ability to manipulate light in deadly and advantageous ways. As her star power continues to rise, it's clear that Olivia Holt is a force to be reckoned with in the entertainment industry. With only a handful of movies under her belt, she's on the right track to becoming a household name. Let's take a look at some of her best movies so far.
5. Tinkerbell and the Legend of the Neverbeast
Being part of a Tinkerbell movie is undoubtedly a significant accomplishment, given the character's long-standing association with Disney. In this film, Olivia voices a fairy named Morgan. Although her role isn't particularly prominent, it's still an impressive addition to her resume. The movie focuses on Faun, an animal fairy with extensive knowledge of all creatures. When she encounters a never-before-seen beast, she must study it despite the creature's apparent disinterest in being observed.
4. The Standoff
The Standoff is a comedic take on the lengths teenagers will go to in order to obtain their dream car. The film showcases the chaos that ensues when the desire for a car collides with the challenges of being a teenager in a world that demands proof of one's worthiness. The movie serves as a reminder that sometimes, the things we want most in life require hard work and determination.
3. Class Rank
Class Rank explores the problematic nature of ranking systems in high schools, which can often lead to jealousy, envy, and other negative emotions among students. For some, being number one is the ultimate goal, and they'll do anything to achieve it. The film serves as a reminder that high school is about more than just grades and rankings; it's about personal growth and finding one's path in life.
2. Same Kind of Different As Me
This heartwarming film tells the story of Ron and Debbie, a couple who find their lives changed for the better when they meet a homeless man named Denver. Although the movie didn't receive widespread attention, it carries a powerful message about love, loss, and the power of human connection. As Ron learns to cope with Debbie's passing from cancer, he discovers the importance of living a life worth remembering.
1. Status Update
In today's world, apps play a significant role in shaping our lives. Status Update explores the idea of an app that can grant users anything they desire. While the concept may seem appealing, the film highlights the importance of earning what we want in life rather than taking shortcuts. Sometimes, it's the hardships we endure that make our achievements all the more meaningful.
There's no doubt that Olivia Holt's career is on the rise. With her impressive performances in both film and television, she's well on her way to becoming a household name. Keep an eye out for this talented actress as she continues to make her mark on the entertainment industry.
Tell us what's wrong with this post? How could we improve it? :)
Let us improve this post!