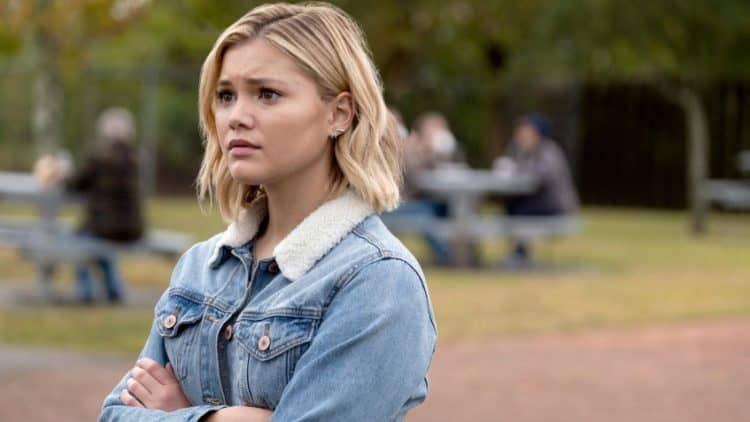 Olivia Holt isn't a newbie but she's still getting her legs under when it comes to really standing out as a star it would seem. While she's been in several movies her most strident claim to fame at the moment is her role in the MCU TV show Cloak and Dagger, where she plays the role of Dagger, a young woman coming to grips with the fact that she has the ability to use and manipulate light in a way that's not entirely normal but is inherently deadly as well as quite advantageous. Her star power is still on the rise but so far she's managed to become someone that people are starting to look at seriously as they realize that she's very much for real and is talented enough to become a much bigger star than she already is. Given that she has only a handful of movies under her belt at the time it might seem as though she has a ways to go, but she's on the right track thankfully and could be someone that we'll see rise in a big way eventually.
Here are a few of her best movies thus far.
5. Tinkerbell and the Legend of the Neverbeast
In a way it seems as though it would be a giant feather in anyone's cap to be associated with a Tinkerbell movie since she's been one of Disney's most notable characters for so long. She gets to play a fairy named Morgan in this movie and while her role isn't all that prominent it's still enough to say that she got to be a part of it since these movies have been a big hit with a lot of kids over the years. In this particular movie the focus is mainly on Faun, the animal fairy that knows just about anything and everything about animals since that's her talent. When she comes across a beast she's never seen before though she has to break out the charcoal and parchment to start jotting down notes, despite the fact that the beast doesn't seem to be interested in being studied.
4. The Standoff
It's funny that people think that they might be entitled to a car when they get old enough just because they want one, but then again there are those that will go to great lengths to get what they want in order to prove that they deserve it. That being said this movie seems to be about all the crazy things that can happen when the desire to have one's dream car, or at least A car, tend to collide with the idea of being a teenager in a world that seems bent on denying people what they want unless they can prove that they're willing to do absolutely anything to get what their heart desires. Of course that might not be limited to JUST a car as this movie shows.
3. Class Rank
There's something inherently wrong with the idea of having a class rank system in place, especially since it can send waves of jealousy, envy, and every other possible negative emotion coursing through the minds of some students. There are a lot of people that wouldn't care since high school is all about surviving the tests, the homework, and somehow coming through all of it with a chance to move on to a life that one wants and can handle based on what they've done with their lives. But for some people this isn't quite enough since being number 1 is the ultimate goal and they'll do just about anything to get it.
2. Same Kind of Different As Me
There are stories that are uplifting even while they're undergoing their sad moments and this is one of them. It might not have hit the mainstream in as big a way as other movies but it's still one that needs the kind of attention one can give since it carries a very powerful message. Ron and Debbie aren't the perfect couple, but when they meet a homeless man named Denver things start to change for the better and their lives become different as they have their ups and downs, the biggest being Debbie passing away from cancer, but even in the wake of all this life changes for the better as Ron finds a way to move on and reconcile with a life that's worth living.
1. Status Update
It seems these days that apps are part of what a lot of people use to rule the world in their own little way, but if an app could give a person anything they ever wanted you have to think that a lot of people would likely use it to the greatest effect possible and alter their lives in a way that would be entirely favorable. But the problem with this is that anything not earned and gained with ease becomes something that's not worth having since there was no pride or real work put into it. Sometimes you've got to go through the hardships in life and weather them in order to appreciate what comes as a result.
She's on her way up, there's no doubt.