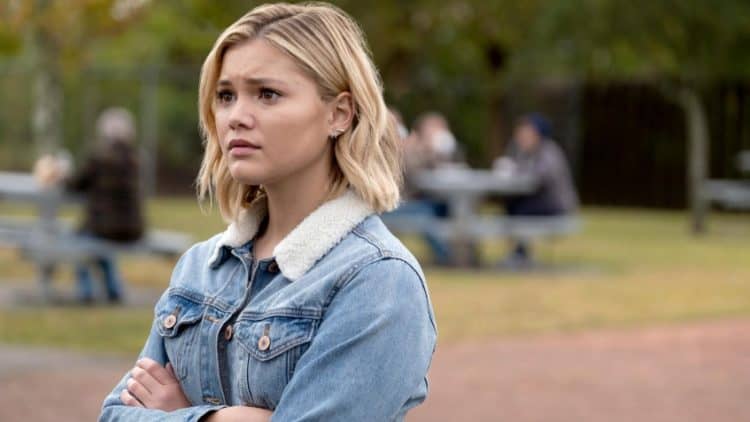 Olivia Holt is an actress and singer who was born in Tennessee on August 5, 1997. She began her career in entertainment in 2009, and she is best-known for her appearances on the Disney Channel. She was in the Disney Channel Original Series 'I Didn't Do It', the Disney XD series 'Kickin' It', and the Disney Channel Original Movie 'Girl vs. Monster'. Since 2018, she has also played the role of Tandy Bowen in 'Cloak & Dagger'. In her music career, she released her debut EP 'Olivia' in 2016. Although she is a relatively well-known singer and actress, there are still many things that people do not know about her. Here are 10 interesting facts about Olivia Holt that you probably didn't know.
1. She Was a Child Actress
Although she is still young, Olivia Holt already has a lot of experience as an actress as she began her career as a child. She first began singing and acting at the age of three. By the age of 10, she was already appearing in theatre productions, says The Famous People. She was also appearing in television commercials at around the same time. Some of the companies that had advertisements featuring Olivia Holt include Mattel, Bratz, and Hasbro. This early experience gave her a good grounding that helped her to progress her career in entertainment.
2. She Has Some Very Strange Eating Habits
Olivia Holt has admitted that she has some rather strange eating habit. She told She Knows that she cannot resist covering her food in ketchup. Holt even carries spare ketchup in her purse for when she eats away from home. She also admitted that her favorite comfort food is cheesy popcorn. She added that she has got her friends hooked on popcorn dipped in Nutella, as this is something on which she likes to snack.
3. Holt Has an Advice Column
When she is not acting, Holt focuses on writer her advice column. The Famous People says that this column is published in 'Tiger Beat' magazine. She uses this as a way to connect with her young fans and to help them in their time of need.
4. She Hates the Sound of Cutlery on Plates
In an interview with She Knows, Olivia Holt said that the thing she hates the most is the sound of a fork scraping on a plate as it makes her cringe. She also hates it when people have their collar turned up or the hood on their hoodie flipped inside out. Another thing the actress hates is when people walk in front of her.
5. She Has Combined Her Acting and Singing Careers
According to Famous Birthdays, Olivia Holt has combined her acting and singing careers. Not only did she act in the Disney Channel Original Movie 'Girl Vs. Monster', but she also recorded part of the playlist. This was titled 'Make Your Mark: Ultimate Playlist'. Furthermore, in 2012, she sang a cover of 'Winter Wonderland, and this was on the Disney Channel Holiday Playlist album. Her other interest at school was chess, and she was in the school chess team.
6. Morgan Toll is Her Sister
Olivia Holt's older sister is actress Morgan Toll. Toll is not as well-known as Olivia Holt, but she has had several small roles in short films. She studied at Columbia College Hollywood Film School, and she is also a writer and director. Morgan and Olivia also have a brother called Cade, who does not work in the entertainment industry. Their parents are Mark and Kim Holt.
7. Her Most Embarrassing Moment Was at an Amusement Park
Holt has had many embarrassing moments, but the worst happened at an amusement park says IMDB. Just before she got onto a ride, she began to feel the effects of food poisoning. After the ride started, she suddenly became violently ill in front of those waiting in the ride's queue.
8. She is Sporty
As a youngster, Olivia Holt was quite sporty. She trained in gymnastics for seven years, says Famous Birthdays. At high school, she was also in the cheerleading team, which involved competitive cheerleading. A little-known fact is that Holt also has a black belt in martial arts.
9. Her Brother Having an Accident Was the Worst Moment of Her Life
Olivia Holt has said that the worst moment of her life was when her brother had an accident, says IMDB. Her family was out for the day when her brother, Cade fell from a pier. He landed on the rocks below and cut his head badly. The ambulance was called, and her brother was taken away. Holt remembers feeling frozen to the spot before falling to her knees in tears. She thought her brother was going to die. Fortunately, he recovered well, and Holt says that the incident brought them closer.
10. She Has a Huge Following on Social Media
Olivia Holt is an active user of social media and she has already amassed a huge following on her accounts. On Twitter, she has 1.09 million followers. Not only does she post about her life and career on Twitter, but she also posts about current affairs that interest her. On Instagram, Holt has 4.9 million followers. She uses this social media account predominantly to pose pictures of herself in her appearances or at events. She also posts photographs of herself with her friends, at home, and wearing amazing outfits.