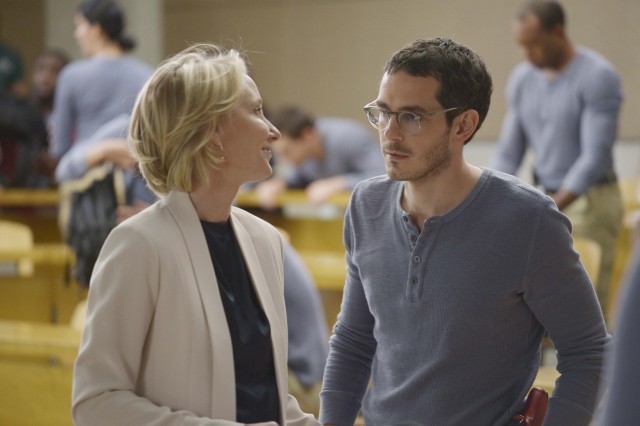 Quantico's first season has been opening up its world with the most recent episodes, so let's take a look and see if this trend continued in this week's "Guilty."
The episode opens in the future as Alex is now in custody after turning herself in at the end of the previous episode. She manages to receive legal counsel, though, with the help of Elias Harper, who we finally see for the first time in the future, somewhat eliminating the confusion over what happened after he left the academy. In the past, all of the cadets are in the middle of big changes in their lives. The biggest among these are Caleb and Shelby growing closer (something we've seen play out in the future timeline) and Simon continuing to be in contact with someone that can't lead to anything good. Both the setup in the past and in the future gives us a lot of story and character progression, something that wasn't nearly as easy before the show's timelines were firmly established in the way that they are now. The world continues to fill as full as ever, even if we do have to suspend some disbelief with all of the seeming coincidences that have led us to where we are.
Moreso than usual, we spend a huge chunk of the episode in the future, something I'm very glad to get to see more of. While it's clear that we still have a ton of catching up to do at the academy before we can really get to the incident that kicked the series off, I'm glad that we aren't having to wait that long for this future story to keep moving. One of Quantico's strengths that helps set it apart from other shows on television is the way that it juxtaposes these two timelines without losing a central focus, and this is something that the writers need to continue playing to as the series goes on. I've said before that Quantico feels like it could easily be paired with any of ABC's TGIT shows without worrying about a tonal shift, but it seems pretty obvious to me that the producers are actively trying now to make this show its own thing. For now, it's working.
Another thing that I loved about "Guilty" was that we got to spend a good amount of time with the characters outside of the academy in the past. Seeing them out of that setting isn't really anything new for the show, but I think more scenes were set outside of Quantico in this episode than inside of it, and that's something that helps to keep things from getting stale with the "investigation-lesson-investigation-moral-twist" formula that the show uses most of the time. It's good to have a formula, but it's equally as good to know when you need to break from it. The stuff that happened away from the academy still tied in really well with what was going on in class, so everything worked out very nicely.
"Guilty" was a great episode of Quantico that managed to show that this series still has plenty of tricks up its sleeves. It's hard to overlook how many coincidences there are during the story, but if you can, you're in store for a very fun story.
What did you think of "Guilty"? Are you still enjoying Quantico? Let us know your thoughts in the comments down below!
[Photo credit: Phillipe Bosse/ABC]