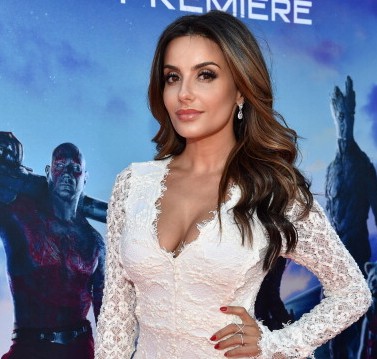 Mikaela Hoover may be a name that you are not yet familiar with, but you definitely have seen some of this talented actresses' work. Hoover has guest starred on popular comedies like Happy Endings, Two and a Half Men, and How I Met Your Mother. This August, you can even catch her in the sci-fi adventure Guardians of the Galaxy starring Chris Pratt and Zoe Saldana. Hoover took a few minutes out of her day to talk with TVOvermind abut her career and future projects, including a new webseries starring Angela Kinsey.
TV Overmind: You will be starring in the webseries Zombie Basement. Can you tell us what the show will be about?
Mikaela Hoover: The zombie apocolypse has just happened and these two guys are living down in a basement. They are doing a webseries for everyone that is still alive and hasn't turned into a zombie. It's really cute and funny.
TVO: How did you get involved in the project?
MH: I met Randall Whittinghill on the set of Happy Endings and he started coaching me on auditions. This is his first directing debut. He called [me] and just offered it.
TVO: The series will also star Angela Kinsey from The Office. What was is like working with her?
MH: I adore her. I knew her before. She is funny and adorable. She is the whole package. I love working with her. She is such a pleasure.
TVO: When will Zombie Basement be airing?
MH: This fall. There is no exact date yet.
TVO: Where can our readers go online to view the show?
MH: The website is reservoirentertainment.com/zombie-basement . They are hoping that it ends up going to [a television] series. It's so funny. Ashley Fink from Glee is involved in it. She is such a pleasure to work with.
TVO: You are in the new movie Guardians of the Galaxy that will be hitting theaters this Friday.
MH: I have a tiny cameo. James [Gunn] the director made it seem like I have a big role. It is just a cameo. The movie is so good. I went to the premiere with him last Monday. I had a chance to see the movie a couple of months ago and its amazing.
TVO: Did you share any scenes with Parks and Rec's Chris Pratt or Avatar's Zoe Saldana?
MH: My scenes were with Glenn Close and John C. Reilly. It's crazy. You film so much and so much gets cut. I had scenes with Peter Serafinowicz. His role ended up getting cut down too. I was his crush in the movie.They do so many screenings you never know what you are going to end up in.
TVO: Can you fill us in on any other projects you are currently working on?
MH: I just did a horror short called Hide and Seek that Carlos Torrens directed and Peter Safran who produced The Conjuring. That is going to be going to festivals worldwide very soon. Before that I worked on a pilot for CBS called Cuz Bros. Pamela Fryman from How I Met Your Mother directed it. The creator of Happy Endings David Caspe wrote it. It was so fun it was with Geoff Stultz and Parker Young. It was such a fun experience, but it didn't get picked up. Now I am looking at horror scripts that I was offered the lead in.
TVO: That's great.
MH: I am very choosy about horror films because I love them so much. I want to do a really good one. I am very picky.
TVO: What's your favorite horror movie?
MH: Scream. I love Wes Craven. Nightmare on Elm Street, Shocker. I love all the original horror films like The Shining, Rosemary's Baby. I just think they are so beautifully done. I love Insidious. [Director] James Wan is a friend of mine. I was so excited for him. I remember when he was filming Insidious, I was filming Super with James Gunn. We had around the same budgets and I was thinking our movie is going to make so much more money than yours and Insidious ended up making a fortune. I love it so much. It scares the crap out of me.
To learn more about Mikaela Hoover you can visit her website: http://www.mikaelahoover.net/ and follow her on Twitter @mikaelahoover .
Photo by Alberto E. Rodriguez/Getty Images for Disney
Tell us what's wrong with this post? How could we improve it? :)
Let us improve this post!