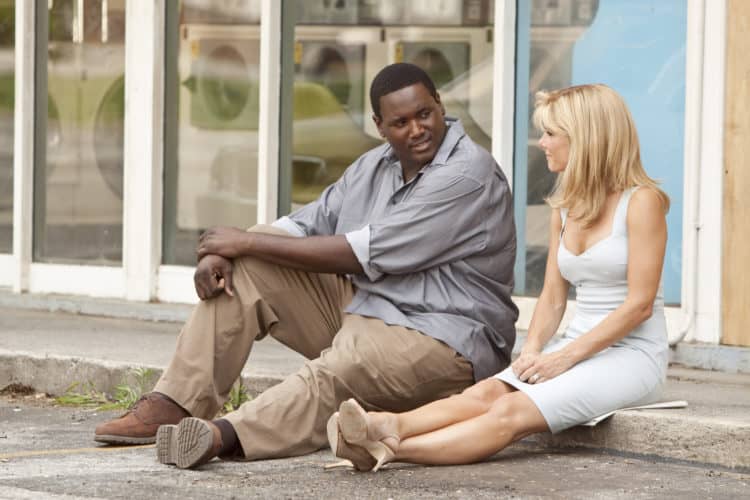 With beautiful hills and even more eye-catching sceneries filled with the bounties of Mother Nature, Atlanta sure has a lot going for it as far as the natural blessings of the planet are concerned. And when you add to it the other landmarks that the city has to offer, you know it is bound to be an easy choice for filmmakers. But that isn't the only thing that brings filmmakers to the city. Almost burnt to the ground during the American Civil War, the city was one of the few to emerge even from the ashes as a city worth its place on the United States map, and today, is one of the major cities in the country. And thanks to this grit that the people of Atlanta hold close to their hearts even today, the city proves to be the perfect setting for several plots and stories too. So when you check out the movies on our list of 10 Awesome Movies Straight Out of Atlanta, also know that these movies and more have a lot more than glimpses of Atlanta landmarks and streets in them!
Blind Side
A biographical sports drama based on a true story, and one that has a lot more to do with unconditional love and support than even sports, The Blind Side is a movie that will leave you with a renewed sense of love for all those around you, and teach you how to pass on this love to more people too. With Sandra Bullock and Quinton Aaron leading the way, and Tim McGraw, Jae Head, and Lily Collins adding up to complete this touching portrayal of a unique family unit, the story outlines the beautiful heart of a woman named Leigh Anne Tuohy, who out of the goodness in her heart decides to take in a young African American boy Michael into her home and soon enough, everyone around learns beautiful lessons on how when you begin to look beyond skin color, you begin to witness the true potential in human relationships. A film that makes you want to hug everyone that has to do anything with it, The Blind Side received as much love at the box office as it held within its storyline, raking in more than ten times the amount it cost to produce. Atlanta and its students contributed quite a lot to the film, with the primary filming locations at two schools in the city — the Atlanta International School and The Westminster Schools — with the youngsters in the schools even playing their part as extras.
Baby Driver
A film that Edgar Wright took two decades to develop, Baby Driver sure does all that time enough justice, and more! Directed and written by Edgar, the film stars the baby-faced Ansel Elgort as the main protagonist and has Kevin Spacey, Lily James, Eliza Gonzalez, Jon Hamm, Jamie Foxx, and Jon Bernthal playing supporting roles in the film. Produced on a budget of only $34 million, the film proved to be a hit with audiences who came in hordes to watch the film and helped it rake in an impressive $226 million. Filled with action sequences to keep audiences thrilled throughout the 113 minutes of runtime, the film revolves around the adventures of Miles 'Baby, a getaway driver whose skills behind the wheels help him earn money from robbers who need to make quick getaways after pulling off a heist. With the other characters in the story like his love interest Debora, and others like Doc, Jason 'Buddy' van Horn, Monica 'Darling' Castello, Leon 'Bats' Jefferson III, Griffin 'Griff', Joe, as well as others adding to the twists and turns of the plot, Baby Drivermakes for quite the ride. As for the Atlanta connection, throughout the filming, you will easily recognize a string of city landmarks including the Peachtree Center, the central business district, and others.
Remember the Titans
A biographical sports film dedicated to the journey of Coach Herman Boone, and his dedication to leading the integration of the T.C. Williams High School football team. Based on a true story, we have the amazing Denzel Washington playing the role of the inspiring coach, and other actors including Will Patton, Donald Faison, and Nicole Ari Parker playing their parts to make it even more captivating. Filled with emotions and of course, adrenaline in huge quantities, the film revolves around the many stories and challenges behind the players of a young high school football team and how the coach contributes to their lives in ways that go beyond football. At a time when racial discord was still the norm, the efforts of one man prove to bring high school kids from different backgrounds on a single platform, contributing to the team's efforts as a single unit. Fighting against bias in all forms, the film depicts the journey of the Titans and how one man made a difference in all their lives. Although the story of Remember the Titans is based out in Virginia, the filming locations include Atlanta and other places in Georgia, giving this movie enough reason to find a place on this list!
Driving Miss Daisy
A beautifully crafted comedy-drama that speaks of love and friendship and human bonds that do not always need a name, Driving Miss Daisy is one of those films that leaves you with beautiful memories and life lessons, and when you have Morgan Freeman and Jessica Tandy giving out these memories and lessons, you know the drive will be even more enjoyable! The movie is based on the friendship that forms between Miss Daisy aka Daisy Werthan, played by Jessica, and her new chauffeur Hoke Colburn, played by Morgan, and shows just how even the seemingly toughest of personalities can be won over with kindness and understanding. One of those endearing works that leave you teary-eyed in a happy way, Driving Miss Daisy explores the changing times of the nation when people were only beginning to recognize the evils of racism and needed time and direction to adjust to a new reality. Set in Atlanta and perfectly reflecting the energy of an era when there were radical changes taking place in the fabric of society, this one's a must-watch for those who wish to experience true friendship even in troubled times.
Gone with the Wind
&t=19s
The burning of Atlanta is a historic event that came to define the spirit of Atlanta and its people and while there are a handful of movies that depict this event in their storylines, Gone with the Wind is one of the more popular ones. An epic historical drama filled with romantic hues that make it even more enchanting, this one is a masterpiece that has come to be a favorite with audiences across generations. Starring Clark Gable, Vivien Leigh, Leslie Howard, and Olivia de Havilland in the main roles, it was directed by Victor Fleming, and among other things, was one of the first movies of the time to portray African Americans in a way that proved to be quite the departure at the time. With a running time of more than 221 minutes, the movie proved to be quite the lengthy one, but thanks to its brilliant picturization and plot, as well as the skills of its cast, kept the audience riveted. Telling the story of a time when the most radical of changes were taking place in the city and all across the United States, Gone with the Wind proved to be a hit beyond measure, raking in more than $390 million against the original production cost of only $3.85 million.
Zombieland
&t=10s
A zombie movie that makes you laugh even amidst the setting of a zombie apocalypse, Zombieland has a direct connection with the city of Atlanta. In addition to the filming of some sequences in the city, the one that features most prominently is the Netherworld Haunted House, the walkthrough haunted attraction, which can be found right outside the city. Of course, while this validates the addition of the movie to this list, this Ruben Fleischer extravaganza has a lot more going for it than just the depiction of various cities and landmarks in it. While the names of the characters in the movie, from Tallahassee and Columbus to Wichita and Little Rock pay homage to various locations in the US, what truly makes it an all-out entertainer is its cast and storyline, bringing to life the age-old zombie premise in a way that is funny as well as adventurous. With a perfect cast, a perfect premise, and a perfect narrative, Zombieland does indeed make for a great zombie movie!
Contagion
Directed by Steven Soderbergh and written by Scott Z. Burns, Contagion presents multiple narratives to create the hyperlink cinematic style, bringing to audiences a fast-paced plot that converges from several different angles. As a medical thriller, the film goes beyond set boundaries and depicts the spread of a virus that holds a city hostage and endangers the lives of millions. With Matt Damon as Mitch Emhoff, Laurence Fishburne as Dr. Ellis Cheever, Jude Law as Alan Krumwiede, Gwyneth Paltrow as Beth Emhoff, Kate Winslet as Dr. Erin Mears, Bryan Cranston as Rear Admiral Lyle Haggerty, Jennifer Ehle as Dr. Ally Hextall, Elliott Gould as Dr. Ian Sussman, Chin Hang as Sun Feng, and Marion Cotillard as Dr. Leonora Orantes, the casting is just as impressive as the plot, and this powerful lineup of great actors makes the movie even more convincing for audiences. As far as locations in Atlanta went, the Druid Hills, which is home to the Centers for Disease Control and Prevention, played home to the movie's cast and crew, with the essential protocol being followed for the shooting of various sequences. City dwellers will also recognize glimpses of Decatur and the central business district. At the box office, Contagion raked in $136.5 million against the $60 million it cost to make.
Convergence
In Convergence, it all begins with a couple of explosions at a women's clinic in Atlanta, and soon enough, the film descends into the terrifying ride it is. Although it did not do too well with critics or the audience, the film finds a place on this list not only because it is set in Atlanta but because of its attempt to recreate a storyline that was indeed too complex to explain in the first place. While everyone loves a movie that makes you think. it sure turns out to be a tad overbearing when you have to try and make sense of just about everything that's going on. Nevertheless, Convergence turned out to be one of those movies that certain sections of the audience loved for its many intricacies while others simply dismissed it as too complicated for the average mind. Written and directed by Drew Hall, first premiered at the FirstGlance Film Festival in April 2015, before it was released across the US in February 2016.
Game Night
Jason Bateman and Rachel McAdams lead the way in this black comedy that is quite the departure from the usual film scrips that we coming out of Hollywood. Exploring a young couple's and their friends' obsession with game nights, and bringing to the entire funny story a rather dark hue too, Game Night has enough twists to keep you wondering where it will take you next. A runaway hit, and a favorite with critics as well as audiences, this one raked in a cool $117.7 million against an initial investment of $37 million, also making it a commercial success. Supported by a cast that includes Billy Magnussen, Sharon Horgan, Lamorne Morris, Kylie Bunbury, Jesse Plemons, Michael C. Hall, and Kyle Chandler, the film has Max Davis, played by Jason, and Rachel, as Annie Davis, really ramping up their level of crazy and leaving audiences in splits. That the principal photography, as well as the setting of the film, was based in Atlanta makes Game Night a city favorite!
Pitch Perfect
Many a singing aficionado and dreamer has tried to hunt down the Barden University in Atlanta, hoping to live a great life, just like all those girls in Pitch Perfect did, but sadly, while the university itself isn't a real one, there are plenty of reasons why one would want to be a part of this really cool place! Although shot at the University of Louisiana, the film is set against the backdrop of this really happening university where different acapella groups pitch their renditions against one another and compete to win the International Championship of Collegiate A Capella (ICCA). Starring Anna Kendrick, Skylar Astin, Rebel Wilson, Adam DeVine, Anna Camp, Brittany Snow, Ben Platt, John Michael Higgins, Elizabeth Banks, and others, the film turned out to be a sleeper hit, raking in a melodious $115.4 million against the relatively meager $17 million it cost to produce. Of course, the entire setting in Atlanta gave the city's film fans something more to brag about too!
Let's Wave Atlanta Goodbye For Now!
With sights that make for the most picturesque locations and settings that offer the perfect backdrop for plots and storylines, Atlanta sure is a treat in itself and we hope you enjoyed this Atlanta ride as much as we did. And thanks to awesome filmmakers who have adapted the city and its stories into their works time and again, we are sure you enjoyed our lineup of 10 Awesome Movies Straight Out of Atlanta just as much! Here's to bringing you more awesome collections from other cities, and even countries across the globe!Directed by Steven Soderbergh