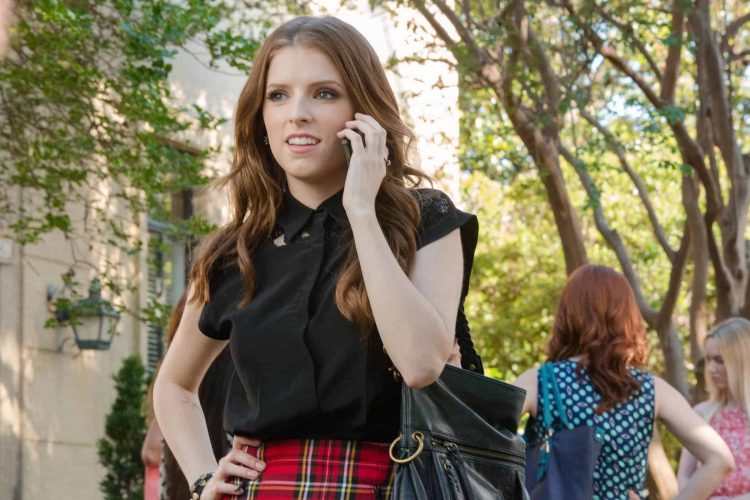 Anna Kendrick has been around for a while and has been committed to acting since she was a young girl. But in truth she's the kind of actress that you either like or just don't think about since hating her seems just about as petty as it would for many actors. She puts in a decent to very good performance no matter what she's in and is schooled enough that she can make people like her or not. But there are those times when it seems as though she's not fully into her part and might be phoning it in a bit, though people still come to forgive and love her for this all the same. It's all a matter of perspective and how you feel about the acting profession after all and with Anna some folks might feel like she's a middle-of-the-road talent, but all in all she's someone that's earned her spot in show business and is worth talking about.
Here are a few things you might not have known about her.
10. She was the second-youngest nominee to be nominated for a Tony award.
It would seem that being nominated for a Tony is something that usually doesn't happen until a person gets a little older and has enough experience under their belt to really be considered a seasoned and worthy actor. But Anna has managed to do something that a lot of people haven't and in all honesty this is an honor that no doubt has kept her name in the headlines.
9. George Clooney gave her a hard time during the shooting of Up in the Air.
While she was filming the movie Twilight, the small role she had at least, she had to go back and forth between the set of Twilight and Up in the Air. Clooney was hopefully mocking her in jest since she had to spend so much time in transit, which was after all the main point of Up in the Air.
8. She gave an odd reason for not attending the 83rd Academy Awards ceremony.
Anna claimed she was overwhelmed the previous year when she was nominated for Best Actress for her part in Up in the Air and didn't want to go back. That seems kind of odd but she also doesn't seem to be the type to stand on ceremony as much so it could have been that she just didn't want to go.
7. It sounds like she was the only choice for her character in Up in the Air.
The director didn't even want to look at anyone else since she was the one person he was thinking of and the one person he wanted. There's always a 'what-if' scenario when casting is being done but at the same time it stands to reason that some people are just the best fit for a role.
6. While Twilight was still in production she was the only member of the cast to be nominated for an Oscar.
She was only in the first movie and after that her character kind of disappeared but out of the entire cast she was the only one that was nominated for an Oscar during that time. Some people might think that those that made up the Twilight cast might have received at least a few nominations between them Anna was the only one.
5. She used a body double for a nude scene in a movie.
In the movie Mike and Dave Need Wedding Dates she obviously didn't want to get naked so she used a body double. A lot of actresses and actors have done this throughout the years and a lot of people don't even know unless they run it frame by frame. Seriously, there are people that do this.
4. Anna likes to focus a lot more on the humorous aspect of a script.
Humor is great when you can find a bit of it and use it in the context that you feel is necessary and/or appropriate. Sometimes what's humorous to one person however isn't exactly funny to the next, so it's a matter of perspective and learning what people find amusing.
3. She enjoys acting but not so much the glamour that comes with it.
Anna isn't so much into the high profile lifestyle that comes with acting at times and simply likes to get into the job and get it done. That kind of attitude towards fame isn't something a lot of people seem to share but it's one that is still surprising at times.
2. Anna has a soft spot for old comedies.
Who doesn't really? Some folks think the old comedies don't make a lot of sense but that was the point sometimes. It's funny just to be funny and to do something funny in the name of comedy.
1. She actually bagged on her own character in Twilight.
Quite honestly she thought her character in Twilight was an idiot, and while being polite is usually a good thing, it's also easy to say she was kind of a non-entity. Seriously, how many people even remember she was in the movie?
There's no doubts that Anna Kendrick is a good actor, none whatsoever.