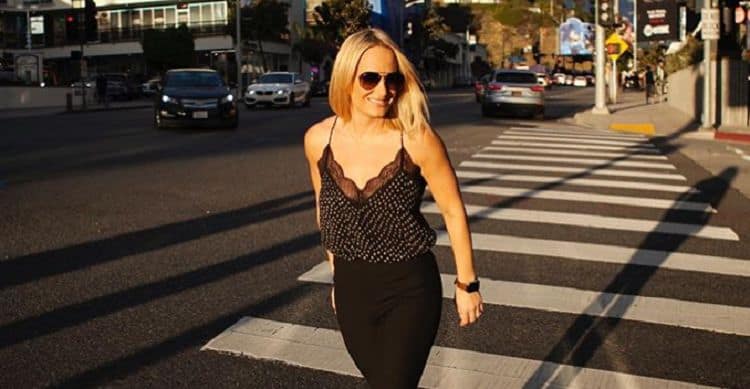 Jenn Brown is best known as a popular sportscaster for the sports news network ESPN. She has served as host as well as a reporter for the past eight years and Brown has built a big fan base during her time there. Her unique style of reporting along with her classic professionalism and attractiveness has brought in viewers who appreciate the way that she covers important topics in the sports industry. When it comes to reporting she seems to have excellent attributes that give her a strong appeal to the viewing audience. We were interested in learning more about how Jenn became such a great journalist so we looked into her past and her career to find out. While researching we found 10 interesting facts about her that you might not be aware of.
1. Her Birthday
One of the most frequently asked questions that fans submit about their favorite celebrity personalities is their age. We learned that Jenn Brown is 38 years old. She was born Jennifer Lynne Brown on March 23, 1981, in Gainesville, Florida. She grew up in Orlando and she attended local schools in the area when she was a child.
2. Her mother and father inspired her passion for sports
Jenn was born into a home where sports were lived and breathed. Her mom and dad were professional gymnastics coaches. They worked with athletes who were training as hopefuls for the Olympics. In fact, here mother is the founder of several training centers throughout the nations that train gymnasts to be competitors in the Olympic games. This is quite a legacy and it is easy to see how Jenn could be influenced by her parents. They worked with some amazing talent and were instrumental in helping them to prepare for greatness and success.
3. Jenn was a star athlete in high-school
Brown was passionate about participating in sports when she was in high school. She attended the Bishop Moore High School in Florida, where she set a record. She earned the most varsity letters for sports participation of anyone in the history of the school She ended up with 14 of them to her credit and this was among both males and females.
4. Jenn can handle a heavy workload
In one year, Jenn Brown played a total of five sports. This included basketball, track, softball, volleyball, and diving. She was the captain for all five of these sports. This took place in 1999 and it was also the year that she was selected as one of the top ten athletes in Central Florida.
5. She has experienced great tragedy
The year 1999 was a grand year for Jenn Brown. She excelled at everything that she did in sports a well as academically. At the end of her high school career, she had no problem earning an academic scholarship to pay for college, but the unthinkable happened. In 2000, her younger sister Carrie, who was just 13 years old, lost her life in an automobile accident. This was an extremely traumatic event for Jenn. She has had an amazing life, but it has not been without its share of tragedy.
6. She was an impressive athlete in college
Jenn enrolled in classes at the University of Florida, for which she was granted a full academic scholarship She spent four years at the school and was accepted into the Florida Gator softball team as a freshman and by the time that she was a senior she made caption. Once again, she was impressive in her performance and she became the third-best player in the history of the women's team when it comes to stolen bases.
7. Jenn received numerous academic accolades in college
While at the University of Florida, Jenn was also active in the Student-Athlete Advisory Committee. She was also a Florida Blue Key member and named to the Academic All-American Team of the National Fastpitch Coaches Association. On four occasions she made the SEC Academic Honor Roll, twice she was named to the academic President's List, and twice to the Academic Dean's list. Jenn was also a member of teh National Society of Collegiate Honors and she graduated Summa cum Laude with the highest honors. During the time that she was in school, she founded a mentoring program for teenage girls who were living in foster care.
8. She was going to become a Sports Agent
Jenn Brown had every intention to pursue an advanced degree in law after graduating from the University of Florida. She applied to a total of 17 law schools to pursue this career path. The reason that she didn't follow through is that a travel show offered her a job. She accepted and moved to Los Angeles and the letters of acceptance or decline still remain in her mother's Orlando home in a closet, unopened.
9. She is also an actress and producer
Jenn Brown is not only a dynamic sportscaster and host for ESPN, but she is also an actress and a producer. We learned that she has appeared in the film "Two Tickets to Paradise" as a Hooter girl in 2006. In 2014 she appeared in an episode of the TV series "Kingdom" as herself, and again in 2016. She also appeared in the film "The Drone" as a news anchor in 2019. She served as co-producer for the TV series "Bikini Destinations, and for the 2005 series "The Wild Side."
10. You can learn more about her on social media
Jenn Brown has an Instagram account that offers several interesting links to follow. She's a busy lady and it seems that she is always doing something extremely cool. So far she has more than 68,000 followers on her Instagram page and there are 2,342 posts. she does a great job of keeping the page up so her followers will know what's trending in her personal and professional life. It's an excellent fan resource for keeping in the new.