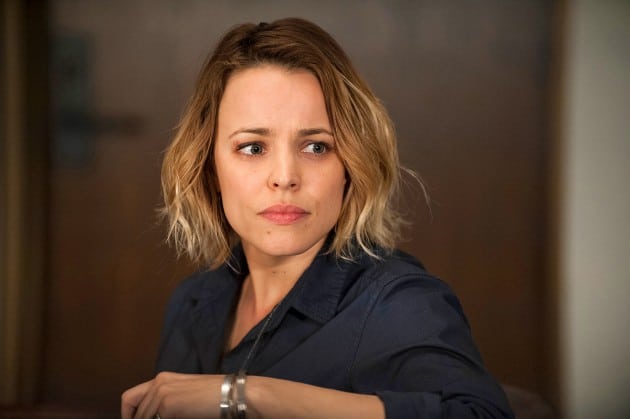 Believe it or not some people still get Rachel McAdams confused with Elizabeth Banks. The truth is however that they've had vastly different careers and McAdams has kind of had an up and down relationship with Hollywood so far as her career is concerned. There's nothing negative about it, she's simply become the 'it' girl and then bowed out for a couple of years presumably to take a break or perhaps to distance herself from the hustle and bustle while doing other things. But she did manage to come back and take her rightful place again within the spotlight as she's continued to showcase her talent and remind people just why she is still the 'it' girl that she started out as.
Plus she's a lot of fun to watch in her roles since she puts so much feeling into them.
5. The Notebook-Allie Calhoun
Perhaps the most noted fact about this film is that McAdams and Ryan Gosling couldn't stand one another and would reportedly have shouting matches behind the scenes. That seems like it would make for a very tense moment when they had to pretend like they enjoyed each other enough to come close for a passionate kiss, wouldn't you think?
4. About Time-Mary
Imagine you had the power to step backwards in time and erase your mistakes neatly and without any fuss. That girl you failed to impress the first time wouldn't remember it, and the world would be as it was when you wished you would have said or done something else. It'd be a complete do-over that would allow you to essentially live the ideal life.
3. Southpaw-Maureen Hope
https://www.youtube.com/watch?v=kigZFeX10cw
Life with a boxer would be hard enough, but life with a boxer that seems to love getting beat on so that he can really get into the fight would have to be immeasurably harder. Maureen's part in this movie isn't all that long but she at least gives inspiration for the rest of the film and the development of the remaining characters. Plus, while she's there she's just flat out tough.
2. Mean Girls-Regina George
This is the role that came to define McAdams at first and it was one of the meanest, nastiest roles that anyone could ever possibly accept. She had to be a world-class brat with no class and no inkling of what human compassion or decency meant when it came to treating people with respect. This is the kind of character in a movie you actually wish to see get brought down about a hundred notches.
1. Wedding Crashers-Claire Cleary
This had to be one of her best roles. Her character is amusing, she's conflicted, and she doesn't know which way to turn in regards to what she wants in her life. But at the very least she's a fun character since there's a lot of room for development and redemption when it comes to finally deciding what it is she wants out of life, and who.
Rachel McAdams is a great actress but it feels like she hasn't quite peaked yet. That's pretty cool actually since it means there's more to come.