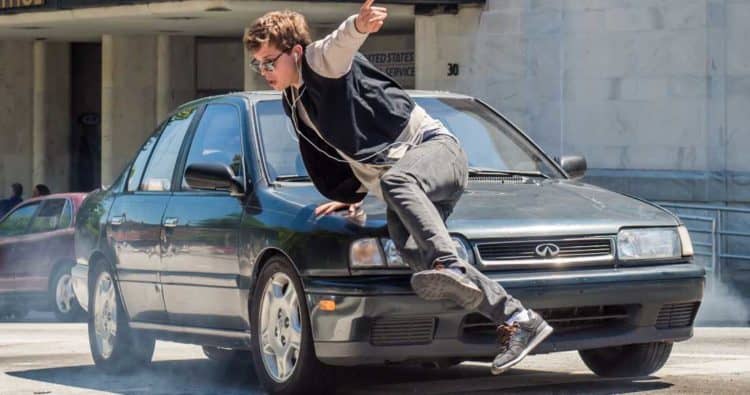 In anticipation of Edgar Wright's new film, Last Night in Soho, I thought I'll look back at two of Wright's celebrated films, Baby Driver and Hot Fuzz. Granted, the writer/director has a strong filmography that includes Shaun of the Dead and Scott Pilgrim vs. the World; however, Driver and Fuzz are some of the more highly touted of the director's work. That, and I personally feel they're the two best of his films thus far. Fuzz, was a part of Wright's three-film trilogy starring Simon Pegg and Nick Frost, which finds Nicholas Angel trying to adapt his new assignment in the seemingly perfect British village of Sandford. However, when a slew of grim accidents rock the small British village then the London constable and his goofy partner investigate the strange set of circumstances.
Baby Driver is about a getaway driver named Baby, who relies on his personal playlist to be the best guy for the job. Despite being deep into his shady lifestyle, Baby is desperately trying to get out and make a clean break. When he meets the perfect girl, Baby takes his opportunity to leave; however, his boss coerces him to work one more job or he'll suffer dire consequences if he refuses. Financially and critically, Baby Driver is the more successful of the two films as it's currently rated at a high 92% on rotten tomatoes and it made nearly $250 million worldwide at the box office. Fuzz mainly has cult status; While the film received a strong 91% on rotten tomatoes, it was mostly ignored by moviegoers based on the low $80 million worldwide total. On the surface, it appears that Baby Driver is the better film; While it'll definitely win the popularity contest, does it truly stand over Hot Fuzz? Let's dive a bit deeper into both films below.
Hot Fuzz
Hot Fuzz is a weird film. Granted, it's not Slither or Eraserhead weird, but it's definitely unique for a buddy action cop. As always, Nick Frost and Simon Pegg are a true delight as the movie's leads. Their chemistry perfectly carries over from Shaun of the Dead and the actors have some great lines of dialogue. Pegg playing the self-centered glory hog perfectly balances Frost's laidback oaf, and the two gel well with the core cast of unique characters. The premise of the film is actually a strong one that allows a healthy dose of character development and strong action. The violence is definitely graphic, but that's actually the point of the story. Hot Fuzz borrows from other great action films; however, it strongly has an identity of its own. The story allows for some unique characters and situations, that can be riotously funny and genuinely compelling. The mystery behind the town's gruesome murders is full of great twists and turns that brilliantly play on red herrings the film highlights early on. Hot Fuzz is essentially the perfect action-comedy buddy film that many in this genre fail to be.
Baby Driver
Like Hot Fuzz, Baby Driver has a strong and compelling premise. What's most surprising is the equal amounts of action and character development that this film comes with. Baby isn't just some punk kid with a pension for speeding fast, he's a sympathetic figure who got caught up in the wrong crowd. His personality allows for an interesting dynamic for the core cast of characters, namely Jamie Foxx's psycho Bats. His dialogue and interactions provide the most fun moments throughout the scenes and highlight the juxtaposition between both characters. Of course, the action is the high point of Baby Driver. While it's nice that this is a smartly written action film, the key components are the high-paced driving scenes.
Each one of these sequences provides thrilling edge-of-your-seat moments, with Wright perfectly piecing together the action, while never drowning out the film with unnecessary violence and action porn. If there's one criticism, is the development of Baby and Debora; There's nothing wrong with the way their scenes are crafted as their banter is sweet. It helps that the chemistry between Ansel Elgort and Lily James have nice chemistry together. The issue comes from the fact that James seems to want to destroy her life just to be with Baby. James' character is deeply in love so quickly that it never feels natural. She isn't some lost loveless soul, thus her willingness to be the next Bonnie & Clyde just didn't feel organic. This is just a minor nitpick and Wright does build the relationship throughout the film, but the timeline doesn't feel long enough for her character to do something that stupid.
So, which film is better? Hot Fuzz. The off-beat film manages to perfectly blend action, comedy, mystery, and over-the-top violence seamlessly.Simon Pegg
Tell us what's wrong with this post? How could we improve it? :)
Let us improve this post!