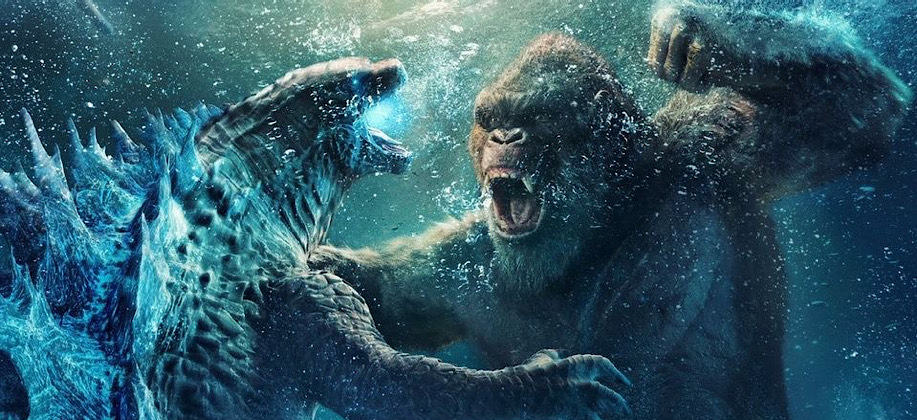 Godzilla vs. Kong is probably one of the last movies that anyone would associate with John McClane in any way since the two movies don't share a lot in common with each other, and are for the most part separated by pretty much everything apart from the one Easter egg that's extremely noticeable and was spotted by fans as soon as the trailer for the movie dropped, showing the titans squaring off atop the aircraft carrier. Some folks might want to get technical and state that it's not nearly the same since Kong was avoiding an atomic breath blast from Godzilla and jumping from a ship's deck, while John McClane was jumping from a building to avoid an explosion. But it's close enough since the feeling is that they're both attempting to escape great bodily harm that might otherwise incinerate them, thereby making the scenes even closer than some might want to admit. There's even mention of Kong setting his own arm back into place is not unlike Martin Riggs doing the same in Lethal Weapon 2. Of course, one big difference is that Riggs needs a hard surface to slam his shoulder against to set it, while Kong just reaches up and sets it with a well-defined cracking noise that might make anyone who has ever suffered a dislocation wince as they remember what that sort of pain is like. Yes, once you've dislocated something it's a poignant reminder of how much it can really, REALLY hurt. Just imagine Kong attempting to slam his shoulder into a building to set it if he had that kind of knowledge. The entire building would shake down to its foundations.
But for this reason, the moment that Kong jumps is known was the Die Hard Easter egg, and for good reason. There were bound to be several Easter eggs in this movie and it's fair to say that fans have found most if not all of them by now. But the fact is that some folks will look at Kong as an action hero type that can take a beating and keep coming back, and while he might have been a bit outclassed by Godzilla it's fair to say that he put up a very good fight and never bowed to the big lizard, and even went to help him after his little human friend explained the situation. Had Kong gone up against Godzilla when we saw him in Skull Island it does sound fair to think that he would have been killed outright, especially since he was smaller and not yet fully grown. But this time around it still feels as though Kong was a huge disadvantage before the first fight even came around since he'd been sequestered on Skull Island for so long that his fighting skills were a bit rusty and he might have even been too used to fighting creatures that weren't quite as aggressive as Godzilla. It's no excuse, but the fact is that Kong was far more isolated than Godzilla and therefore didn't get out often enough to really gain the kind of combat experience he might have needed. At the same time, while Godzilla had plenty of time against various opponents, he'd never come up against someone like Kong, which explains how the massive ape was able to take round two and even hold his own in round one for a while. But by the time Mechagodzilla came around, Godzilla was pretty much done.
It might not be much an Easter egg, but the idea of two enemies joining forces to take down a much worse and more powerful enemy is pretty common since it behooves both combatants to attack the one being that's trying to kill them both. As impressive as Mechagodzilla is, the fact is that against two titans that are working together the man-made creature didn't stand much of a chance, even with the superior armor and armament it possessed. Kong's ax, coupled with the added force and power it absorbed from Godzilla's breath weapon, sliced through Mechagodzilla's armor like butter, giving the two titans a decisive victory that they used to end their common enemy and then part once it was all said and done with. There was no denying that Godzilla recognized what Kong's ax was made of, nor what it could mean if they continued. But in the end, the big lizard let Kong be for the time being, and Kong was taken back to the hollow earth, his ancestral home apparently. But the Easter eggs in the movie were kind of fun since they do show Kong as a weary old fighter that still has enough in the tank to keep pushing forward even after he's been knocked down a few times. Hopefully this movie will be kept as the only one of its kind, as a sequel might not do the titans any further justice.