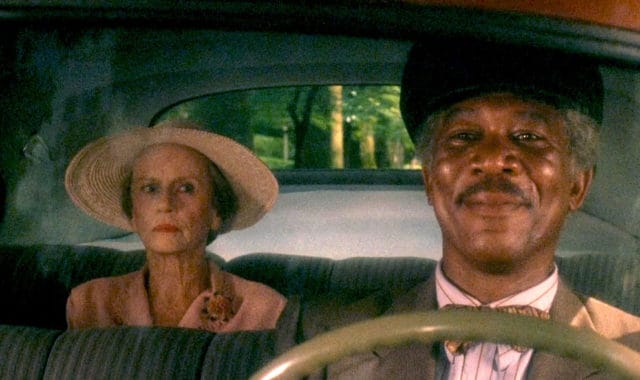 Driving Miss Daisy has a lot to do with racism in how Miss Daisy and Hoke are targeted because of who they are and what they believe. It's also an endearing tale of how how two people that initially might not like each other are put into a position where they spend enough time with one another that they eventually begin to care about each other. It's odd how people come into our lives at times even if we don't want them to and eventually end up being the people we rely on the most. Driving Miss Daisy is kind of a slow film to watch but if you enjoy a good story about friendship and how people can change then this might be the movie for you.
It's definitely inspired a lot of spoofs over the years.
10. Jessica Tandy bet her agent that she wouldn't win an Oscar for Best Actress.
Later on after she'd won she told her agent that it was the best bet she'd ever lost.
9. Three men crossing the railroad tracks in the movie are descendants of the character of Hoke was based on.
That's pretty cool to find the descendants of the actual person that was used as a basis for the movie.
8. The author based the story on his grandmother and her driver.
Will Coleman was the driver's name and his grandmother's name was Lena Fox.
7. The house in the film went up for sale.
In 2015 it went for around $1.99 million. The Georgian-style home was well over six thousand square feet and had an expanded third floor. It has six bedrooms and five and a half baths.
6. There was no orchestra used for this film.
Hans Zimmer did the score entirely with synthesizers. There was not an instrument to be found while he was working on the score.
5. The role of Florine was put in just for the movie.
It was made by Uhry for Patti Lupone, but it didn't appear in the original play on which the movie was based.
4. Morgan Freeman was the originator of the Hoke character.
He'd played Hoke in the theater version and it just seemed as though he was the right man for the job so he was brought on to the cinematic version. It was a good choice.
3. The real estate company that Boolie used to put his mother's house up for sale was real.
Harry Norman Realtors was founded in the 1930's and was still in business as of 2009. As of now I couldn't tell you but that's a heck of a long run.
2. This was one of a trilogy of plays that Alfred Uhry wrote.
The other two plays that were to go along with the series were Last Night of the Ballyhoo and Parade.
1. Several women were interested in the part of Miss Daisy.
Lucille Ball, Katherine Hepburn, and many other women were very interested in the role of Miss Day. There were even talks about Bette Midler pairing up with Eddie Murphy.
It's a touching movie really, give it a look.
Tell us what's wrong with this post? How could we improve it? :)
Let us improve this post!