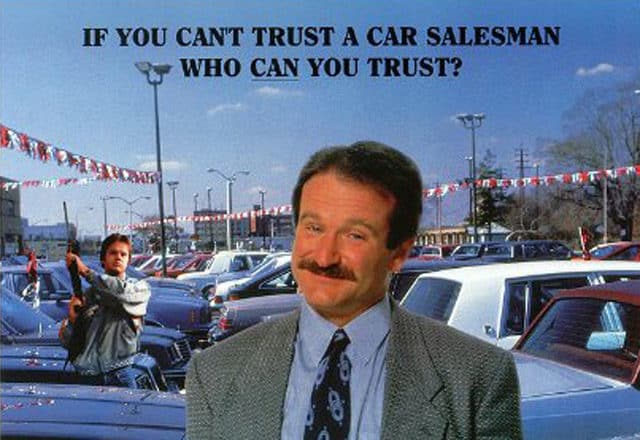 Shady, slippery, not to be trusted, and more to the point, shifty. This would describe the average car salesman for most people. But consider the fact that they're trying to sell something that's not a regular impulse buy and then think about what it takes to move their product. Not all of them are crooked as the letter S, but the effort it takes to sell a car can do strange things to people at work. In Hollywood dishonesty seems to be the root trick of the trade for car salesmen. Plus, the honest guys don't always make the best stories.
5. Simon – True Lies
Sleaze with a capital S describes this guy. This is a mark of respect for the late Bill Paxton that he made this role so easy to buy. He pretends to be a covert government spy, he tries to be a successful car salesman. He's got moderate success at both until he comes up against Schwarzenegger. You just don't get to bs the governator and get away with it. Luckily Paxton's character only had to pee himself to convince Arnold that he wasn't any kind of threat.
4. Harry Wormwood – Matilda
Why is it that Danny Devito can play such despicable roles and make them believable? He's an absolutely awesome good guy, but then he flip the switch and be a total slimeball. Wormwood is about as cheap as they get and illegal as they come when "upgrading" his automobiles. It's a child's movie so it's easy to understand the idea of putting glue on the inside of a bumper and expecting it to stay, but idea of turning the odometer back with a handheld drill motor seems a little farfetched. Maybe the myth busters can sort this one out.
3. Rudy Russo – Used Cars
Seriously, can you see Kurt Russell as a car dealer? Well, it did happen, and in true style it was something with equal hilarity and drama that Russell is so well known for. His aspirations of entering the senate come crashing down when a scheme to keep the car dealership he works at running kind of short circuits. In the end however he finds that the car dealership is the real goal he should have been working towards all along.
2. Bobby B – Transformers
A lot of the scene has to do with the Autobot Bumblebee, but Bobby B tries to play it off like only he can. Wheeling and dealing the whole way through he does his level best to convince Sam and his father that he's trustworthy and can be depended upon. I'm sure a lot of fans found it amusing to see a VW Bug, the same type of car that Bumblebee used to be in the cartoons, sitting to his left. It was even more amusing when he slammed his door into the bug as though he was insulted. Bobby B couldn't wait to get the 'bee off his lot not long after that.
1. Joey O' Brien – Cadillac Man
Selling cars and sleeping with married women. Ah the life. At least it was all good until the boyfriend of one of his conquests came crashing through the glass storefront, literally, and pointed a gun in his face. At that point it would be reasonable for Joey to start promising to change his ways one would think.
Car salesmen aren't all that bad, but there are some real questionable people out there.
Save