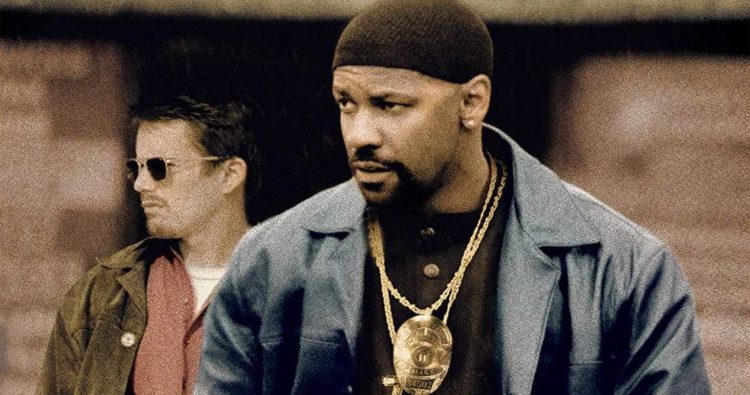 Since 1975, Denzel Washington has dazzled audiences with electric performances on both the television and big screen. Whether its his Academy Award-winning turn as Private Trip on Glory or his monstrous showcase as Alonzo Harris on Training Day, Denzel Washington has no shortage of memorable characters in his filmography. This list will highlight the five best characters that the two-time Oscar winner has played. Let's get started with the first name on the list.
Malcolm X
It's no small task to play such a controversial yet historical figure. Malcolm X was a Muslim minister and a human rights leader who was a prominent figure during the civil rights movement. The civil rights leader was the opposite of Martin Luther King Jr., whereas Malcolm X has been accused of preaching racism and violence. Now, Malcolm X has denied any sort of racist behavior stating: "I am not a racist. I am against every form of racism and segregation, every form of discrimination. I believe in human beings, and that all human beings should be respected as such, regardless of their color." I'm not going to pen a statement on whether Malcolm X was racist or not, but the purpose was to showcase that the civil rights leader was a complex figure. He grew up in a tough and violent world and wanted to see change at the end of it. By this time, Washington was already a big name in Hollywood and the actor's choosing to play such a strong figure only solidified his prowess as a performer. Under the strong direction of Spike Lee, we got to understand the life of Malcolm X; however, Washington's layered performance brought the civil rights leader to life.
Ezekiel 'Easy' Rawlins
Devil in a Blue Dress is a novel adapted from Walter Mosley's Ezekiel Rawlins series and it's a shame that the film didn't do well enough to greenlight another feature. While the Denzel Washington vehicle isn't anything spectacular the hard-boiled detective and World War II veteran is an interesting protagonist to follow between the racial heights of the 1940s. Once the mystery gets going, it's fun to watch Denzel navigate throughout this neo noir world of shady characters. Rawlins isn't a full-blown anti-hero like Creasy (Man on Fire), but the dimension surrounding his world are what makes his intriguing. As I previously stated, Devil in a Blue Dress isn't the best movie in Denzel's filmography, but the world he's inhabited in makes him standout as unique, especially since African American heroes like Rawlins wasn't displayed much around that time.
Alonzo Harris
Easily one of Washington's best characters. This was the first foray into villainy for the veteran actor, and his powerful performance is the reason he's walking around with two Academy Awards. What makes Alonzo so compelling is the mystery surrounding his character. There's teases that something happened to make the police officer turn into such a corrupt human being. Maybe it's the tough inner-city streets? Or being a naive kid that was taken advantage of? Or perhaps Alonzo was always a scumbag and simply lied to Jake, which wouldn't be the first time for the dirty cop. Alonzo's actions are heinous, but it's the bravado and swagger of Washington's performance that really sells the multi-layer being. His "King Kong ain't got s**t on me" speech remains one of the most incredible scenes because of the range of emotions displayed by Washington. Alonzo is scared because he knows he's a dead man, but him trying to remain strong and powerful makes for a fascinating watch about a desperate man who's coping with the fact that he's dead.
Frank Lucas
When you read up on the story about Frank Lucas, the powerful drug dealer has a very interesting backstory that was never touched upon in the film. Still, it's hard to condense down a larger-than-life character into a two-hour runtime, and though Lucas feels more like a mafia boss in American Gangster, it's Denzel's incredible performance that really elevates the onscreen role. This was the first time since Training Day that Denzel stepped into another villainous role, and it makes you wonder how the actor is so natural at playing the bad guy. Lucas being so brazen by shooting Tango in the middle of the street showcased the immense power he had over the neighborhood and made for a compelling watch to see the drug lord boldly move around as the black version of Don Vito Corleone.
Troy Maxson
A talented African American baseball player riddled by anger and bitterness over the unfair treatment of his life. Troy's backstory is an interesting allegory, a man who was forced to go into the life of crime just to feed his family. Troy's pain was expressed through his alcoholism and infidelity, highlighting him as an imperfect human being, but one that many could relate to. He loved his family at the end of the day, and despite his successes and failures, his legacy will always be due to his morals of protecting the one he loves.