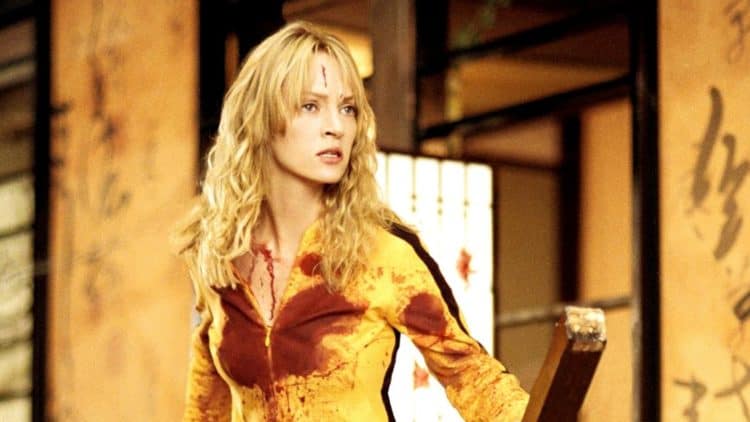 "Revenge is a dish best served cold," is a line that you may have heard often, but thanks to Stories of Revenge That Go Beyond Getting Even, you'll see how some of the movies on the list are not just about serving the dish and getting even but about burning down the entire joint! And while we wouldn't want to get into the details right away, let us begin by warning you that none of these movies are for the fainthearted!
The Kill Bill Franchise
As Beatrix Kiddo aka The Bride aka Black Mamba, ex-member of the Deadly Viper Assassination Squad, and tagged as the deadliest woman in the world, Kill Bill: Volume 1 and Kill Bill: Volume 2 have Uma Thurman playing the role of a bloodthirsty woman out for revenge, and one who will apparently stop at nothing. After Bill aka the Snake Charmer, played by David Carradine, attempts to kill his ex-lover Beatrix and her unborn child that she is pregnant with, The Bride promises to exact her revenge. And thus begins a journey that's awash with so many kills and so many murders that it sure seems like this particular circle of revenge will really have no end. But end it does, with the Five Point Palm Exploding Heart Technique finally bringing The Bride her revenge and Bill, his death. Directed by Quentin Tarantino as a dedication to all things grindhouse cinema, the original film was divided into two parts as the runtime it clocked was more than four hours. At the box office, Kill Bill: Volume 1 raked in a cool $180.9 million while Kill Bill: Volume 2 notched an impressive $152.2 million. A movie that's filled with innovative styles of filming and is as blood-soaked as a Hollywood film can get, this one is clearly not for the faint of heart, especially when one considers the amount of blood one sees throughout the two films.
Gladiator
In this epic historical drama, the story of revenge takes audiences through a time when General Maximus Decimus Meridius was betrayed by Commodus, the son of Emperor Marcus Aurelius, fearing that he would take the throne of his father. Murdering the General's family in cold blood and doing everything he can to end the legendary loyalty and sway the legatus held over the Roman army and the people of Rome, Commodus realizes that he has fallen short when he sees Maximus enter the fighting arena of Rome as a gladiator. As for Maximus, all he wants is revenge and his hands around the throat of Commodus or the blade of his sword in him, but even in his rage, the good on him persuades him to protect the people of Rome as well as those around him. Although the film ends with the death of both Commodus and Maximus, the former having poisoned the gladiator in a ruthless manner, it nevertheless stands testimony to the determination of a man who is desperate to meet his wife and child in the afterlife but has vowed to do so only after avenging their deaths. Directed by Ridley Scott and with Russell Crowe, Joaquin Phoenix, Connie Nielsen, Oliver Reed, Derek Jacobi, Djimon Hounsou, and Richard Harris adding their acting prowess to the cast, Gladiator was a highly successful film that was also created on a huge budget. Upon release, it raked in a whopping $460.5 million against the lavish production budget of $103 million.
Léon: The Professional
Léon: The Professional îs a unique revenge and survival action thriller that brings to the fore how unique relationships are forged under the most unfortunate of circumstances. Portraying Natalie Portman in the role of a lifetime as Mathilda Lando and Jean Reno as Léon, the film revolves around the premise of a professional hitman reluctantly offering his protection to a 12-year-old girl whose family is killed by corrupt DEA officials who are in cahoots with drug runners. What follows is a revenge drama that has the little girl baying for the blood of her family's killers and the hitman not just training her on how she can kill her enemies but also joining the fight, and eventually, losing his life. For its out-of-the-box storyline as well as brilliant portrayals from Natalie and Jean, the film turned out to be a hit with audiences and is regarded as an extraordinary one even today, more than three decades after it was released. As for the revenge? Well, with Léon's help, Mathilda does get to avenge her family's death and even pick up skills that could make her a professional assassin!
Django Unchained
Django Unchained is a film filled with violence and killings, and even then, we would highly recommend this movie to all of you for several reasons. Allow us to give you five. One, it has a great storyline that weaves in and out of several situations and adds to the drama and thrill the film offers the audience. Two, it has an amazing star cast with names such as Samuel L. Jackson, Leonardo Di Caprio, Jamie Foxx, Christoph Waltz, and Kerry Washington topping the list. Three, it portrays the story of revenge of a young black man who is out to get the people who have taken the love of his life from him and finds himself in a situation where his own life as a free man is at stake. Four, as a story that was unique and a directorial and writing venture by Quentin Tarantino that, as usual, blew everyone's mind, the film did quite well at various awards shows honoring the best works of the year, including picking up several Academy Award nominations and two wins. Five, when a film rakes in $425.4 million against a lavish production cost of $100 million, you know it's got to be worth your time! As a story of revenge and reaction to circumstances, Django Unchained sure makes for a good one!
Memento
A high-impact neo-noir film that combines elements of mystery and thrill, and of course, violence and revenge, Memento is one of those movies that are considered milestones in filmmaking for several reasons. And this is probably why it is one of the movies that was voted by the United States Library of Congress as being "culturally, historically, and aesthetically significant", thus finding a place in the National Film Registry. Starring Guy Pearce and Carrie-Anne Moss in the lead roles, the film revolves around a young man's hunt for the truth as well as his wife's killers, all while he is fighting off the challenges that come with anterograde amnesia. The filmmaking techniques used in the film are especially a treat to audiences, making it a work that is unique not just for the way it has been filmed but also because of the range of emotions it helps the audience feel in the 113 minutes of its runtime. Praised by critics too, the film did quite well at the box office, raking in an impressive $40 million against the $9 it took to produce.
Oldboy
Oldboy — the South Korean version, not the remake that did terribly at the box office a decade later — is a neo-noir film loaded with action and thrills that is based on a rather odd premise, that of a man being held against his will in a lonely cell that seems like the room of a hotel, for not a few days, weeks, or even months, but a nerve-racking 15 years! Understandably, this main protagonist wants to know what happened and how and is out for revenge, all his anger and thoughts of retribution directed against the people who took away 15 years of his life. Part of a series, The Vengeance Trilogy, the film follows Sympathy for Mr. Vengeance which was released a year earlier in 2002, and Lady Vengeance, which was released in 2005. A favorite of Quentin Tarantino, who was the president of the jury when the film won the Grand Prix at the Cannes Film Festival in 2004 and often brought up in conversations related to pathbreaking filmmaking, Oldboy is one movie you wouldn't want to miss if its the revenge movie mix that you're on!
The Taken Trilogy
The Taken Trilogy is a great lineup that fits perfectly into the revenge mode that some films get into, with the main protagonist leaving no stone unturned to punish those who harm his family. Led by the dashing Liam Neeson, and starring Maggie Grace, Famke Janssen, Leland Orser, Jon Gries, and David Warshofsky, the three films — Taken, Taken 2, and Taken 3 — these stories of vengeance play out from both sides, the main protagonist as well as the antagonists. While the good guy is out to save his daughter in the first film and seek revenge on those who have shown the audacity to kidnap her, save himself from retribution in the second and take revenge on those who are out to harm him in the second, and save himself from the false charge of the murder of his wife and seek revenge on those who have murdered his wife and framed him, the bad guys are, of course, seeking revenge for all the killings carried out by this one man. The films have also inspired a television series led by Clive Standen.
V for Vendetta
When you have the word vendetta in the title of a movie, you know it's got to be a story about revenge, and that's exactly what V for Vendetta is, and more! A dystopian political action masterpiece — yes, you read that right for this movie is indeed one — this one's based on the anarchist and masked freedom fighter V who uses his clout and badassery to kickstart a revolution. In addition to the main protagonist, played by Hugo Weaving, the movie also has Natalie Portman playing the role of Evey Hammond, who is out for revenge after the killing of her brother and the death of her parents in prison. A revolution then begins, with V using bombings and killings, and of course, the stirring of the restless crowds, to bring down a fascist and dictatorial regime. A film that forces you into thought and stuns you with visuals that have a high amount of impact, this one is clearly one that can find a place in any good collection. Oh, and if you thought bringing knives to a gunfight is a bad idea, you simply have to watch the final showdown in V for Vendetta to have this quote proved wrong!
Man on Fire
Based on the A.J. Quinnell 1980 novel that goes by the same name, Man on Fire is the story of a man who swears revenge on those who wish to harm the family that he has committed himself to protect. A kidnapping drama that has a former US Marine Corps Force Reconnaissance Captain blowing up everything in his path and killing the rest on his way to rescue a nine-year-old girl who was under his protection. Starring Denzel Washington, Dakota Fanning, Christopher Walken, Giancarlo Giannini, Radha Mitchell, Marc Anthony, Rachel Ticotin, and Mickey Rourke, the film is high on action and has stories of revenge playing out from both sides of the story. Assuming that the girl he is trying to rescue, John W. Creasy, played by Denzel, leaves no stone unturned to reach the perpetrators and exact his revenge, only to find that Pita, played by Dakota, was alive all along. With a sad ending where the hero of the story succumbs to his injuries, Man on Fire is yet another thriller that couldn't have been carried out better than anyone but the one guy who always seems to be the man of the hour, Denzel Washington.
The Count of Monte Cristo
A story that was written by Alexander Dumas, of Edmond Dantes, the man who was wrongfully imprisoned and left to die, his escape from an inescapable island, and his almost magical rise to become the Count of Monte Cristo, is one that most of us already know about. And we also know that it is one of those stories of revenge that despite several years in the making, does not lose its drama or thrill. Based on this story is the movie, The Count of Monte Cristo, starring Jim Caviezel, Guy Pearce, Richard Harris, James Frain, Dagmara Dominczyk, and Luis Guzman — and even Henry Cavill in a brief role early in his career. Playing to the audience a well-known tune, albeit in vivid colors and imagery, and with a bunch of talented actors delivering a familiar yet gripping storyline, the film tells us of how there are no bounds to the vengeance of a man who has been robbed of everything, from the love of his life to the life that he had. An old-fashioned story with settings that match it all the way, The Count of Monte Cristo helps us relive a wonderful tale of a man's quest for justice.
Let's End This Circle of Revenge!
Although they make for great movies, stories of revenge do not often end well, even when the vengeance seems justified. So while we did enjoy bringing to you this list of Stories of Revenge We Wouldn't Recommend to the Fainthearted, we sure would recommend that you stay away from any such antics in real life! After all, while movies are usually entertaining throughout and rarely leave the protagonists or the antagonists with permanent scars, real life is sure a lot different!Carrie-Anne Moss
Tell us what's wrong with this post? How could we improve it? :)
Let us improve this post!