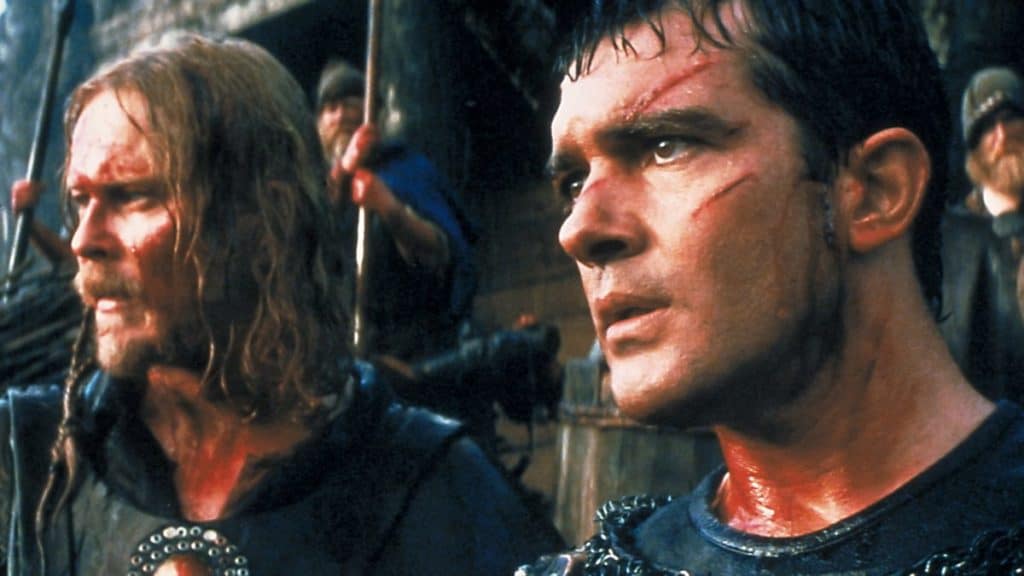 There are a lot of action movies from the 90s that could benefit from a good reboot, not just a standard reboot. Normally I don't even like thinking about this unless a movie might be able to be improved. Some movies, no matter how bad they might be, have good enough stories that didn't appear to catch on with the audience of their time, while others are just godawful and only have a few redeeming qualities that might warrant bringing it back again for another try. This is what a lot of people don't appear to see when they're told a movie is bad or figure it out for themselves, there's always a redeeming quality to the movie that might be worked on and made to appear a little more prominent. At the very least, if one can find a couple of high points in a movie they should be able to take another chance to create something that would surpass the original. In some cases that might not be too difficult, but it's still worth a thought.
Here are a few 90s action movies that could benefit from a reboot.
5. Deep Rising
Strangely enough, this movie starred several people that were known well enough by the 90s that the movie shouldn't have suffered from a lack of good acting, but that kind of happened anyway since when one starts killing off the more effective actors right off the bat things kind of go downhill. I do enjoy Treat Williams, but buying into his action star status is kind of an iffy prospect since the guy isn't quite the same as many other, more prominent action stars that could have been used. The idea of a ship being stranded at sea by a strange and terrifying threat is a great start since it's an isolation movie that can be worked with. But maybe something else other than a creature that doesn't normally reach the proportions seen in the movie.
4. Stone Cold
Plenty of people thought Brian Bosworth was going to be a big hit in the NFL and then in the movies, and sadly all of them were wrong since playing the role of a cop that didn't want to play by the rules might have been his style but it wasn't what worked for the fans. Plus, the whole idea of Bosworth's acting being even a little bit believable didn't really come into fruition until he starred in the remake of The Longest Yard alongside several former athletes and wrestlers. This movie could be remade into something fun, but it would have to be pretty hardcore to stand a chance, and it would have to nearly eradicate the memory of the first movie.
3. The 13th Warrior
Anyone saying this movie wasn't great in its own way might need to watch it again. It did feature a lot of actors that weren't really that well known in America, but at the same time, this is where the movie managed to get its charm since each actor brought to the story their own personality, which was great. The fight against an 'ancient enemy' felt a little overplayed at times, but if changed just a little it might actually be able to put on as good of a show as this movie did since there were plenty of memorable lines and scenes that many fans still recite from time to time, as the dialogue was definitely on point.
2. The Postman
Highlighting the importance of the mail is something that few people might think of, and the fact that Kevin Costner often plays the role of the reluctant hero kind of tainted this movie when it came out. But the point it made was a good one since the correspondence between people and nations is far more important than we give it credit for at times. The mail does manage to keep people connected, especially when there's no such thing as the internet. Remaking this movie would require a good number of changes, but it could be done and it's likely that it might have just as much charm to it.
1. Soldier
I'll admit to liking this movie for the action more than the sketchy dialogue and less than perfect premise. But the idea of it was sound since the story of a man that was raised from birth to be a soldier has a very disturbing feel to it. But the fact that he found some shred of humanity on a junk planet that was about to be destroyed for no good reason does kind of propel the story along. Plus, the fight between the new and improved soldier and the old war dog is something that has a lot more meaning to it in this movie than it made people believe. Remaking this movie would definitely make it better.
I can't believe I said that, but I did.