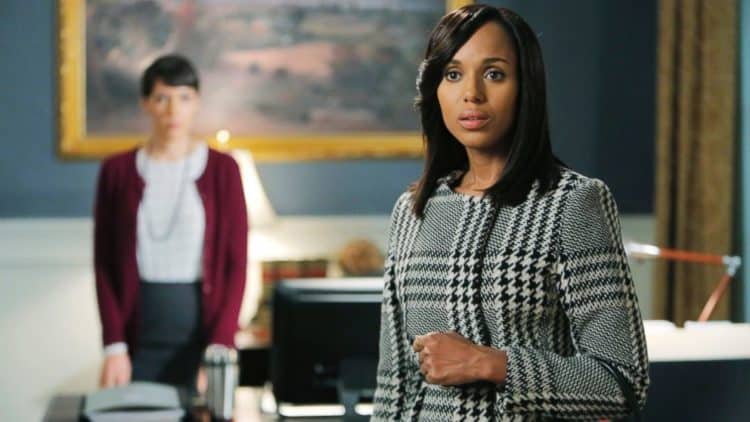 Kerry Washington has established her footing in the acting industry as the ultimate hustler. Since the hit show Scandal came to an end, Washington has been making waves behind the scenes. Her allegiance is to acting and everything that comes along with it. For the years she has been in the industry, Washington has a couple of Emmy nominations, a Primetime Emmy Award, and five NAACP Image Awards to show. Her accolades are as big as her pockets which seemingly, may never run dry. Only a few years back, Washington was the eighth highest-paid actress on television, according to Forbes. Here's how her acting career unfolded to that level:
Early Beginnings As An Actress
Kerry Washington began her career on television by appearing on television shows such as ABC Afterschool Special, in which she played the role of Heather on an episode dubbed "Magical Make-Over." As early as 1996, Washington made an appearance on Standard Deviants. Prior to gaining recognition in the film industry, Washington played the role of Lanisha Brown in the 2000 film, Our Song. She also portrayed the role of Angie in the short film, 3D. At a past interview, Washington said that she was inspired to make it from the Bronx by Jennifer Lopez, with whom she was affiliated as she grew up.
Her Breakout Role, 'Save The Last Dance'
Kerry Washington's breakout role came in the form of 2001's Save the Last Dance, in which she played the role of Chenille. According to Washington, that was her first big studio film. " It was really exciting for me. It was the first time that I had a trailer and hair and make-up." She said. As is with most of her iconic roles, the actress had no idea of how big a hit the film would be." We were all really driven to tell an important story, regardless of how well it did commercially," Washington said of Save the Last Dance. Film critic Roger Ebert wrote of the story Washington so much cherishes: "The movie's awake. It surprises you. You can see Derek and Sara thinking. For them, romance is not the end of the story. Their lives are ahead of them. They're going to college. They have plans. Maybe they'll figure in each other's plans. They'll see. You need a lot of luck if you plan to spend your life with the first person you fall in love with in high school."
Going Into 'The Wilderness' Before 'Scandal'
Prior to landing the role that changed her life, Kerry Washington went into what she calls 'the wilderness.' The A-List actress, in conversation with media mogul Oprah Winfrey, said, " For me what that meant was, there was a lot of toxicity in my life. People that I needed to let go of in a personal way, in a business way. Also, I thought, like, I had been living my career kind of on autopilot. And I took a break." During her time away from the screens, Kerry Washington went back to theatre, where the love for acting began. " I went back to my roots as an artist," Washington mentioned. Although being on Broadway was more of a financial loss than it was a financial gain, it was Washington's 'return to my artistic essence.'
Landing The Role Of Olivia Pope
When it came to the role of Olivia Pope on the hit show Scandal, Kerry Washington struck gold. She knew that many elite African American actresses had been given the opportunity to audition for the part. Upon her audition, show creator Shonda Rhimes knew instantly that Kerry was the right person for the job. " Kerry first came in, and I'd been meeting all of these actresses. You [Kerry] came in and I think it was literally like two seconds in, you started talking about politics. And I knew that I wanted Kerry for the part." Rhimes said during a past interview with television host Jimmy Kimmel. At the time, however, Rhimes was wearing her poker face, and it wasn't until later that Washington learned that she had gotten the part.
The Legacy Of 'Scandal'
Washington was not in any way expecting the massive success that came from Scandal. All she and the team did, according to an interview with Vanity Fair, was make the best possible show they could. " I also knew that if I didn't give it my all and do the best work I was capable of, they weren't going to put another black woman in the number one role on a TV drama for another forty years." She said. Following her role on the ABC hit show, Washington became a household name. While she had substantial fame before, her popularity shot through the roof as the community of 'gladiators in suits' grew all over the world. On life after the show, Washington said she mainly misses her fellow cast members and her early morning call time. What she took out of the role, personally, was Olivia Pope's ability to unapologetically go after her wins. "She has taught me a lot about courageously going after your wins in life, and not being told, 'No!'"Washington said of her famous character.
Commanding A $6 Million Paycheck
Kerry Washington fought for the role of Olivia Pope. Not just by killing it at the audition, she brought her A-game to the table prior to that. At a past interview, the Django Unchained actress revealed that she bought a suit for her audition, despite the fact that her income did not allow her to do so. Her sacrifice paid off because soon after, Kerry Washington was said to be commanding $80,000 for every episode of Scandal. As her popularity grew, so did her bank account. By 2014, Forbes estimated that Kerry Washington was bringing in a cool $6 million from acting and endorsement deals. Not only was Scandal in its fourth season, but Washington was working with brands such as Neutrogena and Movado. By 2018, that figure had shot up, and she was the eighth highest-paid actress on television. Since Scandal came to an end, Washington has continued to act, and taken directorial roles, boosting her earnings behind the camera as well.
Tell us what's wrong with this post? How could we improve it? :)
Let us improve this post!