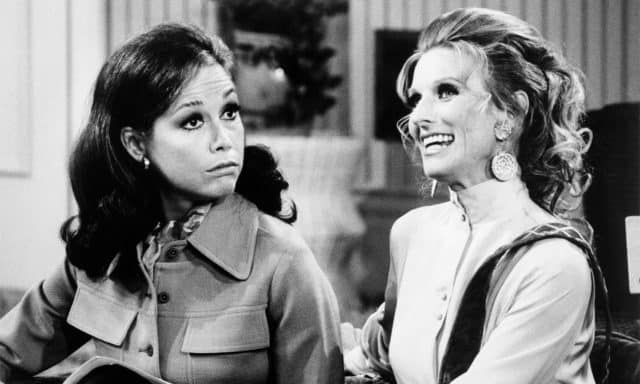 You might not recognize her name, but once you see a current picture of Cloris Leachman there's a good chance that you'll know her immediately. The roles she's played in the last ten to twenty years are hard to forget since she puts so much into her acting that you can honestly think that she might have been born and raised in Europe, when in truth she was born and raised in Des Moines, Iowa. Trust me that came as a shock on this end too since I've only ever seen her affecting a very deep and convincing accent that sounds like a whip crack and doesn't seem to consider taking guff from anyone. But for as mean and nasty as her characters can be Cloris is without a doubt one of the neatest ladies in Hollywood. And as to the rumors that she might be dead, ignore those, she's still very much alive and kicking. When that day comes it's going to be a sad day but it will be easy to honor a woman like this since she's done so much and has been someone that has gladly put herself out there time and time again in order to do what she loves and give the people what they want.
Go look at a current picture of her and you'll likely remember very quickly where you've seen her before. The picture above is from her younger years when she was an absolute knockout. She's a very warm and pleasant-looking woman but she's definitely gotten up in years. Trust me though, it hasn't affected her acting in the least bit.
10. She appeared on Dancing With The Stars.
She was 82 when she appeared on the show and if you thought that would keep her from doing her absolute best and keeping up with her partner then you would be absolutely wrong. Honestly there was no way she was going to move like she did when she was in her 20's, but give credit where it's due, she got out there and did exactly what she wanted to do. That's some serious dedication.
9. She was a regular guest on Malcolm in the Middle.
Remember Grandma Ida? She was mean, she was nasty, and she didn't have a single redeeming value that she ever tried to cash in on. This was a woman that tried to drug a wealthy Chinese man so that he would marry her in a drug-induced stupor, and she even sued her own daughter and tried to take the family's house away at one point. Oh yes, she was mean and cruel, but she was funny to watch since most viewers couldn't get enough of her.
8. She was in Scary Movie 4.
She had a pretty limited role as Mrs. Norris but you couldn't help but feel for her since Sidney was so inept at doing anything right that it would have been torture for anyone to be in that kind of position.
7. She was in Beerfest.
This was another role in which she absolutely shone since she played Great Gam Gam. She had no filter and no shame but it was absolutely great since she was seen as the old lady that never hid what she was for the most part and inspired her grandsons and their friends to go and bring honor to their family by getting blind stinking drunk. Why can't we all have grandmas like that?
6. Her debut was in 1948.
Yes, she has been around for a long time, and yet she's still pretty spry today. The years have been wearing on her as you might see if you ever take the time to look up a clip on what she's done lately, but she's still as bright-eyed as ever.
5. She was Miss Chicago in 1946.
Go online and look at a few younger photos of her. This woman was an absolute drop dead beauty back in her day. There's no wonder why she would be picked out as one of the most beautiful women alive.
4. She's won nine Emmy awards.
To this day that's more than any other actor that's ever won an Emmy. That record might stand for a while longer it seems since no one has even come close to touching it yet. Someone might finally top it one day, but it's not going to be soon.
3. She's been a vegetarian since the age of 35.
Consider how old she is and now imagine how easy it wasn't to be a vegetarian back in those days. Meat was considered a necessary thing for one to stay healthy, and vegetarians were still prevalent but they weren't thought of all that much when it came to meal prep.
2. She has a star on Hollywood Boulevard.
Cloris was awarded this honor back in 1980 and joined the ranks of the many that have been immortalized in this dazzling display.
1. She won an Oscar for Best Supporting Actress.
The film was The Last Picture Show and she won the award in 1971. She's the only person to have won an Emmy and an Oscar for the same category.
Now that you know about her greatness, give her films and shows a look.