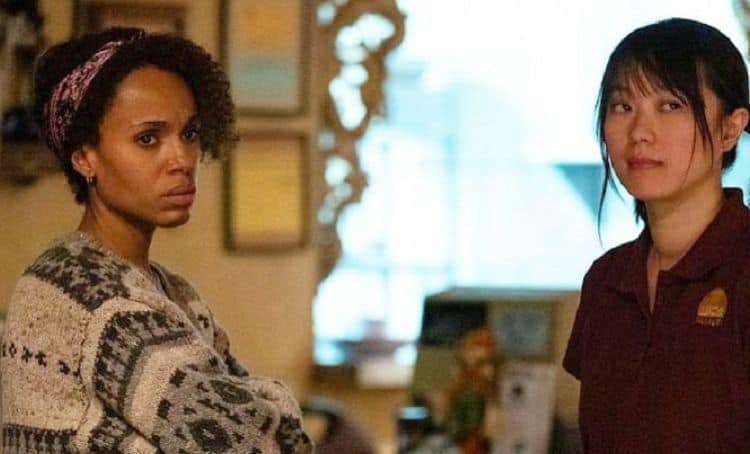 Kerry Washington is a well-known actress who was born in New York on January 31, 1977. Although she has appeared in many television series, she originally became famous when she played the role of Olivia Pope in 'Scandal', for which she was nominated for multiple awards. She then gained further recognition for playing Anita Hill in 'Confirmation'. Washington has also had many films roles. Some of the films in which she has appeared include 'The Last King of Scotland', the 'Fantastic Four' films, 'Ray', 'Django Unchained' 'Night Catches Us', 'The Dead Girl' 'Mother and Child', and 'Our Song'. Despite being so well-known for her film and television work, there are plenty of facts that people do not know about this talented actress. Here are 10 interesting things that you probably didn't know about Kerry Washington.
1. She is Married to Nnamdi Asomugha
In June 2013, Kerry Washington married NFL player Nnamdi Asomugha. The wedding took place in Hailey Idaho. Their daughter, Isabelle, was born in 2014. She was followed by their son, Caleb, who was born in 2016. Washington continued to work throughout her pregnancies.
2. She Began Performing at a Young Age
Washington has been performing from a young age. As a child, she took ballet lessons and regularly performed with her dance classmates. She then began acting lessons at the age of 13 at the Education Theater Company in New York. She attended a prestigious private school called Spence School in Manhattan. While she was there, she was part of a nine-girl acapella singing group that was called Triple Trio. The lead singer of this group was no other than Gwyneth Paltrow. After leaving school, she attended George Washington University from where she graduated with a BFA in Theater. Therefore, it is hardly surprising that she chose to pursue a career in the entertainment business.
3. Washington Appeared in Sex Education Videos
According to Booms Beat, one of Washington's first jobs as an actress was appearing in sex education skits. These were intended for use in sex education classes for young people.
4. She Went Traveling in India
After graduating, Kerry Washington took some time out to travel around India. She took the opportunity to learn some new skills and enhance her performance education while she was in this country. She studied both yoga and a form of traditional Indian theater. She said that while she was studying Indian theater, they didn't even let her on stage. Apparently, you must study this art for years before you can perform.
5. She is a Spokesperson for L'Oreal Paris
Washington has been a spokesperson for the cosmetics brand L'Oreal Paris since 2006. She agreed to this position because this company has historically represented women with various skin kinds and colors. She has appeared in many commercials and print advertisements for L'Oreal Paris, alongside stars including Eva Longoria. Aishwarya Rai, Scarlett Johansson, Maya Karin, Gong Li, Doutzen Kroes, Dian Sastrowardoyo, and Michelle Yeoh.
6. She Has Done Impersonations on Saturday Night Live
In November 2013, Kerry Washington appeared on Saturday Night Live. During her appearance, she did satirical impersonations of Beyonce, Oprah Winfrey, and Michelle Obama. This was part of a cold opening sketch that also mentioned the fact that Saturday Night Live has not had a black female cast member since 2007. The series has since hired African-American actresses. In addition to the amazing impersonations she performed on Saturday Night Live, Kerry Washington also does a fantastic Tina Turner impersonation.
7. Washington Has Supported Poverty Stricken Schools
When Barrack Obama was the president of the United States, he appointed Kerry Washington to the President's Committee on the Arts and Humanities, says Ranker. As part of her role on the committee, Washington supported schools in poverty-stricken areas. One of the schools she supported was the Savoy Elementary School in Washington D.C. She promoted arts within the school and believes that the school made significant improvements following her involvement.
8. She Struggles to Get Enough Sleep
Kerry Washington is an early bird, and this is not because she enjoys waking up early in the morning. She puts her early rising time down to the fact that she really struggles to sleep. She has even invited reporters to conduct their interviews with early in the morning. In fact, she invited one reporter to interview her during a yoga session at 6.30 am.
9. Her Parents Wanted Her to Become a Lawyer
If it was up to her parents, then Kerry Washington would not have become an actress. They would have preferred her to become a lawyer. Her mother is an educational consultant and a professor, while her father is a real estate broker. They hoped their daughter would take a more academic route in life followed by a profession. Washington has said that if she wasn't an actress, her career of choice would have been a clinical psychologist. She said she has thought about how she would focus on the way performance shaped identities and how she could use role-play as a healing tool.
10. She Has an Estimated Net Worth of $18 Million
Through a combination of her television and acting work, along with her involvement in many other projects, this actress is now a very wealthy woman. According to Celebrity Net Worth, Kerry Washington now has an estimated net worth of $18 million. She currently commands a fee of $200,000 per episode in which she appears. In 2018, Forbes listed her as the eighth highest-paid actress in the United States. As she is an actress that is demand due to her talents and she continues to command high fees, she has the potential to significantly increase her net worth in the future.
Tell us what's wrong with this post? How could we improve it? :)
Let us improve this post!